Ryan Sullivan,

July 20, 2015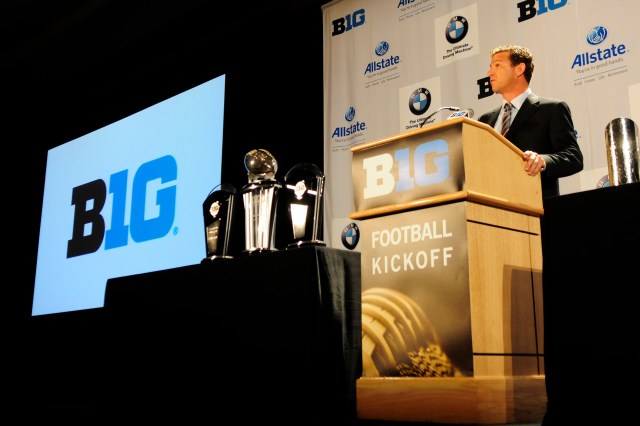 CHICAGO - With a new format for Big Ten Football Media Days in 2015, BTN and BTN2Go will provide more than 13 hours of live coverage, more than double last year?s total. Coverage will include the press conferences of all 14 Big Ten head football coaches, as well as remarks Big Ten Commissioner Jim Delany.
[ MORE: Which players are attending media days? See here! ]
From 1 PM ET through 3 PM ET on Thursday, July 30, BTN will televise remarks from Mark Dantonio (Michigan State), Tim Beckman (Illinois), Paul Chryst (Wisconsin), Randy Edsall (Maryland), Kevin Wilson (Indiana), Kirk Ferentz (Iowa) and Urban Meyer (Ohio State). Immediately afterward, from 3 PM ET - 7 PM ET, the coaches and their players will visit the BTN set at Media Days for BTN Live, alongside Dave Revsine, Gerry DiNardo and Howard Griffith.
Press conference coverage resumes on at 9 AM ET on Friday, July 31, when Jerry Kill (Minnesota), Jim Harbaugh (Michigan), Kyle Flood (Rutgers), Pat Fitzgerald (Northwestern), Mike Riley (Nebraska), Darrell Hazell (Purdue) and James Franklin (Penn State) address media members. Delany follows the coaches, speaking at 11:15 AM ET.
BTN Live will return for a second-consecutive day, once again providing live coverage of the coaches and their players visiting the set from 3 PM - 7 PM ET.
Rick Pizzo and Glen Mason will anchor the press conference coverage from the BTN Studio on both Thursday and Friday.
[ MORE: Get all of our preseason Big Ten football coverage ]
On Saturday, Aug. 1, BTN will air a Kickoff Luncheon Special at 7 PM ET, hosted by Revsine. Coaches will join BTN?s lead studio host to discuss the upcoming season. Indiana?s Nate Sudfeld and Ohio State?s Joshua Perry will speak on behalf of the players in attendance.
BTN is the sports fan?s home for championship football in 2015, as Ohio State begins its title defense on the heels of a 14-1 season that saw the Buckeyes defeat both Alabama and Oregon in the inaugural College Football Playoff. BTN will air Ohio State?s first home game at 3:30 PM ET on Saturday, Sept. 12, as the Buckeyes take on the Hawaii Rainbow Warriors.
BTN also will continue to offer an array of studio coverage throughout the season, with BTN Live and B1GFootball and Beyond airing nightly Monday through Friday. The Journey: Big Ten Football returns on Oct. 21.