BTN.com staff,

July 16, 2015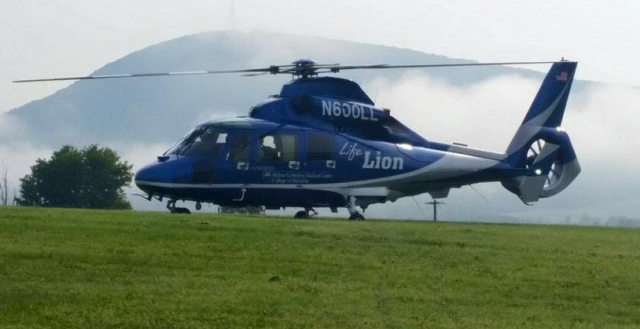 An ever-present symbol of Penn State University, Mount Nittany also serves as a gateway of sorts to a mountain wilderness that covers much of central Pennsylvania.
The Life Lion emergency care team at PSU?s Milton S. Hershey Medical Center recently ventured into that wilderness to undertake some very unique professional development exercises. Participants in this training program responded to a variety of simulated medical emergencies in the great outdoors, ranging from hunting accidents to snake bites.
According to Jeff Lubin, associate professor of emergency medicine and Life Lion division chief at Penn State Hershey, the purpose of the program was to get medical first-responders comfortable with thinking on their feet and adapting in unfamiliar, inhospitable conditions.
?We put together a program to put medical care in an austere environment,? he explained. ?They had to carry things, carry patients and go through rough terrain.?
Lubin credited Life Lion flight paramedic and wilderness medicine enthusiast Saul Elertas for helping him design the training program, which took place at the Boy Scouts of America?s Camp Bashore near Jonestown, Pa. Some 50 participants and organizers took part, and one of the first thing they learned was how to get creative with non-traditional medical tools like duct tape.
?They had to build kits from foam boards, blood-pressure cuffs, and non-traditional ropes, ties, blankets and very rudimentary gear,? Lubin said.
The trainees were then dispatched through several stations in which actors posing as patients suffered from rattlesnake bites and broken limbs.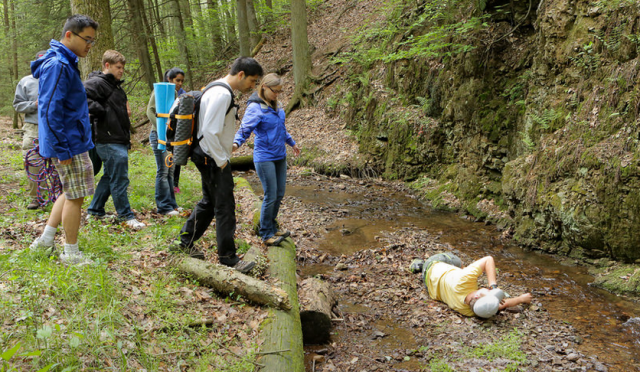 ?We gave them a short break to catch their breath and split them up,? Lubin explained. ?We had a hunter who accidentally shot himself and fell out of a tree stand, a biker with a head injury and a climber who fell 50 feet off a cliff.?
[btn-post-package]Inasmuch as possible, Lubin and Elertus strove for authenticity, down to including realistic rubber rattlesnakes on the scene of the snakebite victim to ensure the participants stayed attentive and alert. Lubin also praised the volunteer actors for their authentic portrayals in these scenarios. And the flowing ?blood? that appeared on several victims looked almost like the real thing, he pointed out.
?I think we got as close as we could with the real situations,? he said. ?Most of them won?t ever be in a wilderness emergency, but the larger picture is what?s important. They have to have the ability to use their knowledge in a new environment when people get hurt or ill, and [know how to] take advantage of their resources.?
By Tony Moton