BTN.com staff, BTN.com staff,

July 12, 2015

Michigan State men?s basketball coach Tom Izzo has seen more than his share of clutch performances and high-pressure situations. But even in his biggest games, there have been breaks in the action.

In real emergencies, there are no timeouts, no commercials. That lesson - along with several others - was driven home for Izzo and other MSU coaches during a rather unusual team-building exercise at an annual Athletics Department retreat in early June.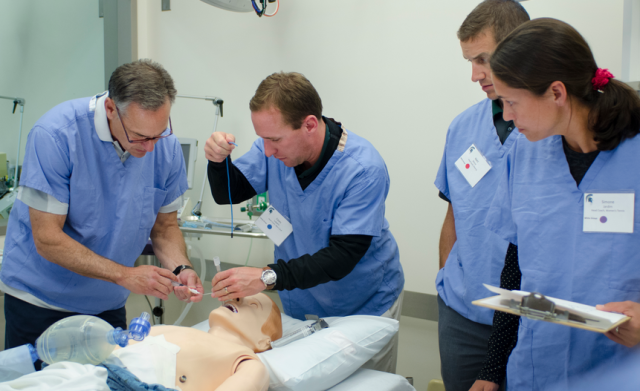 The coaches went through a simulation at MSU?s College of Human Medicine involving an emergency procedure with a critically ill ?patient.? Izzo, Mark Dantonio (football), Tom Minkel (wrestling), Tom Anastos (hockey) and Cathy George (women?s volleyball) were among those who attempted to keep a medical "manikin" alive at the college?s simulation lab.
?There are a few objectives, and one of them is the development of teamwork among head coaches so that they have each other?s backs when a problem arises,? Michigan State Athletic Director Mark Hollis told BTN LiveBIG.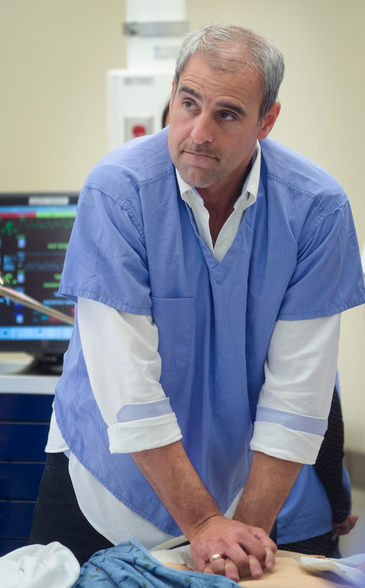 The experience with the realistic human model gave the coaches a chance to employ a variety of medical techniques, such as monitoring vital signs, while simultaneously building camaraderie and instilling important lessons.
Another part of the exercise involved coaches Simone Jardim (women?s tennis), Matt Weise (women?s rowing), Izzo and George breaking the traumatic news of their simulated patient?s demise to an actress posing as his distraught wife. The activity was designed to teach how to communicate with grace in tragic situations, according to Hollis.
?The MSU medical schools did a great job of using the simulation process to evoke emotion,? he explained. ?[It] was an emotional conversation to listen to. How do you deal with that situation? It was a real event, even though it was a simulation.?
After the simulated medical experiences, the coaches - 19 in all - met with physicians and other hospital personnel in something akin to a post-game debriefing to discuss their shared experiences. Hollis said the exchange proved fruitful for everyone involved.
?The doctors were amazed with the skills of the coaches,? Hollis said. ?It was an inspiration for them on how they can be better doctors.?
This isn?t the first time Spartan coaches have engaged in eclectic, outside-the-box exercises to develop their leadership and team-building skills at their annual retreat. Past experiences included producing a Big Ten Network TV show, visiting a General Motors auto assembly plant and learning how to ?whisper? to horses on Mackinac Island.
[btn-post-package]Other training sessions have included candid discussions with coaches about issues critical to intercollegiate athletics and well-being of student-athletes, including drug and alcohol abuse, mental health and responsible use of social media, according to Hollis.
?As an athletic director, I learn something new, and [the exercises] allow coaches to learn something new,? said Hollis, a Michigan State alum who?s served as the school?s athletic director since 2008.
But this year?s team-building experience of handling medical crises might hold a special place in the coaches? memories for years to come, he added.
?This was a great opportunity to see the stress of physicians, and the coaches had to step back when we lost a patient,? Hollis said. ?They had to grasp a situation like that, and they had to go to the next situation.?
By Tony Moton