Tom Dienhart, BTN.com Senior Writer,

June 29, 2015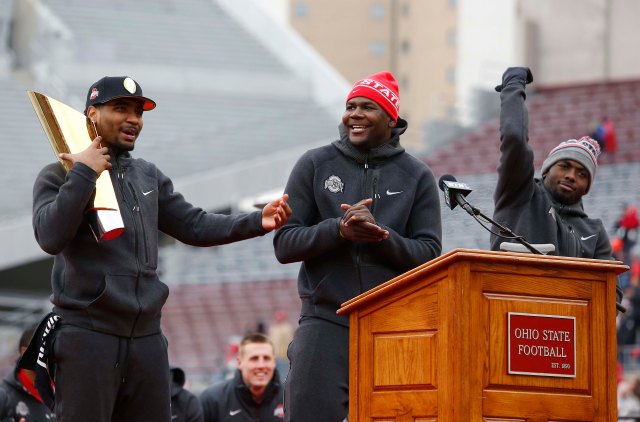 It is the great debate that is consuming the college football world: Who will start at quarterback for Ohio State?
It?s almost surreal for a team to have three legit, high-quality options to start under center. Adding more intrigue: The Buckeyes are the defending national champion and likely preseason No. 1 team.
In one corner is Braxton Miller, who missed last season after suffering a right (throwing) shoulder injury in camp last year. He?s a two-time Big Ten Offensive Player of the Year who was a Heisman favorite at this time last year. Miller had surgery on the same shoulder after the 2013 season.
In the other corner is J.T. Barrett, who won the job as a redshirt freshman after Miller went down and proceeded to win Big Ten Quarterback of the Year honors in going 11-1 and setting 19 school and league standards. Barrett is coming off an ankle injury suffered in the Michigan game that ended his 2014 and required surgery.
In another corner is Cardale Jones, who never had made a start until the Big Ten title game last season after Barrett got hurt. Jones played like a seasoned vet in leading the Buckeyes past Wisconsin for the league title, then over Alabama in the Sugar Bowl before capping a stunning three-game run with a victory over Oregon in the national title game. Jones hit 46-of-75 passes (63 percent) for 742 yards with five touchdowns and two picks and ran for 90 yards and a score in his three starts.
So, who should be under center when Ohio State opens the season at Virginia Tech on Monday, Sept. 7? I asked some Big Ten and national media who they would choose.
Teddy Greenstein, Chicago Tribune
If he's healthy, J.T. He was the Big Ten's best QB last season — by far. He did nothing to lose the job.
Bruce Feldman, FOX Sports
I'd go with Barrett. He's the sharpest. Can run well, reads defenses the best and has the best temperature for this team now, I think.
Marcus Fuller, St. Paul Pioneer Press
I would start Jones. It's obvious how talented the other two quarterbacks are in front of him on the depth chart. But I've never seen a backup, let alone a third stringer with no experience, perform to that level under so much pressure.
Steve Greenberg, Chicago Sun-Times
Cardale Jones. His arm strength opens up the Buckeyes? offense the widest. Just ask Ezekiel Elliott how good a thing that is.
Scott Dochterman, Cedar Rapids Gazette
Braxton Miller was the Big Ten's best player in 2012 and 2013. If he's fully recovered, he'll be the Big Ten's best player in 2015. He combines the best attributes of Jones and Barrett and deserves to start. But OSU has an embarrassment of riches at the position. All three could lead the Buckeyes to the playoff and possibly to a second straight national title.
Ben Jones, StateCollege.com
I'd start J.T. Barrett. He has the most success week-to-week for Ohio State. Jones obviously has the big game wins, but it's had to know how long he has been playing with house money. How Braxton Miller fits into the equation is one of college football's biggest questions of the year.
Matt Hayes, Sporting News
Barrett. Everyone forgets how good he was. Ezekiel Elliott was the reason OSU won the national championship. And he was why it looked so easy for Jones. Barrett is Ohio State?s best chance to win.
Matt Daniels, Champaign News-Gazette
Cardale Jones. Wins program a national title, deserves shot to start season opener. But Urban should have quick hook if he falters.
Dennis Dodd, CBSSports.com
Jones. Miller is the third-best quarterback on roster. Barrett will stick around with the most eligibility left. But how do you tell a combined two-time Big Ten Player of the Year to sit?
Nick Baumgardner, Mlive.com
JT Barrett: He is the most complete QB on the roster, in my opinion. I believe he'd have had similar numbers to Jones in the postseason.
Dan Duggan, NJ.com
Barrett. He was phenomenal last season before the injury and if they choose him, they have their QB for the next three years.
Mike Griffith, Mlive.com
J.T. Barrett. The most versatile QB of the three enables the Buckeyes to best utilize all of their weapons.
Lee Barfknecht, Omaha World-Herald
Barrett. He's the ideal fit for that offense, and the best combo of passer and runner.
Jeff Potrykus, Milwaukee Journal Sentinel
I am old school. I know Cardale wowed everyone last season, but he got the job because of injuries to others. I would evaluate all my QBs in camp and start the best of the trio regardless of name.
Here's the writers' final tally:
J.T. Barrett: 9
Cardale Jones: 3
Braxton Miller: 1
Undecided: 1