BTN.com staff,

June 29, 2015

Inspired by their experiences in college and elsewhere, these Pathfinders are passing by the typical, well-trod career paths and blazing their own trails. We?ll explore the unconventional approaches these Big Ten alums and faculty are taking to work.
The numbers are staggering: One out of every three women and one out of two men will be diagnosed with cancer at some point in their lifetime.
?Sixteen-hundred people will die from cancer today; 1,600 tomorrow,? said Dr. Sung Poblete, a Rutgers alumna and president and CEO of Stand Up To Cancer (SU2C). ?Cancer is a very humbling disease. The only way for us to eradicate it is we all join the fight. And really, we all have to stand up.?
Poblete has devoted her career to bringing those numbers down to zero. She?s currently doing that as the head of SU2C, an organization that fights the disease on several fronts: funding innovative and collaborative scientific research; utilizing its Hollywood supporters to raise money and awareness; and helping get new treatments to patients immediately, to save lives today.
She said the fight against cancer begins with the scientists - the ?real heroes,? as she described them.
?If you look at our grant model, you see that we want to make sure that scientists are funded adequately so that they?re not spending time writing their next research grant proposal,? she explained. ?The hallmark of Stand Up To Cancer is the commitment to move the discoveries of research from the laboratories to the patient as quickly as possible.?
SU2C was founded in 2008 when nine extraordinary women joined forces to change the face of cancer research. These women included former Paramount executive Sherry Lansing, award-winning journalist Katie Couric and the late Laura Zisken, one of the most prolific film producers in Hollywood.
All of their lives had been deeply affected by cancer, and they started the organization for one simple reason: Conventional funding mechanisms weren?t cutting it.
?They learned early on that diagnoses for certain types of breast cancer were no different now than they were 40 years ago, which is simply unacceptable,? Poblete said. ?They decided that getting the entertainment community behind their cause was the best way to get people around the world involved.?
Initially, there was some debate over the best way to get Hollywood on board. According to Poblete, some of the co-founders thought the best way would be to make a documentary. Others thought a fundraiser would be best. It was Couric who had the idea to create what?s known as a ?roadblock? show - a rare television event that airs across all major networks simultaneously.
?Getting all of the major networks, who are normally fierce competitors, to do something together in a collaborative effort is really as good as it gets when it comes to marshalling the power of the entertainment community,? Poblete explained. ?That?s exactly what these women did.?
The idea came to fruition on Sept. 5, 2014 when the Stand Up To Cancer Show was telecast to millions of people across all major networks in the United States and Canada. Celebrities from across the media spectrum joined together to raise awareness and more than $109 million to fund cancer research.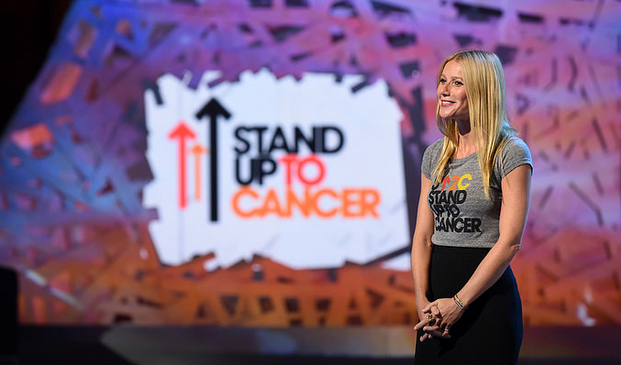 Poblete continues to help get the word out in creative ways. She recently played an integral role in ensuring television rights for ?Cancer: The Emperor of All Maladies? went to executive producer Ken Burns and PBS. The documentary, based on the Pulitzer Prize-winning book by Siddhartha Mukherjee, aired on March 30.
?Cancer: The Emperor of All Maladies? educates its viewers on cancer from its origins, tells intimate stories of current patients, and explores the future of research and what scientific breakthroughs might lie ahead.
?Ken Burns is amazing, I think, in his ability to tell a story,? she said. ?He too was touched by cancer; he lost his mother when he was 12 to breast cancer. When you hear him tell the story, it cuts to the bone.
?I think the documentary was also very hopeful. I think it showed the progress that we?ve made, and the progress that?s left to be made.?
Poblete, who earned her B.S., M.S. and Ph.D. in nursing from Rutgers, continues to stay active with her alma mater as a visiting professor in the College of Nursing.
[btn-post-package]Her nursing background proved to be a tremendous asset throughout her career, perhaps now more than ever.
?The beauty of nursing as a discipline and as a profession is you can choose to be a practitioner, a researcher, an educator or an administrator,? Poblete said. ?In my role as CEO of Stand Up To Cancer, I get to be all of those things every single day.
?Looking at what I do on a day-to-day basis, I don?t think any other institution could have prepared me more for what I do today,? she added. ?I was fortunate to have wonderful mentors at Rutgers who always challenged the norm, and always pushed me to think outside the box.?
By Will Gramling