BTN.com staff,

June 28, 2015

Students at Big Ten universities aren?t waiting until they get out into the ?real world? to make a difference. Find out how they?re working together to create positive, meaningful change in this BTN LiveBIG series: the Student Section.
Taylor Yocom has gone global. The young artist and recent University of Iowa grad has fans from all across the world, thanks to her series of black and white close-up photographs called ?Guarded.?
?I always wanted my art to empower,? she said. ?Just today, I got an e-mail from a woman in South America who told me that my idea is being felt by people all over the world.?
Yocom?s ?Guarded? art project depicted women and what they carry with them in the name of self-defense, including keys, whistles, stun guns and Mace. The theme of her senior project was to shed light on the current societal response to the problem of sexual assault.
Now, Yocom has the camera on her. The University of Iowa student posted 33 pictures from ?Guarded? on her Tumblr blog, which exploded when it caught the eye of actress Zooey Deschanel, star of the TV sitcom ?New Girl.? Deschanel posted them on her own site, HelloGiggles.
?Zooey Deschanel changed my life when she shared it,? she said. ?I had 1,000 likes within a few hours.?
Suddenly, bloggers were writing about her, local magazines were featuring her, and women everywhere were nodding their heads and saying, ?Yes, that?s me, too. I have to think about protecting myself.? Her photos have now been seen more than a million times, and media outlets such Vanity Fair, Buzzfeed and the Huffington Post have published them online.
?What a great way to end my senior year,? she said.
Yocom got the idea for ?Guarded? in February 2014, while she was in a digital photography class at Iowa.
?We were talking about sexual assault and how women pull out our Mace and rape whistles when we don?t feel safe,? she said. ?It was a casual conversation, but the fact is that I?ve had Mace on my keychain for two years. What was interesting was that the guys in the room were taken aback that women have to carry these things with them
?I wanted to visually portray this fact of life,? she added. ?I was one of those women who carry a rape whistle. I have some pepper spray. There was an incident and a few assaults in the neighborhood [where I was living]. Everyone was on guard at that point.?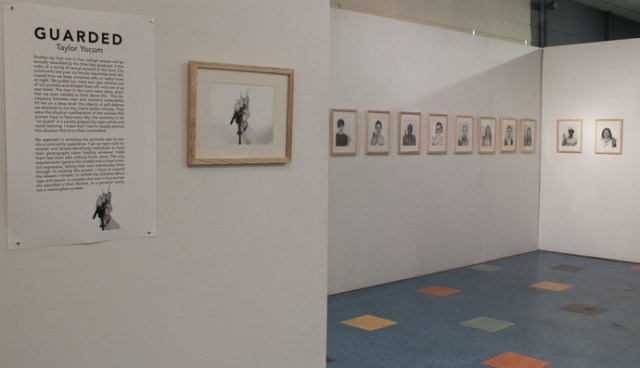 Even so, the exhibit wasn?t intended to be a reflection of the challenges of living in that particular area.
?My photos weren?t specific to here,? Yocom explained. ?I wanted to make this universal for girls and women all over the world.?
As for those e-mails she receives, Yocom said, ?Obviously, I?m not a counselor. I try to just offer support and thank them for sharing their story with me. I thank them for respecting my story and allowing me to hear a new voice.?
A native of Des Moines, Yocom got her first camera - a Barbie Polaroid - at seven years old. And she?s been at it ever since.
[btn-post-package]?I was just always excited by photography,? she said. ?I?d come home from camp dying to develop my pictures as soon as possible. I was that kid who always wanted to document everything. When we?d go to Chicago, I was the seven-year-old running around the park photographing the ducks.?
She said the University of Iowa ?gave me the environment to push myself.? At first, she?d considered becoming an environmental lawyer, but then changed her major to photography. Now, she?s considering grad school and becoming a photography professor.
Iowa also ?had great small class sizes that allowed for original thought and creativity,? she said. ?We also have amazing resources. It was a great environment to grow and thrive. And everyone has been so supportive about this project.?
By Cindy Pearlman