BTN.com staff,

June 26, 2015

The phrase ?Gran Fondo,? which means ?big ride? in Italian, has been applied to mass-participation cycling events all over the world. But when it comes to impact, bike rides don?t get much bigger than the one Michigan State will be holding tomorrow.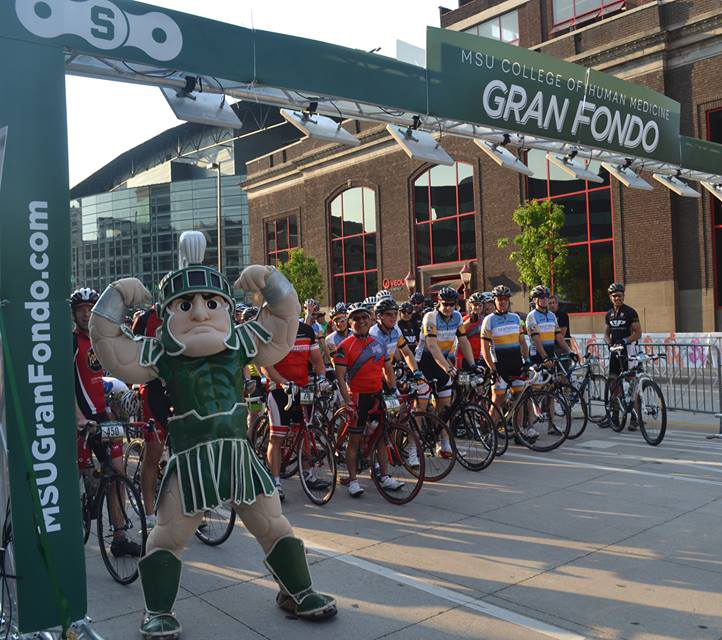 The MSU Gran Fondo started in 2013 as a collaboration between cycling enthusiasts in Western Michigan and the university?s College of Human Medicine. The third-annual event happening this weekend will start and end in downtown Grand Rapids, Mich. Multiple routes are available to accommodate riders of varying skill levels, groups and families, and distances range from as few as 12 miles to as many as 80.
?The idea was to make it a fun ride of varying lengths with great food ? to support a cause,? said Jerry Kooiman, MPA, assistant dean for external relations at the College of Human Medicine. ?Some of the folks who were involved initially have been impacted, in one way or another, by melanoma, so I decided to make the cause focused on research for the College of Human Medicine and specifically in skin cancer.?
Skin cancer is the most common of all cancers. And according to the American Cancer Society, there will be approximately 73,000 new cases of melanoma, the most dangerous type of skin cancer, in 2015 in the U.S.
[btn-post-package]Approximately 1,500 riders took part in last year?s Gran Fondo, and registration totals at press time indicated this year?s event will be even bigger. Each rider commits to raising a minimum of $50, and all that money goes directly toward MSU?s efforts around skin cancer awareness, prevention and research.
In its first two years combined, the annual MSU Gran Fondo raised nearly $270,000. Dr. Walter J. Esselman, associate dean for research at the College of Human Medicine, said one example of how those funds have been applied is in the screening of new drug compounds for the treatment of melanoma.
?I think it?s exciting to get earmarked funds for particular diseases that are very challenging and life-threatening, like melanoma,? Esselman said. ?Beyond that, the basic science that comes out of that kind of study also contributes to the understanding of cancer in general and may well have important applications in other cancers.?
As an outdoor event, the MSU Gran Fondo organizers take care to foster awareness and aid in the prevention of multiple types of skin cancer as riders take on the roads of Western Michigan.
?It brings, I think, a lot of awareness to skin cancer, and the need for regular checkups and using sunscreen protection,? Kooiman said.
He also expressed a great deal of hope for the future success of the MSU Gran Fondo. Already rated the No. 6 gran fondo in the country, organizers hope to increase that ranking.
?We are committed to bringing this to a top tier,? Kooiman explained. ?We want to increase visibility, increase rider experience and, of course, increase the amount of money raised for research.?
By Laura Depta