BTN.com staff,

June 24, 2015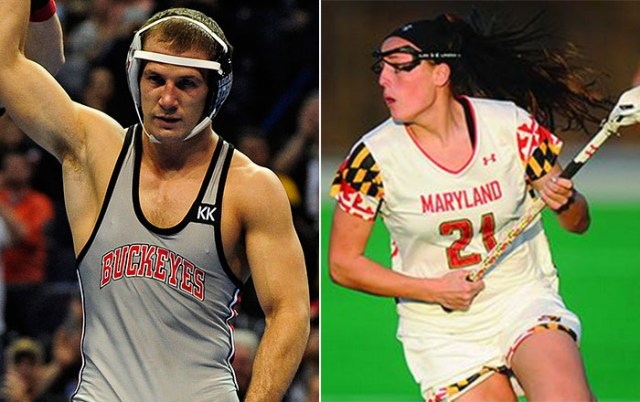 ROSEMONT, Ill. - Ohio State wrestler Logan Stieber was named the Big Ten Jesse Owens Male Athlete of the Year and Maryland lacrosse standout Taylor Cummings was tabbed the Big Ten Female Athlete of the Year, the conference announced on Wednesday.
[ MORE: BTN.com's Q&A with Ohio State's Logan Stieber ]
Stieber and Cummings combined to record four individual national championships, three NCAA team titles, seven All-America honors, four individual Big Ten Championships and 13 individual postseason conference awards during their illustrious careers.
Stieber is the fourth Ohio State student to win Male Athlete of the Year accolades, following basketball standout Evan Turner in 2010, gymnast Blaine Wilson in 1997 and football player Eddie George in 1996. Stieber capped his record-breaking career in March by becoming just the fourth wrestler in NCAA history to win four individual national titles. In the process, he also helped the Buckeyes to their first NCAA team title in the 94-year history of the sport in Columbus. His accomplishments include becoming the first wrestler in the history of the Big Ten to win four NCAA titles and the first Buckeye to win the Dan Hodge Trophy, presented to the nation's top wrestler. A four-time Big Ten Champion, Stieber finished his career on a 50-match winning streak dating back to December 2013.
In Maryland?s inaugural season in the Big Ten, Cummings becomes the first Terrapin to be voted the conference?s Female Athlete of the Year. She was the 2015 Tewaaraton and Honda Award recipient and a three-time first team All-American. The midfielder led the Terrapins with 37 assists, 100 points, 41 ground balls, 143 draw controls and 36 caused turnovers in 2015 as she helped lead the team to its second straight national title. Cummings was named the Big Ten Midfielder of the Year and earned All-Big Ten honors this season, and picked up the NCAA Championship Most Outstanding Player for the second straight year.
Cummings and Stieber were among a field of heralded nominees for the annual conference honors that included six individual national champions and five team national champions. The field included 27 All-Americans, as well as six national player of the year recipients.
The Big Ten Conference has recognized a Jesse Owens Male Athlete of the Year since 1982 when Indiana?s Jim Spivey earned the inaugural award. The conference first honored a Female Athlete of the Year in 1983, with Michigan State?s Judi Brown collecting the initial award. The Big Ten Athletes of the Year are selected by a panel of conference media members from nominations submitted by each institution.
The complete list of 2015 Athlete of the Year nominations, as well as the list of all-time winners for each award, can be found below.
2015 BIG TEN ATHLETE OF THE YEAR NOMINEES
Illinois: Tyler Jay (baseball) Stephanie Richartz (track & field)
Indiana: Tevin Coleman (football) Jessica Parratto (swimming & diving)
Iowa: Brandon Scherff (football) Samantha Logic (basketball)
Maryland: Brad Craddock (football) Taylor Cummings (lacrosse)
Michigan: Zach Hyman (hockey) Sierra Romero (softball)
Michigan State: Jake Hildebrand (hockey) Leah O'Connor (cross country/track & field)
Minnesota: Luca Wieland (track & field) Amanda Zahui B. (basketball)
Nebraska: Robert Kokesh (wrestling) Liz Kuhlkin (bowling)
Northwestern: Jordan Wilimovsky (swimming & diving) Hannah Kim (golf)
Ohio State: Logan Stieber (wrestling) Ashley Bauer (rowing)
Penn State: Matt Brown (wrestling) Micha Hancock (volleyball)
Purdue: Steele Johnson (swimming & diving) Devynne Charlton (track & field)
Rutgers: Anthony Ashnault (wrestling) Betnijah Laney (basketball)
Wisconsin: Frank Kaminsky (basketball) Ivy Martin (swimming & diving)
— BigTen.org