BTN.com staff, BTN.com staff,

June 21, 2015

At a time when many college students are working summer jobs and internships, going on vacation or just finally exhaling after the long grind of finals, Brooklyn Sloss is sticking around Bloomington.

In fact, Sloss, an Indiana University undergraduate majoring in neuroscience, will be spending much of her summer on campus for the second-straight year. The reason? To participate in the Summer Scholars Institute, a program run by IU?s STEM Initiative as part of its overall mission to expand opportunities for minority students in science, technology, engineering and math.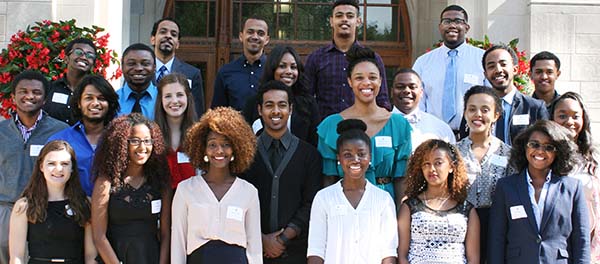 Both Sloss and her brother discovered their passion for science in high school, and each continued their interest at the college level by pursuing degrees in medicine. Sloss credits her brother for encouraging her to both attend IU and take part in STEM Initiative programs.
?I see it as not only an opportunity for myself, but also to be a role model,? Sloss said. ?It allows me set an example for those younger than me ? a lot of students like me wouldn?t be able to have this experience [if it weren?t for this program].?
The brainchild of Dr. Adam Herbert, the first African-American president of IU, the vision for the STEM Initiative is ?to establish long-term, mutually beneficial, highly interactive relationships.? In practical terms, it seeks to boost the number of African-American graduate students, scholars and professionals in STEM disciplines; increase their research capacity and funding opportunities; and enrich academic experiences.
The STEM Initiative started nearly a decade ago. Since it was established, IU has significantly grown its partnerships with a dozen Historically Black Colleges and Universities (HBCUs) throughout the Southeastern United States. Additionally, Indiana University-Purdue University Indianapolis (IUPUI) is a partner in the Initiative, and some of the programs? activities happen at the campus in Indy.
According to Jack Schmit, assistant dean of Indiana University?s graduate school and director of the STEM Initiative, that?s an unusually high number of academic partners for a program like this. But he added that IU has worked diligently to build those relationships by making regular trips to the HBCUs campuses and having an ?open door? policy for their visits to both the IU and IUPUI campuses for further collaboration.
In 2007, shortly after the launch of the STEM Initiative, the partner universities held its inaugural Summer Scholars Institute involving 11 students who were selected through an application process. During the eight weeks of the program, those students had to spend most of their time on ?continuous, substantive? research, and they weren?t allowed to attend summer school or work in addition to that.
[btn-post-package]It?s a demanding regimen, but they?re clearly doing something right, as evidenced by the 25 students taking part in this year?s Summer Scholars Institute. They?ll be living in dorms on IU?s Bloomington campus and, in addition to research, the scholars will participate in colloquia with STEM Initiative faculty, professionals and other academics; receive training on technical writing and GRE preparation; and take part in various social activities.
?The students work together in this cohort,? Schmit said. ?It builds this community of diverse students in a predominately white institutional college. They are encouraged to grow and flourish.?
For Sloss, the STEM Initiative and Summer Scholars Institute have helped her develop a clearer plan for the future and taught her perseverance and problem-solving.
?When you?re doing an experiment over and over again and the results are not going as planned, it can be very discouraging,? she said. ?You learn to put your ideas on paper and get back to the grindstone.?
By Nichole Odijk DeMario