Tom Dienhart, BTN.com Senior Writer,

June 19, 2015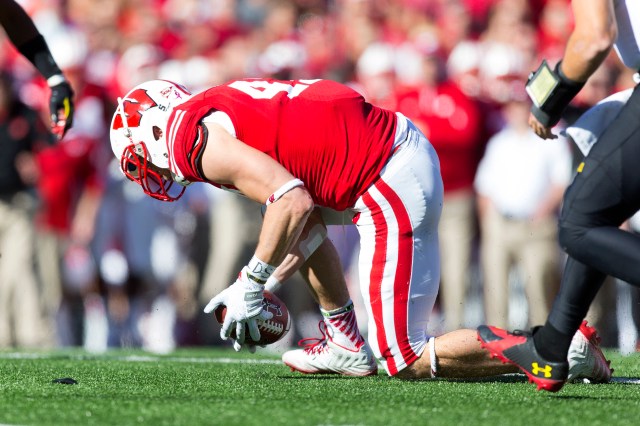 There is no linebacking corps in the Big Ten East that can match Ohio State?s unit in the East. But there is a lot to like about some of the linebacking units in the Big Ten West.
[ MORE: East OL | West OL | East WR/TE | West WR/TE | East QB/RB | West QB/RB | East DL | West DL | East LB ]

1. Wisconsin. The Badgers are set at outside linebacker with Vince Biegel and Joe Schobert. They combined for 30 TFLs and 10.5 sacks last season in Wisconsin?s 3-4 scheme. The inside linebacker spots aren?t so secure with Marcus Trotter and Derek Landisch gone. They were the No. 2 and No. 3 leading tacklers last season for the Badgers. T.J. Edwards and Leon Jacobs look primed to start inside. Keelon Brookins and Nick Thomas also are competing for a group coached by Dave Aranda, who also is the coordinator.
2. Minnesota. This unit suffered a blow with the graduation of Damien Wilson, who led the team in tackles last season and subsequently was drafted in the fourth round by the Cowboys. But have no fear: The unit has depth and will be bolstered by returning starters Jack Lynn and De?Vondre Campbell, a pterodactyl who covers a lot of ground. Everett Williams is primed to step in for Wilson. Keep an eye on Cody Poock, a former JC transfer who missed last season with a knee injury. Jonathan Celestin is coming on strong. Credit LB coach Mike Sherels for doing a great job with this group.
3. Purdue. This unit has gone from an abomination in Darrell Hazell?s first season in 2013 to an honest-to-goodness strength. LB coach Marcus Freeman has done a nice job. Ja?Whaun Bentley is the unabashed star of the unit, a 260-pound hammer on the inside. He?s just a sophomore, so his best days are ahead of him. Bentley is flanked by fellow returning starters Jimmy Herman and Danny Ezechukwu. Herman was fourth on the team in tackles in 2014 on the strong side; Ezechukwu is an athlete on the weak side who can cover lots of ground. Depth is OK.
4. Iowa. This group was a disappointment last season. Perhaps the unit will be better for it after the growing pains of 2014. Josey Jewell had a baptism of fire last year and enjoyed ups and down. Ben Niemann can run and hit; he just needs more bulk. It is hoped a move from outside to inside will help Bo Bower. Travis Perry and Cole Fisher also are in the mix. Lots of moving parts to sort through. Stay tuned.
5. Nebraska. This unit lacks numbers for coach Trent Bray, a smart, young coach. In fact, there were just five scholarship players taking part in spring drills. Three freshmen join the fray soon. It hurt when returning starter David Santos left the team in the offseason. He was the team?s most experienced linebacker. It helps that Michael Rose-Ivey is back after missing last season with a knee injury. Josh Banderas is an anchor in the middle. Dedrick Young and Marcus Newby are in the mix.
6. Illinois. This group is coming on but still needs to make more big plays. T.J. Neal sets the tone in the middle. He lacks ideal size but likes to hit. Mason Monheim joins Neal as a returning starter. He is a try-hard guy on the outside whose effort often compensates for an ideal skill set. Eric Finney and James Crawford are in the mix to start opposite Monheim. Mike Svetina is veteran backup in the middle.
7. Northwestern. This is the most inexperienced aspect of the defense. Not good. Coach Randy Bates has his work cut out for him. Two starters are back in Anthony Walker and Drew Smith. Walker is an athletic thumper who needs to prove he can hold up in the middle, while Smith is the wily vet of the group on the strong side. Jaylen Prater and Nate Hall are primed to fill Chi Chi Ariguzo?s starting spot on the weak side. Jimmy Hall also is gone.
***
| | |
| --- | --- |
| About Tom Dienhart | BTN.com senior writer Tom Dienhart is a veteran sports journalist who covers Big Ten football and men's basketball for BTN.com and BTN TV. Find him on Twitter and Facebook, read all of his work at btn.com/tomdienhart, and subscribe to his posts via RSS. Also, send questions to his weekly mailbag using the form below and read all of his previous answers in his reader mailbag section. |
And if you want to leave a comment on this post, use the box below. All comments need to be approved by a moderator.