Sean Merriman, BTN.com web editor,

June 18, 2015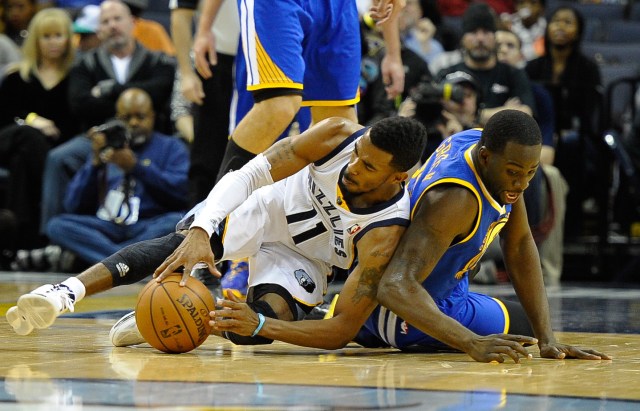 With the 2015 NBA Draft set to take place one week from today, it's time to have some drafting fun.
[ MORE: Four Big Ten players appear in Chad Ford's NBA Mock Draft ]
Several former Big Ten stars are expected to hear their name called in the upcoming draft, which got me thinking about this year's Big Ten class, and how they fare compared to past Big Ten draft picks over the past decade.
Imagine if every former Big Ten player over the past decade, including this year's class, was filtered into a one-round NBA Draft. What would it look like?
I'm going to answer that for you. In order to do so, I'm going to use this year's NBA Draft order. So, the Minnesota Timberwolves will pick first, while the Golden State Warriors will pick 30th.
This list doesn?t necessarily reflect the order of the top Big Ten players in the NBA today, because you have to take age, injuries and numerous other factors into account. That's my reason for listing players who were selected over the past decade. Think of it as if you were drafting a team to start your own NBA franchise right now.
With that said, here's a look at what a one-round draft of current Big Ten players over the past decade would look like. Remember, this year's NBA draft prospects are included.
1. Minnesota Timberwolves: PG Mike Conley Jr.
Big Ten School: Ohio State
Current NBA Team: Memphis Grizzlies
Drafted: 2007, First Round, 4th overall
NBA Stats: 15.8 PPG, 5.4 APG, 3.0 RPG
2. Los Angeles Lakers: PF Draymond Green
Big Ten School: Michigan State
Current NBA Team: Golden State Warriors
Drafted: 2012, Second Round, 35th overall
NBA Stats: 11.7 PPG, 8.2 RPG, 3.7 APG
3. Philadelphia 76ers: SG Victor Oladipo
Big Ten School: Indiana
Current NBA Team: Orlando Magic
Drafted: 2013, First Round, 2nd overall
NBA Stats: 17.9 PPG, 4.2 RPG, 4.1 APG
4. New York Knicks: PG D'Angelo Russell
Big Ten School: Ohio State
Current NBA Team: N/A
Drafted: N/A
NBA Stats: N/A
5. Orlando Magic: PG Trey Burke
Big Ten School: Michigan
Current NBA Team: Utah Jazz
Drafted: 2013, First Round, 9th overall
NBA Stats: 12.8 PPG, 4.3 APG, 2.7 RPG
6. Sacramento Kings: PF Jared Sullinger
Big Ten School: Ohio State
Current NBA Team: Boston Celtics
Drafted: 2012, First Round, 21st overall
NBA Stats: 13.3 RPG, 7.6 RPG, 0.7 BLKPG
7. Denver Nuggets: SG Eric Gordon
Big Ten School: Indiana
Current NBA Team: New Orleans Pelicans
Drafted: 2008, First Round, 7th overall
NBA Stats: 13.4 PPG, 3.8 APG, 2.6 RPG
8. Detroit Pistons: SG Evan Turner
Big Ten School: Ohio State
Current NBA Team: Boston Celtics
Drafted: 2010, First Round, 2nd overall
NBA Stats: 9.5 PPG, 5.5 APG, 5.1 RPG
9. Charlotte Hornets: SG Tim Hardaway Jr.
Big Ten School: Michigan
Current NBA Team: New York Knicks
Drafted: 2013, First Round, 24th overall
NBA Stats: 11.5 PPG, 2.2 RPG, 1.8 APG
10. Miami Heat: C Frank Kaminsky
Big Ten School: Wisconsin
Current NBA Team: N/A
Drafted: N/A
NBA Stats: N/A
11. Indiana Pacers: PF Mitch McGary
Big Ten School: Michigan
Current NBA Team: Oklahoma City Thunder
Drafted: 2014, First Round, 21st overall
Current NBA Stats: 6.3 PPG, 5.2 RPG, 0.5 BLKPG
12. Utah Jazz: PF Adreian Payne
Big Ten School: Michigan State
Current NBA Team: Minnesota Timberwolves
Drafted: 2014, First Round, 15th overall
Current NBA Stats: 6.7 PPG, 5.1 RPG, 0.3 BLKPG
13. Phoenix Suns: SF Sam Dekker
Big Ten School: Wisconsin
Current NBA Team: N/A
Drafted: N/A
Current NBA Stats: N/A
14. Oklahoma City Thunder: PF Cody Zeller
Big Ten School: Indiana
Current NBA Team: Charlotte Hornets
Drafted: 2013, First Round, 4th overall
Current NBA Stats: 7.6 PPG, 5.8 RPG, 0.8 BLKPG
15. Atlanta Hawks: PF Carl Landry
Big Ten School: Purdue
Current NBA Team: Sacramento Kings
Drafted: 2007, Second Round, 31st overall
Current NBA Stats: 7.2 PPG, 3.8 RPG, 0.2 BLKPG
16. Boston Celtics: SG Nik Stauskas
Big Ten School: Michigan
Current NBA Team: Sacramento Kings
Drafted: 2014, First Round, 8th overall
Current NBA Stats: 4.4 PPG, 1.2 RPG, 0.9 APG
17. Milwaukee Bucks: PF Noah Vonleh
Big Ten School: Indiana
Current NBA Team: Charlotte Hornets
Drafted: 2014, First Round, 9th overall
Current NBA Stats: 3.3 PPG, 3.4 RPG, 0.4 BLKPG
18. Houston Rockets: C Kosta Koufos
Big Ten School: Ohio State
Current NBA Team: Memphis Grizzlies
Drafted: 2008, First Round, 23rd overall
NBA Stats: 5.2 PPG, 5.3 RPG, 0.8 BLKPG
19. Washington Wizards: SF Robbie Hummel
Big Ten School: Purdue
Current NBA Team: Minnesota Timberwolves
Drafted: 2012, Second Round, 58th overall
Current NBA Stats: 4.4 PPG, 3.0 RPG, 0.6 APG
20. Toronto Raptors: SG Gary Harris
Big Ten School: Michigan State
Current NBA Team: Denver Nuggets
Drafted: 2014, First Round, 19th overall
NBA Stats: 3.4 PPG, 1.2 RPG, 0.5 APG
21. Dallas Mavericks: PF Aaron White
Big Ten School: Iowa Hawkeyes
Current NBA Team: N/A
Drafted: N/A
NBA Stats: N/A
22. Chicago Bulls: C Meyers Leonard
Big Ten School: Illinois
Current NBA Team: Portland Trail Blazers
Drafted: 2012, First Round, 11th overall
NBA Stats: 5.9 PPG, 4.5 RPG, 0.3 BLKPG
23. Portland Trail Blazers: SF Branden Dawson
Big Ten School: Michigan State
Current NBA Team: N/A
Drafted: N/A
NBA Stats: N/A
24. Cleveland Cavilers: SF Jon Leuer
Big Ten School: Wisconsin
Current NBA Team: Memphis Grizzlies
Drafted: 2011, Second Round, 40th overall
NBA Stats: 4.5 PPG, 3.3 RPG, 0.1 BLKPG
25. Memphis Grizzlies: SG Dez Wells
Big Ten School: Maryland
Current NBA Team: N/A
Drafted: N/A
NBA Stats: N/A
26. San Antonio Spurs: SF Glenn Robinson III
Big Ten School: Michigan
Current NBA Team: Philadelphia 76ers
Drafted: 2014, Second Round, 40th overall
NBA Stats: 2.1 PPG, 1.1 RPG, 0.3 APG
27. Los Angeles Lakers: PG Travis Trice
Big Ten School: Michigan State
Current NBA Team: N/A
Drafted: N/A
NBA Stats: N/A
28. Boston Celtics: SG Roy Devyn Marble
Big Ten School: Iowa
Current NBA Team: Orlando Magic
Drafted: 2014, Second Round, 56th overall
NBA Stats: 2.3 PPG, 1.9 RPG, 1.1 APG

29. Brooklyn Nets: SG Terran Petteway
Big Ten School: Nebraska
Current NBA Team: N/A
Drafted: N/A
NBA Stats: N/A
30. Golden State Warriors: SG E'Twaun Moore
Big Ten School: Purdue
Current NBA Team: Chicago Bulls
Drafted: 2011, Second Round, 55th overall
Current NBA Stats: 2.7 PPG, 0.8 RPG, 0.6 APG