BTN.com staff,

June 18, 2015

Inspired by their experiences in college and elsewhere, these Pathfinders are passing by the typical, well-trod career paths and blazing their own trails. We?ll explore the unconventional approaches these Big Ten alums and faculty are taking to work.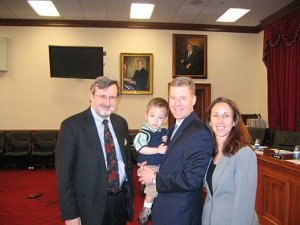 It?s something no new parent wants to hear.
Eric Cole and his then-pregnant wife Andrea, both University of Maryland graduates, were at the hospital on Presidents? Day of 2005 for a routine sonogram to determine the sex of their yet-to-be born child. Doctors told them that they had a son on the way, but added that he was suffering from a relatively obscure brain disorder called Dandy-Walker Syndrome.
?The back of his brain was missing,? Eric Cole recalled. ?It felt like a kick in the gut.?
But rather than allow that news to overwhelm them, the Coles sought answers. Like most people, they?d never heard of Dandy-Walker Syndrome before, so they tried to learn as much as they could about the disorder. Their curiosity soon set them on a personal crusade to assist others who had children suffering from its effects.
?We were trying to figure out what support was out there for families like ours, but there were no organizations to provide support,? Cole said.
To fill that void, the Coles started the Dandy-Walker Alliance in January 2006. Eric?s familiarity with computer networking and digital information came in handy for his research into the illness, as well as the creation of a very basic online hub.
?I threw up a Web page and put up information and links,? Cole said. ?We quickly started getting contacted from people all over the world with children who had been diagnosed with Dandy-Walker Syndrome. It became a community of support, and we had a forum to answer questions.?
Today, the Coles? nonprofit organization maintains a robust, one-stop resource for information, personal support and advocacy. The group also aims to increase public awareness and spark more scientific research into Dandy-Walker Syndrome.
[btn-post-package]The Alliance website defines this syndrome as a ?congenital brain malformation involving the cerebellum [an area in the back of the brain that controls movement] and the fluid filled spaces around it.? Cole said ailments typically associated with the condition include water on the brain (hydrocephalus), heart defects, extra fingers, cleft lip and cleft palate.
Cole?s research indicates that as many as 1 in 2,500 infants suffers from Dandy-Walker Syndrome, a figure that might seem high based on the ailment?s apparent lack of notoriety. But that?s starting to change.
?When we started [the alliance] nine years ago, there was not a voice,? Cole said. ?I guess the squeaky wheel makes voices heard.?
And the message is getting to more and more people: This year, the Dandy-Walker Alliance has organized a series of awareness events at Major League baseball games. The Pittsburgh Pirates hosted one such event in May, and the Washington Nationals (this Saturday, June 21) and Baltimore Orioles (Aug. 23) are set to host Dandy-Walker Awareness Days of their own.
Cole said his son Ryan, now 10 years old, has fared relatively well in his battle against Dandy-Walker Syndrome.
?He just finished the fourth grade, and he?s a happy kid,? Cole said. ?He?s got some challenges, but he?s walking and talking, has his own opinions, likes and dislikes, and can read and write.?
Cole said his education at the University of Maryland has been surprisingly valuable in this difficult yet rewarding journey. His undergraduate major in public policy gave him insight into getting government agencies on Capitol Hill to lend their support in the fight against Dandy-Walker Syndrome. And his experiences in College Park equipped him with the knowledge and resourcefulness he needed to face this formidable challenge - and help others deal with it too.
?I do feel it?s a special blessing,? Cole said. ?It?s not anything I would have planned, but I?m a believer ? God has a plan, so just go with the flow.?
By Tony Moton