BTN.com staff, BTN.com staff,

June 12, 2015

Students at Big Ten universities aren?t waiting until they get out into the ?real world? to make a difference. Find out how they?re working together to create positive, meaningful change in this BTN LiveBIG series: the Student Section.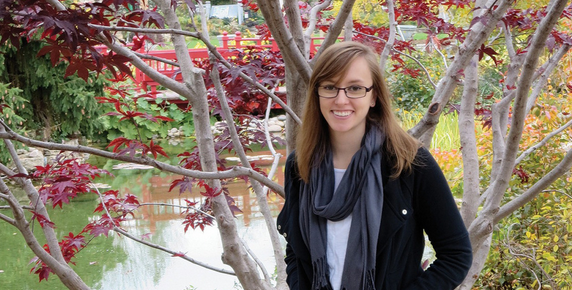 Lily Mank never had to stop to smell the roses. She was most likely planting them.
?Just look at my name,? said the 2015 University of Wisconsin graduate who specializes in therapeutic garden designs. ?It was only natural that I gravitated towards nature.?
At an earlier point in her life, Mank considered a career in pre-med - for about a split-second.
?It didn?t feel exactly right for me,? said Mank, who spent her childhood years living in Boston, Connecticut and California before settling down in Wisconsin, where she?s been for the past decade. ?What did make me happy was all those time when I?d be out in the garden planting flowers and vegetables. I think as human beings, we have an innate connection with the land.?
When she switched majors to landscape architecture, Mank knew that few would understand her choice at first.
?I think people were worried that I was going to mow lawns,? she said. ?The truth was this was a right fit for me because landscape architecture combines both art and science. It also teaches you to never look at the world in the same way.?
Mank isn?t just about making the world a prettier place with flowers and plants. She studied the science behind nature and wants to use it to provide therapeutic help to others. To that end, she interned with Anderson Japanese Gardens in Rockford, Ill., which is one of the top two Japanese gardens in the world.
?I spent time there learning about how humans interact with nature and really figuring out how that makes us feel,? she explained.
In her senior year of college, she worked at Rogers Memorial Hospital by Wisconsin?s campus in Madison, helping to bring patients outdoors.
?I worked with people who had eating disorders and substance-abuse problems,? she said. ?It was amazing how just the simple act of going outside into the garden with them completely lifted their moods.?
Last summer, she worked at a different substance-abuse rehab center for teens.
?When the teens were outside, they could share hard memories,? she recalled. ?When they were sitting outside smelling the fresh-cut grass and looking at flowers, they opened up and talked about what they were going through. It was almost as if people felt free to release an ugly part of their past in a beautiful setting.?
So, what is it about nature that gets people to emotionally loosen up?
?There is a significant amount of research that indicates our stress levels change when we?re in nature,? explained Mank, who pointed to a recent study involving public high school students. ?The amount of trees outside the school correlated to higher test scores. Studies also show that patients recover fast from surgery when they can look out onto nature. The patients whose rooms faced gardens or trees recovered more quickly, [received] more positive feedback from nurses and needed less pain meds.?
Even those who find themselves in less dire circumstances can benefit from regular exposure to natural environments. Next time you feel high-strung after a long conference call, try going outside and walking barefoot in the grass.
?That can even lower your blood pressure,? Mank said. ?No one should sit for eight hours without going outside.?
That?s why she feels her chosen field is important.
?I think we?ll be seeing sweeping changes when it comes to the settings of schools and health-care facilities, along with businesses,? she said.
Mank said her passion for nature came from having been around it all the time, no matter where she lived while growing up.
?We always had gardens,? she said. ?For our family vacations, we?d go on hikes. The goal of the day would be to see a bear. I?d look right at the bear. He?d look at me. Those were incredible moments because I was connecting with nature on a primal level beyond my thought process.?
When it came time to choose a college, Mank picked Wisconsin, which she said was ?a great school.?
?I loved my time there because everyone was just so supportive,? she said.
This summer marks her entry to the real world. To that end, Mank is working at Ziegler Design Associates.
?It fits,? she said of the job. ?The company is about therapeutic and healing through nature. I?m working on a natural playground for kids.?
Someday down the line, though, she might start up her own firm.
[btn-post-package]?I have the vision and want to create beautiful spaces,? Mank said. ?My own yard someday will be heavily influenced by Japanese gardens when it comes to the plant palate and the colors. I want to spend every single day outside in my own garden.?
But until she achieves that dream, she can live vicariously through others.
?All my friends are like, ?Can you please come over and design our backyard??? she said.
By Cindy Pearlman