Tom Dienhart, BTN.com Senior Writer,

June 9, 2015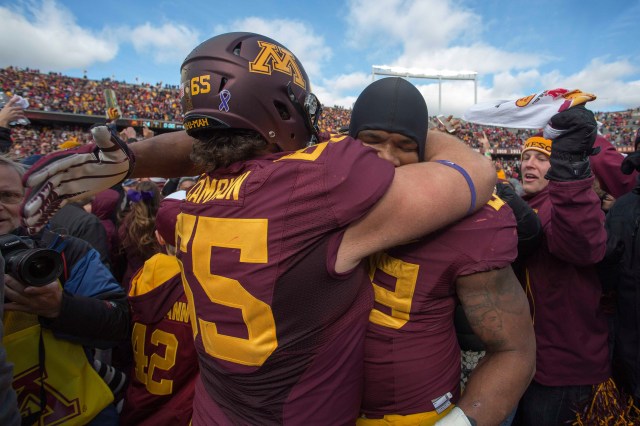 The unit rankings continue with a look at the offensive lines in the Big Ten West. And it all begins with Minnesota-yes, Minnesota.
[ MORE: Michigan State paces Big Ten East offensive line ranking ]
The Golden Gophers have a deep and talented collection of blockers that is better than even Wisconsin, which has been the measuring stick for offensive lines in the Big Ten for years.
1. Minnesota. Line coach Matt Limegrover continues to build a front that gets better. Center Tommy Olson and guard Zac Epping are gone. Still, this should be Limegrover?s best line yet for a unit that led a physical rushing attack that ranked No. 28 in America in 2014. Eight players return who have at least of eight games of experience and 88 combined starts. The right side will feature returning starters in guard Josh Campion (who also can play tackle) and towering tackle Jonah Pirsig. Left guard Joe Bjorklund is the other starter back. Ben Lauer is the man at left tackle, with Ohio State transfer Brian Bobek likely the new center. Jon Christenson and Connor Mayes also are options at center, the most interesting position to watch. Isaac Hayes offers depth at guard. Foster Bush is capable of starting at tackle.
2. Wisconsin. This group has set the tone for line play for almost a generation in the Big Ten. But this year?s unit has depth issues compounded by injury and defections that could prove ruinous with stalwarts like tackle Rob Havenstein and guards Kyle Costigan and Dallas Lewallen also gone. The new staff can build around returning starters at left tackle (Tyler Marz) and center (Dan Voltz). Voltz is a stud. Ray Ball is at left guard, Michael Deiter at right guard and Hayden Biegel at right tackle, but Walker Williams could win the spot. But they lack experience. Deiter is a redshirt freshman. The depth is green to the point where some true freshmen may have to help. Line coach Joe Rudolph is one of the best in the biz. His skills will be put to the test.
3. Iowa. Two yawning holes at tackle must be filled with Brandon Scherff, the fifth pick in the draft, and Andrew Donnal, a fourth-round selection, gone. Boone Myers has assumed Scherff?s left tackle spot, while Ike Boettger is slated for right tackle. Line coach Brian Ferentz needs to get them up to speed quickly. Each is a sophomore. Stay tuned. The interior is fortitude by returning starters in center Austin Blythe and guards Sean Welsh and Jordan Walsh. But that trio has something to prove for a unit that didn?t live up to expectations in 2014.
4. Nebraska. This group has some questions with just two starters back-both tackles. Alex Lewis will be one of the Big Ten?s best left tackles. He's nasty. Rangy right tackle Zach Sterup is serviceable. Givens Price and Matt Finnin also could start on the edge. The interior must be rehabbed with Mark Pelini, Mike Moudy and Jake Cotton gone. The guy next to Lewis, guard Chongo Kondolo, is expected to excel as a senior and should be the second-best blocker for the Cornhuskers. The other new guard is Dylan Utter on the right side. Ryne Reeves is the center. Zach Hannon and Paul Thurston also are promising inside. And keep an eye on Tanner Farmer for a line often marked by inconsistency in the Bo Pelini era. New line coach Mike Cavanaugh needs to get this unit coached-up–fast.
5. Purdue. This group was a mess when Darrell Hazell arrived in 2013. But time and recruiting have helped. In fact, this could be a pretty salty unit with underrated coach Jim Bridge barking at it. All five starters are back. Center Robert Kugler is the best of the bunch. The undersized senior is a coach on the field and has all-league ability. Guards Jason King and Jordan Roos pack a strong punch. Left tackle David Hedelin drips with intrigue. He is an import from Sweden who arrived via a JC last year. The kid players with a nasty edge and is athletic, but his pass blocking must improve. J.J. Prince is a solid right tackle.
6. Northwestern. This group has lacked an edge and toughness in recent years. Is this the season the front shows some grit and gets a consistent push for line coach Adam Cushing? It hurts that center Brandon Vitabile is gone; tackle Paul Jorgensen also has departed. Lots of moving parts here. Three starters are back in tackles Geoff Mogus (left) and Eric Olson (right). The other starter back is right guard Matt Frazier. A big question is center. Brad North is penciled in for now. If he struggles, Mogus or Frazier could move to the pivot. Alex DePietro is slated to be the left guard, but he has just one career start. Keep an eye on redshirt freshmen tackles Blake Hance and Tommy Doles. Vets Ian Park and Shane Mertz could be factors for an offense that was 11th in the Big Ten in rushing last year.
7. Illinois. This group has struggled to get a consistent push-and depth remains a concern, as the Illini ranked No. 13 in the Big Ten in rushing last year. But, strides are being made for a unit whose talent is improving but must replace three starters who combined for 103 starts. Three JC arrivals could help veteran line coach Tom Brattan?s group. The good news: The tackle slots look solid with Christian DiLauro on the right side and Austin Schmidt on the left. It is vital that right guard Ted Karras be 100 percent after knee surgery. He?s by far the line?s best talent, a nasty blocker who plays with an attitude. Nick Allegretti is primed to start at left guard next to Schmidt. Joe Spencer is a veteran center. Patrick Flavin is a swingman who can start.
***
| | |
| --- | --- |
| About Tom Dienhart | BTN.com senior writer Tom Dienhart is a veteran sports journalist who covers Big Ten football and men's basketball for BTN.com and BTN TV. Find him on Twitter and Facebook, read all of his work at btn.com/tomdienhart, and subscribe to his posts via RSS. Also, send questions to his weekly mailbag using the form below and read all of his previous answers in his reader mailbag section. |
And if you want to leave a comment on this post, use the box below. All comments need to be approved by a moderator.