Tom Dienhart, BTN.com Senior Writer,

June 8, 2015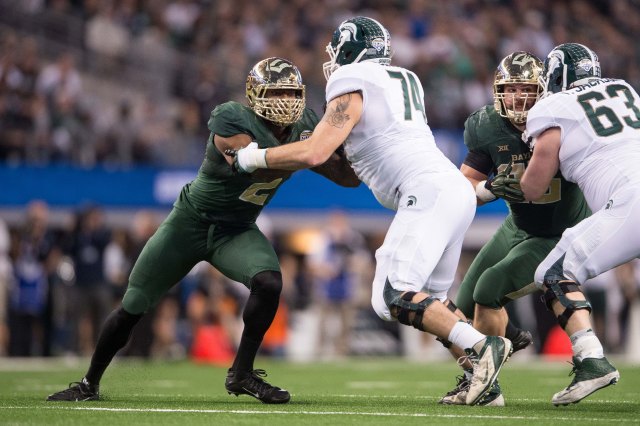 It all begins up front. Any coach will tell you that. If your school doesn?t have a good offensive line, it has little chance for consistent success-no matter how good the skill-position talent is.
[ MORE: Get all of Tom Dienhart's preseason Big Ten coverage ]
So, let?s begin the 2015 unit rankings with a look at the offensive lines in the Big Ten East, which is home to two of the best fronts in the nation at Ohio State and Michigan State.
1. Michigan State. A boffo unit with four starters back. Left tackle Jack Conklin is a former walk-on who is primed to be a first-round pick. Center Jack Allen plays with a nasty edge. His brother Brian, a freshman All-American in 2014, is penciled in at left guard with Travis Jackson gone. He?s a future star. The right side of guard Donavon Clark and tackle Kodi Kieler is a wall of flesh for a unit that is well-coached by Mark Staten. The Spartans' front yielded just 11 sacks last season, the fourth lowest average per game (0.85) in the nation and the best in the Big Ten.
2. Ohio State. Four starters are back from a line that helped the Buckeyes rank No. 8 in the nation in rushing and claim the national title. The awesomeness begins at left tackle with Taylor Decker, an All-American talent. Right guard Pat Elflein is a tough guy cut from All-Big Ten timber, while left guard Billy Price is a strong man. Jacoby Boren directs traffic at center. Right tackle Chase Farris takes over for departed Darryl Baldwin after flipping between offense and defense early in his career. Reserve tackle Jamarco Jones could be a future star for astute line coach Ed Warinner.
3. Michigan. This unit has underachieved for too long. The good news-it finally may be turning the corner. No doubt, new line coach Tim Drevno, who built some tough, physical groups at Stanford and with the 49ers, will whip this group into shape. The club welcomes back five blockers with starting experience. Left tackle Mason Cole is the next ?great one.? Right guard Kyle Kalis is a mauler, while left guard Ben Braden is a former tackle with physicality who looks the part. Erik Magnuson is slated to start at right tackle, with Graham Glasgow at center after Jack Miller gave up the sport in the spring.
4. Indiana. This could be one of the Hoosiers? better fronts in years with depth, size and athletic ability for underrated line boss Greg Frey. Left tackle Jason Spriggs could be one of the Big Ten?s best as he enters his fourth season as a starter. Right guard Dan Feeney is another four-year starter with pro potential for a group that helped IU rank No. 3 in the Big Ten in rushing last year. In fact, Indiana set a program single-season record with 3,163 rushing yards in 2014. Jake Reed takes over at center after four starts last year with Dimitric Camiel moved from tackle to left guard. Keep an eye on Ohio State transfer Tim Gardner at right tackle.
5. Rutgers. Coaching isn?t an issue, as Mitch Browning has a reputation for building some great lines in his career for Glen Mason at Minnesota. But personnel may be an issue. Two starters are back, as players like guards Kaleb Johnson, center Betim Bujari and tackle Taj Alexander are gone along with 113 career starts. The bellwether is left tackle Keith Lumpkin, a 6-8, 310-pound monolith who has started 26 games in succession. Right guard Chris Muller-who has 25 consecutive starts–can get a push. Tackle J.J. Denman is expected to play next to Muller. Look for Dorian Miller at left guard and Derrick Nelson at center.
6. Penn State. Perhaps no line in the Big Ten was more maligned in 2014 than this one, as PSU was last in the league in rushing. Offensive line coach Herb Hand did all he could to patch together a unit that was riddled with youth along with a lack of depth and talent. How bad was it? Christian Hackenberg was sacked 44 times last season. Last year at this time, just one Nittany Lion blocker on the first team had ever started a game. Now, PSU has six linemen who have started. It?s just too bad stud left tackle Donovan Smith turned pro early. Right tackle Andrew Nelson looks to build on a strong debut. JC transfer Paris Palmer will get a chance to fill Smith?s large shoes at left tackle. The interior figures to be manned by Angelo Mangiro at center with Brendan Mahon and Brian Gaia at the guard spots. Stay tuned for a unit whose 2014 seemed to be best encapsulated when Gaia infamously blocked linemate Nelson on a failed fourth-down rushing play vs. Northwestern.
7. Maryland. The group has struggled for a few seasons in a row, but it could be primed to turn a corner with improved depth and experience for line boss Greg Studrawa. It would help if touted Derwin Gray is back from a spring shoulder injury to play left tackle. He could be special for a unit that helped the Terps rank just 12th in the league in rushing in 2014. Right tackle Damian Prince looks good, and the staff likes center Brendan Moore. Gray, Prince and Moore are all redshirt freshmen. The guards are seniors in Ryan Doyle (left) and Andrew Zeller (right).
***
| | |
| --- | --- |
| About Tom Dienhart | BTN.com senior writer Tom Dienhart is a veteran sports journalist who covers Big Ten football and men's basketball for BTN.com and BTN TV. Find him on Twitter and Facebook, read all of his work at btn.com/tomdienhart, and subscribe to his posts via RSS. Also, send questions to his weekly mailbag using the form below and read all of his previous answers in his reader mailbag section. |
And if you want to leave a comment on this post, use the box below. All comments need to be approved by a moderator.