Tom Dienhart, BTN.com Senior Writer,

May 29, 2015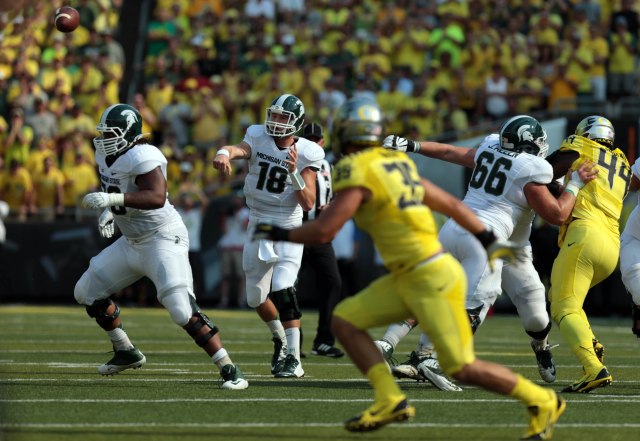 I recently ranked Big Ten non-conference schedules.
Now, in a three-part series, I'm going to take a look at some of the best and worst of the non-league schedule this fall.
First up, it's my top 5 2015 non-conference games.
1. Oregon at Michigan State, Sept. 12. The Spartans blew a lead last year in Eugene and lost, 46-27. Now, MSU seeks revenge vs. the Marcus Mariota-less Ducks. If this is to be a very special season in East Lansing, the Spartans need to win this game.
2. Wisconsin vs. Alabama (in Arlington, Texas), Sept. 5. Paul Chryst gets to debut vs. iconic Nick Saban and a Bama program that is the envy of America. The Tide has won at least 10 games in each of the last seven years with three national titles and three Sugar Bowl appearances.
3. Ohio State at Virginia Tech, Sept. 7. The Buckeyes are defending national champs, winners of 13 in a row. The last team to beat Ohio State? The Hokies, who took a 35-21 decision in Columbus last year.
4. TCU at Minnesota, Sept. 3. The Golden Gophers got drubbed, 30-7, at TCU last year. Now, they open the season vs. a Horned Frogs squad that may be the best team in America. Gary Patterson and Jerry Kill are old chums. But this figures to be a tough, physical game. Could Minnesota score a program-changing win?
5. Michigan at Utah, Sept. 3. No cupcake for Jim Harbaugh in his debut. The Wolverines trek to Salt Lake City to play a tough and polished program. By the way, Utes coach Kyle Whittingham is 2-0 vs. Michigan.
***
| | |
| --- | --- |
| About Tom Dienhart | BTN.com senior writer Tom Dienhart is a veteran sports journalist who covers Big Ten football and men's basketball for BTN.com and BTN TV. Find him on Twitter and Facebook, read all of his work at btn.com/tomdienhart, and subscribe to his posts via RSS. Also, send questions to his weekly mailbag using the form below and read all of his previous answers in his reader mailbag section. |
And if you want to leave a comment on this post, use the box below. All comments need to be approved by a moderator.