BTN.com staff,

May 28, 2015

Students at Big Ten universities aren?t waiting until they get out into the ?real world? to make a difference. Find out how they?re working together to create positive, meaningful change in this BTN LiveBIG series: the Student Section.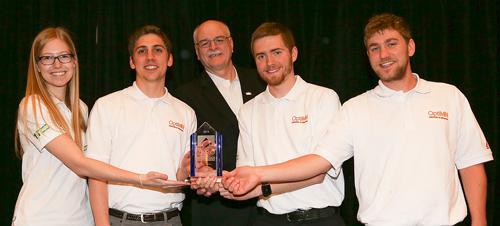 Imagine you rip open the envelopes of all your monthly energy bills - gas, HVAC, hot water and electricity - and they all say ?Amount Due: $0.?
Sounds impossible? It could be a reality soon, thanks to recent energy-efficiency advances in home construction. And a group of several bright young engineering, architecture and design students at the University of Minnesota is leading the way.
Team OptiMN was recently awarded the U.S. Department of Energy?s 2015 Grand Award for its Race to Zero program, a competition in which teams of students design Zero Energy Ready Homes. (The DOE defines a Zero Energy Ready Home as one that has a built-in renewable energy system that?s so efficient that it basically offsets all of the house?s power consumption.)
Collin Coltman, a junior who led the 11 other undergraduates and two graduate students who made up Team OptiMN, knew the house they designed would bring impressive savings - both in financial and environmental terms.
?You?re building a house so energy-efficient that a small solar ray can offset your power needs completely,? Coltman said. ?We estimated our energy bills for this house - a fairly large house, about 2,500 square feet - to be about $93 a month, and that?s without solar panels.?
Beyond energy efficiency, their home was designed with other benefits in mind.
?We tried our best to maximize every category - durability, indoor air quality, energy efficiency and affordability - without compromising,? Coltman explained.
Coltman thinks that participating in last year?s contest was a valuable learning experience for the team and may have been what helped their design edge out the others this time around. Team OptiMN successfully beat out 33 other collegiate teams from the U.S., Canada and China.
?Last year, we built a really nice house, but it was extremely expensive compared to everyone else?s,? Coltman said. ?What I think the judges were most impressed by - and something we take a lot of pride in as well - is that our house is very buildable. It?s a house that normal subcontractors can easily do. It?s not crazy or super ambitious; it?s just using technologies in the right way. It?s robust, it?s simple, there?s fewer moving parts, there?s less to fail; that was our approach.?
Team OptiMN made clear what they ultimately hope to accomplish with their homes. Adviser Pat Huelman knew that the students? goal was to positively affect the community, so he put them in touch with an organization that would become the team?s industry partner, Urban Homeworks.
With their help, Team OptiMN turned their eye toward the Green Homes North initiative. Green Homes North?s goal is to build 100 energy-efficient homes in five years, therby revitalizing neighborhoods, helping local housing values and boosting the confidence of current owners.
[btn-post-package]The team selected a vacant lot in North Minneapolis - a town that had received a one-two punch in recent years from the foreclosure crisis late last decade and devastating wreckage from tornadoes in 2011. By working with Urban Homeworks and Green Homes North, the team is hopeful they?ll be able to get their winning design included in this building program.
To complete this project, which lasted more than six months, Team OptiMN put in plenty of late nights, early mornings and weekends.
?There was no class for this, so it was all extra-curricular,? Coltman said. ?Even over spring break, everyone was contributing. I?m very proud of how dedicated the team was.?
And seeing their design applied to large-scale home construction - and benefiting the people who need it most - would really be something.
?The fact that we, a team of mostly undergrad students, were able to put together a house that would be built is remarkable,? he said.
?It?ll be extremely exciting,? he added, with a laugh. ?And you can bet I?d be the first person visiting that construction site.?
By Betsy Piland