Tom Dienhart, BTN.com Senior Writer,

May 20, 2015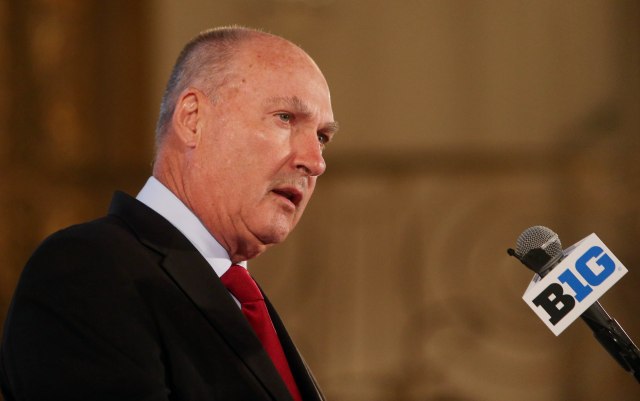 ROSEMONT, Ill. - A global education experience. That?s a mouthful. And that?s also the goal of Big Ten commissioner Jim Delany for every student-athlete.
Live it, learn it, know it.
A procession of league athletic directors paraded in front of the media the last two days at the Big Ten?s headquarters and was peppered with myriad questions.
What?s going on with the upcoming TV contract negotiations?
Are there too many hoops games?
Did the College Football Playoff work?
Is the graduate transfer rule flawed?
[ MORE: Grad transfer rule comes under scrutiny at AD meetings ]
And on it went, one by one, as opinions varied on those subjects among the likes of Rutgers? Julie Hermann, Wisconsin?s Barry Alvarez, Northwestern?s Jim Phillips, Iowa?s Gary Barta, Minnesota?s Norwood Teague, Purdue?s Morgan Burke, Indiana?s Fred Glass and Ohio State?s Gene Smith. But one subject they all were in lockstep on was the notion that student-athlete welfare matters and must be addressed. Balance between the ivy tower and coaching tower must be achieved.
College is about education-not touchdowns and dunks. That?s the message that Delany and Co., pounded home with their mortar boards and framed diplomas.
?We want student-athletes to have a competitive advantage after they leave,? said Delany.
A competitive advantage in Silicon Valley, Wall Street and Main Street USA.
Delany fired the first salvo for academics over the winter with his now famous call for a ?year of readiness.? Or, in layman?s terms: freshman ineligibility.
The hoots and hollers could be heard from Carlsbad to Bangor.
"While we are comfortable generating multiple ideas about an 'education first' approach to intercollegiate athletics in the twenty-first century, we won't go at it alone on any of these matters," Delany said in a statement over the winter. "We look forward to working with our colleagues in the NCAA Division I governance structure, and to exploring a broad exchange of ideas from both inside and outside of intercollegiate athletics."
This notion of a league resurrecting an arcane rule like freshman ineligibility-which was tossed out by the NCAA in 1972–has been almost universally panned by any AD who knows much of his continued employment is based on how much his department wins-and thus makes money. (It always gets back to money, doesn?t it?) Not allowing stud freshmen to play-while other leagues did-would put the Big Ten at a huge disadvantage. They all know that.
?We can?t ignore the statistics,? Northwestern A.D. Jim Phillips said. ?We can?t ignore that we are not doing as good a job as we can graduating our student-athletes with a useful degree.
?We?re foolish if we put our heads in the sand and say this hasn?t been an issue or isn?t an issue long term.?
But, Delany emphasized time and again on Wednesday that his daunting ?year of readiness? isn?t an NCAA proposal. He understands freshman ineligibility never will be embraced across the landscape of the Power Five leagues. And never figures to become reality.
Well, then, what exactly was the point of bringing up a year of readiness?
?It is a discussion piece,? said Indiana A.D. Fred Glass. ?I don?t think I am a fan of it ultimately, but I am a fan of having the conversation, and talking about ways academics remain front-and-center in the student experience.?
Academics first.
Athletics second.
Got it?
[ MORE: Q&A: Gene Smith discusses several hot topics ]
?I think the greatest thing is we talk about the academic issues,? Ohio State A.D. Gene Smith said. ?I am not a proponent of the year of readiness. I love the fact our commissioner and league put it out there because it has become a lightning rod to discuss the academic issues. We have some sports that aren?t doing well in graduation rates - basketball and football are a challenge.
?It?s working in our other sports with initial eligibility rules. What are we not doing in those particular sports (football and basketball)? And how can we help those sports do better academically? I like the fact we are talking about it and I am sure in the new governance structure it will be looked at and we?ll come up with something.?
Many discussions are fluttering around Delany?s year of readiness manifesto. That?s the goal. And he wants to take what he likes to call a ?deep dive? into the subject with others-administrators, NCAA reform think tanks, coaches, student-athletes. ? as much input as possible in pursuit of one thing: improving the welfare of the student-athlete.
?I like the fact we are putting student and academics back on track,? said Alvarez. ?And not just talking about athletics.?
Has the balance gotten out of whack, what with billion dollar TV contracts, $5 million-per-year coaches, ball games on every night of the week and the constant need to win, win, win to fill seats and pay bills?
You can answer that yourself. But also ask yourself this: were universities ever intended to have bloated athletic departments that have become an industry upon themselves while sometimes impinging on the intent of the school to–you know–educate?
You can answer that question, too. Maybe the Ivy League has had it right the entire time. But that?s a debate for another day.
All of those wins, money and sense of pride among puffy chested alums are fueled on the backs of the student-athletes, who need a break. Too much seemingly is being asked of athletes. It?s time to emphasis the ?student? in student-athlete. Try to let these kids have a more realistic college experience by allowing them to study abroad and do internships. It?s time to lighten the work load on the court and the field and let these college kids just be, well, college kids.
You say there is a 20-hour rule in place to limit time demands? Laughable.
?Do away with the 20-hour rule,? said Alvarez. ?How do you keep track of it??
Even Delany thinks the rule is folly. Some alternative is needed. Stay tuned.
The idea of limiting time commitments on student-athletes is noble. But football and basketball coaches are paid a lot of money and under a lot of pressure to win ? or else. And that?s done by finely tuned athletes who train ? a lot. Often on their own time.
Practicing and preparing longer are ingrained aspects of coaches and athletes, who are taught to do it more, longer and better. How can that culture and mind-set be changed?
?Coaches have to be in on it,? said Delany. ?We will be doing things student-athletes may not embrace, the coaches may not embrace.?
What that will be and how it will look is anyone?s guess as college sports moves into a new era of governance with the Power Five conferences-Big Ten, ACC, SEC, Big 12, Pac-12-now owning rule-making autonomy. Change could take place at January?s NCAA convention. Until then, no subject is too taboo to discuss.
?That?s seven months from now,? Phillips said. ?We?ve got time to tweak it and come up with other ideas.
If not the year of readiness, what do we propose?
?I don?t think college is for everyone," Phillips said. "Sometimes, we?re forcing young men and women onto our campuses when that isn?t the best place for them. We?ve figured it out in other sports. We haven?t figured it out in football and men?s basketball.?
***
| | |
| --- | --- |
| About Tom Dienhart | BTN.com senior writer Tom Dienhart is a veteran sports journalist who covers Big Ten football and men's basketball for BTN.com and BTN TV. Find him on Twitter and Facebook, read all of his work at btn.com/tomdienhart, and subscribe to his posts via RSS. Also, send questions to his weekly mailbag using the form below and read all of his previous answers in his reader mailbag section. |
And if you want to leave a comment on this post, use the box below. All comments need to be approved by a moderator.