Tom Dienhart, BTN.com Senior Writer,

May 19, 2015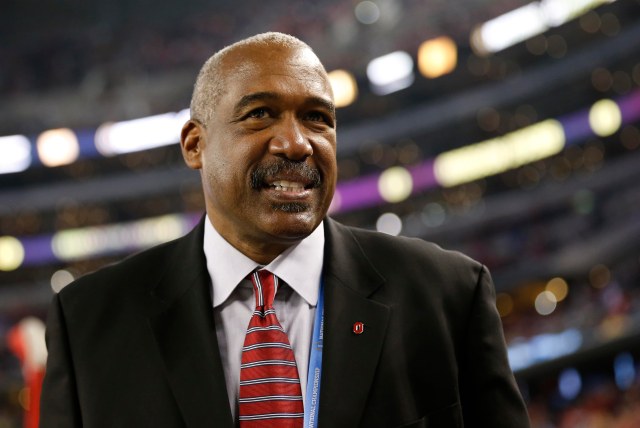 ROSEMONT, Ill. — Ohio State athletic director Gene Smith looked relaxed taking questions at a meeting of Big Ten athletic directors.
Sporting slacks with a sweater vest and wearing loafers with no socks, Smith fielded myriad questions in a session with the media on Tuesday that included discussions on the College Football Playoff, year of readiness, an early-signing period, graduate transfers and more.
Here is Smith's take on several hot topics:
Q: What are your thoughts on an early signing period for football?
A: My concern is that our coaches are outstanding sales people. And I am a little traditional. I like the old-school model of, let them take their time. Young people are changing their minds constantly. ? I am torn and am interested in the conversation.
Q: Is there a consensus on it?
A: I think the majority of the people in our league are for it.
Q: Any discussion of maybe moving up official visits for football?
A: There has been a desire to have more official visits earlier. I don?t know how that?s gonna play out. And that bothers me, too. I am really concerned about recruiting today and the impact on our kids. We are pushing it earlier and earlier. I have young people who come in our office who don?t have their driver?s license yet. I am sitting there with their parents and I am like ? what am I doing?
I am hoping in the new governance structure with the new council and the way our committees are structured that there is discussion at where we are today and we take a total comprehensive view.
Q: Back in the day when you coached, could you have imagined offering scholarships to kids who can?t drive?
A: It?s unreal. It?s unreal. It?s unreal.
Q: What do you think of the College Football Playoff system?
A: It worked excellently. I am not just saying that because we were in it. But because we were in it, I had a different view. I had the operational view. Many of us were concerned with the turnaround between the semis and the finals. I think they handled it a great way. We offered some tweaks. It was managed well. I liked the fact they made the semi game like the bowl experience. That was one of our concerns, that the kids would miss their bowl experience. But it worked. The championship game was lock down. And that?s the way to handle it.
Q: What type of feedback did you get from fans?
A: Positive. The only negatives were the hotels and how the prices went up and three-night stays. But people in both destinations stayed away from the city to not have those prices put on them and then drove in for the contests.
Q: Could your kids have played a third round?
A: Could they? Sure. Would we have had significant injuries? No doubt. We had a nice gap between the Big Ten championship game and the Sugar Bowl. But we still had guys recovering from playing the gauntlet of the regular season. We play the Team Up North, that?s a tough game for us. And we turn around and play the championship game. We have guys recovering after that. If we go to an eight (team playoff), the whole model changes. It?s not going into January. It?s going back.
Q: Do you think Braxton Miller will be back?
A: I am pretty confident Any kid could flip. In my conversation, which was well before spring ball started and he was rehabbing, he was committed to coming back. He was taking courses and coming back. I don?t have any reason to believe he won?t be back.
Q: What are your thoughts on the graduate transfer rule?
A: I am concerned about it because the original intent is not working. Originally, a grad transfer would go to a school because the school you were at did not have your master?s major. Well, we know that?s not happening. So, that?s flawed. The other part of it that concerns me is the grad transfers aren?t graduating from those graduate schools. If I am a dean of a graduate school, I am concerned about my graduation rates. If I am taking people who aren?t gonna finish, and you know they aren?t gonna finish, that?s a challenge. I think we need to talk about it and be fair to the kids.
But we also probably need to look at it differently if we are going to continue to do it. Because it?s not an academic issue. It?s not. They have their undergraduate degree. Let?s quit the façade and say they have one more year of athletic eligibility. How do we facilitate that and not damage a graduate program? I don?t know the answer to that.
Q: Any ideas on the subject?
A: Why do they have to be in a graduate program at all? Why couldn?t they just take some courses that are beneficial to their education? That might be real estate, it might be public speaking ? I don?t care. But to say they are going somewhere to grad school ? It?s just not right. At the end of the day, they have one more year of athletic eligibility. Let them go expire that. Don?t put in on the backs of academics because it?s not. It?s not.
Q: Do you have an issue with players being grad transfers inside the conference?
A: I don?t know how we could restrict someone. I think you let them do what they want to do. I think we are beyond those types of restrictions. If you have your undergraduate degree, you did what we asked you to do. So, let them go if they want to go.
Q: Any thoughts on the proposed year of readiness idea that Jim Delany has mentioned?
A: I think the greatest thing is we talk about the academic issues. I am not a proponent of the year of readiness. I love the fact our commissioner and league put it out there because it has become a lightning rod to discuss the academic issues. We have some sports that aren?t doing well in graduation rates – basketball and football are a challenge. It?s working in our other sports with initial eligibility rules. What are we not doing in those particular sports (football and basketball)? And how can we help those sports do better academically? I like the fact we are talking about it and I am sure in the new governance structure it will be looked at and we?ll come up with something.
Q: Could you support athletes being paid for use of their name and likeness?
A: If it?s passed in the courts, that?s the only way for me. You don?t come to me with a persona or a value. We help you develop that value and persona to the point where your likeness is valuable. It is up to us to make sure we maximize that when you graduate.
There are 18-20 basketball players who probably could play in the NBA now. In football, there are some physical freaks who could go pro right away, maybe 30. So, you change your whole system because of 50 people?
This is a great time to be a student-athlete. It really is. Think about it. You have a nutritionist, sports psychologists, you have better strength coaches, your coaches are better, you get cost of attendance and you are on aid. You don?t have coaches who say, "You have an issue, go run stadium stairs and come back. Then you?ll be better.? I can say that because I have had it happen to me. Now, you have coaches getting to know each athlete. Back in the day, that?s not the case.
We are still in the collegiate environment. We are still not just about academic education, but the education you receive while you are in college. This summer, every member of our football team has to have an internship or shadow someone in business. That is invaluable. We are not in a pure business environment. We are in an educational environment where we are helping young people get their degree and also having life lessons by participating in sports. Put a value in that.
But we aren?t a business. We aren?t a business model. All of our money, we generate $152 million. $37 million goes back to the school to pay for scholarships and support other programs. The rest goes to the kids. I probably raised $100 million this year, and all that will go to facilities.
***
| | |
| --- | --- |
| About Tom Dienhart | BTN.com senior writer Tom Dienhart is a veteran sports journalist who covers Big Ten football and men's basketball for BTN.com and BTN TV. Find him on Twitter and Facebook, read all of his work at btn.com/tomdienhart, and subscribe to his posts via RSS. Also, send questions to his weekly mailbag using the form below and read all of his previous answers in his reader mailbag section. |
And if you want to leave a comment on this post, use the box below. All comments need to be approved by a moderator.