BTN.com staff,

May 17, 2015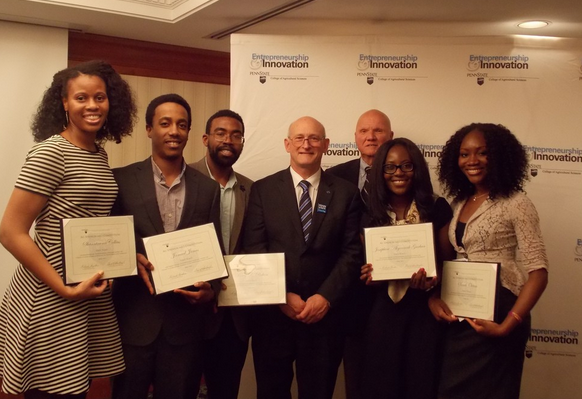 Sarah Owusu, a doctoral candidate in physiology at Penn State University, uses a ?circle of life? analogy when she explains why she?s returning to her native Ghana and giving the gift of science to high school students there.
?I want to expose science and the science experience to them,? Owusu said with conviction. ?Hopefully, they will want to gain a terminal degree once they become scientists. And like a circle of life, they will want to give back and train others to build a community of scientists.?
As a founding member of a startup organization dubbed Bridge the GapSci, Owusu will have her chance to help put science on the map in her home country and other nations in West Africa sometime later this year.
In April 2015, Owusu and her four team partners - all Penn State Ph.D. students - earned top honors in the Ag Springboard business competition, sponsored by the school?s College of Agricultural Sciences.
Bridge the GapSci?s winning pitch, to donate laboratory equipment to science students in West African countries, earned a $7,500 grand prize. The money helped put in motion a plan to deliver basic research supplies that can be used to teach science.
According to Josephine Garban, a doctoral candidate in molecular medicine and the group?s second native of Ghana, African students will be provided gloves, lab coats, paper towels, test-tube racks, pipettes, glassware, writing utensils and stationary during a face-to-face visit from Bridge the GapSci.
?We all came together as a group and a team,? Garban said. ?Our ability to collaborate and work well together has led to something very successful. We hope to be in Ghana at the end of summer or early in the fall semester.?
Owusu and Garban formed Bridge the GapSci with Kerry Belton, a doctoral candidate in molecular toxicology from Macomb, Miss.; Shawntawnee Collins, a doctoral candidate in immunology and infectious disease from Denver, Colo.; and Jamaal James, a doctoral candidate in molecular medicine from Vicksburg, Miss.
Collins said members of Bridge the GapSci started out as a group of close-knit friends who shared similar views on helping younger generations of students to get hooked on science. But to make that happen, the organization has had to learn a few fundamentals about the business world and how it operates.
?We?re all scientists, not business-minded or [into] marketing or logistics,? Collins said. ?We?re all learning the business side of this together.?
Bridge the GapSci?s game plan is to seek donations of scientific equipment - new or gently used - from Penn State, other Big Ten universities and scientific companies. A crowdfunding project also is in the works to keep the non-profit organization afloat as it eventually seeks to branch out to students in need in countries around the world.
[btn-post-package]?The competition was exciting, but now we are all in it to get all of the work done,? Belton said. ?There is some anxiety of dealing with the task ahead, and it?s still a work in progress, but it?s coming along swiftly. Right now, we are in the process of filing for tax-exempt status and setting up the logistics and framework of the organization.?
Belton described getting Bridge the GapSci in working order as ?a pretty big eye-opener, but business is one of my career end-goals.?
Owusu said the group has received mentoring from judges they?ve met from the Ag Springboard competition, helping the Bridge the GapSci avoid some common pratfalls of start-up ventures.
?The people who put the competition together are from a wide range of areas, people in business fields, law, entrepreneurs and scientists were judges,? she said. ?It was good for them to be from all different fields to help us fine-tune our business model and teach us how to become better entrepreneurs and develop an organization.?
By Tony Moton