BTN.com staff, BTN.com staff,

May 15, 2015

Claims regarding the impending demise of newspapers aren?t taken lightly at Northwestern University, a school known for having one of the country?s top journalism programs. Students and faculty at NU are developing creative solutions that will revolutionize the ways we consume the news.

One of the best examples of their commitment to journalism?s future is Northwestern?s Knight Lab. A joint venture between the Medill School of Journalism and the McCormick School of Engineering and Applied Science that started in 2010, the Lab develops user-friendly software programs that enable journalists to tell their stories with more precision, depth and clarity.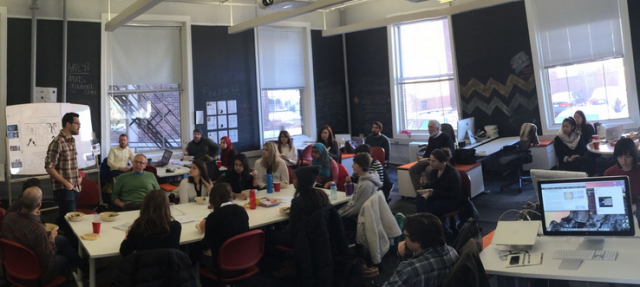 According to Rich Gordon, a professor and director of digital innovation who launched the school?s graduate program in new media journalism, the Knight Lab serves as a valuable incubator for students eager to ?blend journalism and computer science.? He said the results of the Lab?s collaborative undertakings are ?very exciting and rewarding.?
One such undertaking is TimelineJS, a free tool that enables journalists, storytellers and publishers alike to create visually stunning, interactive timelines to augment news coverage. But despite the impressive interface, it?s not complicated, according to Joe Germuska, the ?Chief Nerd? who oversees the Knight Lab?s software development.
?A really successful tool feels simple and natural and belies the time and effort that goes into it,? he said. ?There are other timeline tools out there, but we?re not trying to beat everyone. We just want to make a tool that does what it does really well.?
TimelineJS has been connected to at least two Pulitzer Prize-winning efforts. In April 2015, the Daily Breeze newspaper of Torrance, Calif., won the Pulitzer Prize for local investigative reporting into corruption at a school district. The newspaper?s online coverage included use of TimelineJS.
Two years before that, The Denver Post won for breaking-news reporting on a mass murder at a movie theater in Aurora, Colo. Online coverage of the story featured a minute-by-minute TimelineJS presentation.
Those kinds of tools will help keep journalism fresh and relevant as the audience increasingly turns to the Internet and mobile devices as their primary source of news.
[btn-post-package]?We are now at the beginning, early in the era of finding out what this online thing really is good for, what online things can do that can?t be done on print or on TV, and what people on the Web appreciate,? Germuska said. ?All these questions involve technology, and any media company today should be a technology company.?
Joining TimelineJS on the Knight Lab?s ever-growing lineup of software innovations are platforms such as SoundCiteJS, which enables sound clips to be embedded in content, and StoryMapJS, which allows users to embed content into maps.
And Germuska reports a new version of TimelineJS - called TimelineJS 3 - is expected to be available to the public in mid-June.
?Technology is changing frequently and quickly,? he explained. ?There is less and less interest in ink on paper, but that doesn?t mean people don?t want stories or journalism. We have to understand how to make [journalism] deliverable to wherever they are.?
By Tony Moton