BTN.com staff,

May 14, 2015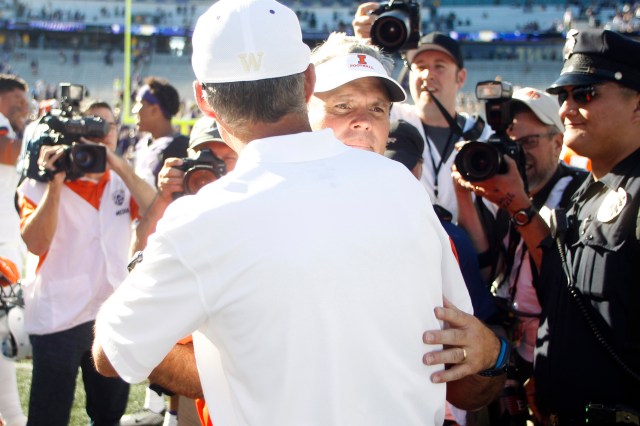 Illinois football players, past and present, took to Twitter on Thursday to show their support for the program and head coach Tim Beckman.
Last Sunday, former offensive lineman Simon Cvijanovic sent out a flurry of critical tweets that accused Beckman of running a culture of player mistreatment.
Cvijanovic, who tore his meniscus vs. Ohio State on Nov. 1 and missed the rest of the 2014 season, stopped playing football because, ?I was asked to push myself past pain until I didn?t want to play anymore.?
The offensive lineman started 29 games at Illinois during his final three seasons. He was one of three players who represented the Illini last July at the Big Ten?s Media Days in Chicago.
See the tweets from current and former Illini below.
So thankful for ALL coaches at Illinois who gave me the opportunity to play the game we love and push me to become a better man #ProudIllini

— Coach Osei (@MilesOsei) May 14, 2015
Hard to please 100+ guys on a football team. If guys are unhappy, transfer.

— Coach Osei (@MilesOsei) May 14, 2015
Football is just like the game of life. Things get difficult and you have 2 options. Fight for your team or find an excuse. #ProudIllini

— Coach Osei (@MilesOsei) May 14, 2015
I always chose to play hurt because I knew my team was more important than myself. Thats life. Put others in front of yourself #ProudIllini

— Coach Osei (@MilesOsei) May 14, 2015
I just finished up the spring semester at Illinois and @coachbeckman and his staff accepted me with open arms #illiniproud #IlliniNation

— Corey Liuget (@CoreyLiuget) May 14, 2015
https://twitter.com/SteveHull5/status/598874904461647872
https://twitter.com/SteveHull5/status/598875981525307393
https://twitter.com/SteveHull5/status/598881056310169602
https://twitter.com/SteveHull5/status/598885299284914176
The #illini football coaching staff has always been there for me! Never been around a more respectful group of coaches #crazyproudillini

— Matt LaCosse (@Mattylac11) May 14, 2015
https://twitter.com/IHaveA_Evantage/status/597600567557365761
After I had surgery on my knee, Coach Beckman, Cubit, and Brattan checked in on me every day to see how I was doing. #Proudillini

— Teddy Karras (@_teddy_k) May 14, 2015
During recovery our coaches and medical staff encouraged me to take my time and made sure I was comfortable and ready for each new exercise.

— Teddy Karras (@_teddy_k) May 14, 2015
https://twitter.com/M_Monheim43/status/598873404809162752
https://twitter.com/M_Monheim43/status/598873760331014145
https://twitter.com/JDuVernois18/status/598870894715510785
This Illini staff gave me an opportunity to play B1G Football and I will forever be thankful for that. #ProudIllini

— Chayce Crouch (@ccrouch07) May 14, 2015
It's amazing to have a coaching staff that helps you obtain all of your goals, ON and OFF of the field #ProudIllini

— Joe Spencer (@IlliniJoe71) May 14, 2015
https://twitter.com/zheata/status/598871815142834176
Our coaches sacrifice everything for us and I'm honored to do the same for them and my team mates. Love them all like brothers #ProudIllini

— Ryan Frain (@Rfrain13) May 14, 2015
https://twitter.com/HouseOfBain_/status/598871153734594560
https://twitter.com/jnudera6/status/598872733582172161
Never been prouder to represent the integrity & proud tradition of University of Football program. GO ILLINI! We are strong. #proudillini

— Jonathan Kerr (@KerrDaddy63) May 14, 2015
https://twitter.com/FitzJimmy10/status/598870952752066560