BTN LiveBIG: Wisconsin grads put their 'Stamp' on mobile technology
A series that covers the true revolutionaries, Game Changers explores how innovators from Big Ten universities — students, faculty and alums — are inventing or reinventing their chosen fields.
[youtube https://www.youtube.com/watch?v=AuS4wOw2DXk%5D
Just five years ago, they were three fresh-faced graduate students in Madison, entering their project in the University of Wisconsin's Climate Leader Challenge (now called Global Stewards Sustainability Prize), a program run by the school's Center for Sustainability and the Global Environment.
Today, Claus Moberg, Jami Morton and Matt Luedke are among the most celebrated young entrepreneurs in the country. Their company, SnowShoe, is changing the way the physical world communicates with the digital, with big implications for industries such as retail and entertainment.
Moberg described the 3D-printed "Stamps" the company makes as "a very clever piece of plastic."
"It has no power, circuitry or radio; no moving parts, no NFC [near field communication], no Bluetooth, no radio whatsoever," he explained. "It is just plastic. Yet each piece we create can be uniquely identified by any computer that has a touchscreen. That means that we can use these physical objects … to represent valuable digital assets."
But back to the beginning: The origins of the company were relatively modest, with the initial idea being an app that would both serve as a loyalty program for grocery stores and reduce their carbon footprint — hence the name "SnowShoe," which decreases the mess people make as they walk through deep snow while still getting them where they want to go.
Specifically, the app was designed to provide consumers with information beyond product labels and digital coupons for various items on the shelves. That idea was good enough to win them first-place — and a $15,000 prize — in the Climate Leader Challenge competition, but they soon realized it wasn't quite ready for real-world application.
As they expanded their client base, they found each store had their own point-of-sale system.
"We were having to write custom code for every store system we signed up, and it was costing us a fortune," said Moberg, who added that they came up with the Stamp as a simple way to retrieve data on who bought what, and when and where they bought it, by placing it against the touchscreen of a smartphone.
However, they quickly realized this technology lent itself to much larger applications. The company took an expanded view of how the product could be used and promoted, and SnowShoe has since attracted household-name clients and more than $2.5 million in funding from venture-capital and angel investors.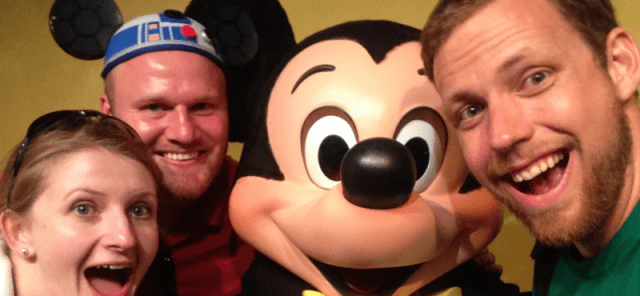 One of those clients, energy-drink company Red Bull, recently used the technology at a concert it sponsored to get attendees to login and download music from their website. The conversion rate during the show was more than 80 percent.
"This is something you would never be able to do under ordinary circumstances," Moberg said. "We've also worked with Disney to hand out hardware to their fan club. You [can] touch it to the screen of your device to download exclusive content."
And he predicts the technology will go even farther in the future.
"Think about … the bobble-head that is given out at a baseball game," he said. "You touch it to a sponsor's website [on your mobile device], and all of a sudden you get exclusive access."
Additionally, that single physical object can provide multiple merchandising and promotional opportunities. For instance, that bobble-head doll could serve up a completely different offer when you touch the team's home page on your smartphone.
To scale operations and attract top technology talent, Moberg and Morton moved to San Francisco to establish a new corporate headquarters, and the company also opened an office in Los Angeles. But they haven't lost touch with their Madison roots. Moberg said SnowShoe wouldn't exist today without the support they received at the University of Wisconsin.
"Even before we started the company, both myself and co-founder Jami [Morton] had gone through something called the Wisconsin Entrepreneurial Boot camp, a one-week-long intensive MBA-style program for science and technology grad students," he said. "That introduced us to the idea of … commercial obligations in [our] research. Maybe you can start your own company as opposed to publishing another paper."
Also, after winning the prize money in the competition, they incorporated their company with the help from the university's Law and Entrepreneurship clinic.
"We were one of the first companies to go through them," Moberg said. "They wrote all of our initial legal-formation docs."
And they benefited greatly from the Madison Entrepreneur Resource, Learning and Innovation Network (MERLIN), a collaborative mentoring effort involving the Wisconsin Alumni Research Foundation (WARF), University Research Park, the Wisconsin School of Business and the Office of Corporate Relations. Through that program, SnowShoe's founders met with seasoned entrepreneurs frequently in the company's infancy.
And Madison, which played such an important role in the company's past, will also be a big part of its future.
"We foresee keeping some of our small-lot manufacturing [in Wisconsin], and as we start ramping up manufacturing, our logistics and fulfillment will stay in Wisconsin," Moberg said. "It's where the company was founded — and where there is a very smart, highly educated, highly dependable workforce that we can leverage."
By Jorge Rivera