BTN.com staff,

May 9, 2015

Here?s the task: You have two weeks to create a master plan that will transform a site in downtown New Orleans into a culturally and economically thriving neighborhood. You must provide drawings, site plans, tables and financial analysis - all while working with team members from multiple disciplines and backgrounds to create the best possible presentation for an esteemed panel of judges.

And if you win, your team gets $50,000. Not bad for a group of college students.

A team from the University of Maryland recently did just that for the Urban Land Institute (ULI) Hines Competition. The program, now in its 13th year, gives graduate students across the country a chance to dive into real-world projects to get a better sense of what it takes to tackle design challenges and, ultimately, create better communities.

The Maryland students - Sebastian Dern, Ashley Grzywa, Daniel Moreno-Holt, Sofia Weller and team leader Patrick Reed - took on the task of designing a plan to revitalize the Tulane/Gravier and Iberville neighborhoods in downtown New Orleans. Their winning proposal, titled ?The Crossing,? took into account a broad range of factors, from infrastructure and mass transit to affordable housing and tourism.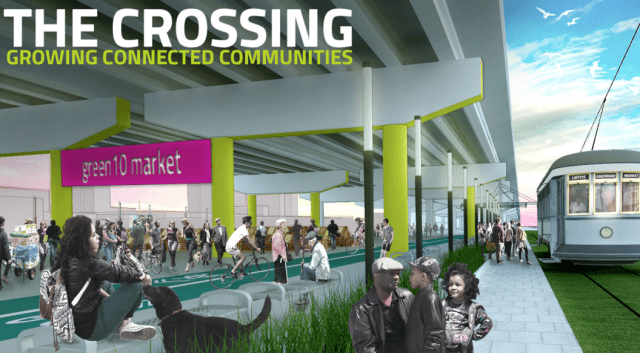 Reed, who?s seeking his masters in community planning, knew the team had their work cut out for them.
?The scope is huge,? he explained. ?You start with a pencil and have all these great design ideas, but obviously, there?s so much to consider in a scenario like this.?
One problem the team found initially was that I-10, which stretches from the Pacific Ocean to Jacksonville, Fla., divided the area in half. The elevated interstate proved a great challenge for practical neighborhood development.
?The area underneath I-10 isn?t very active,? Reed said. ?It used to be a busy retail street before they built the highway. We ended up taking a compromised approach.
?We realized this area might not be able to sustain retail and restaurant frontage. Instead, we programmed other active uses at each crossing. In other words, at each part where you have a horizontal street intersecting a vertical street, we would put in a dog park or a skate park, things like that, to best utilize the space we were working with.?
Participants will tell you that working on real-life projects like this builds confidence and allows them to discover and cultivate their true abilities in their field. But the ULI Hines Competition was also created to teach students the importance of working with people outside of their own field. Multidisciplinary cooperation is ultimately how urban-design projects can go beyond conceptualization to implementation.
The competition requires that each team have at least three disciplines represented. The Maryland team included majors in real estate development, architecture and community planning, all at a masters level. With those areas of expertise, they bested two separate teams from Harvard, and a joint team representing the University of Wisconsin-Madison and UW-Milwaukee.
Reed found value in this aspect of the program.
?I learned so much from my peers,? he said. ?An experience like this is sort of unique in academia because you?re always so focused on improving your own specialty, really honing your own craft, that sometimes you lose the fact that your craft situated in the real world fits in as a part of someone else?s project.
?It?s important to stress too that beyond being an interdisciplinary competition, it?s an interpersonal one,? he added. ?You have a bunch of different, strong personalities, the types that go out and really try to take advantage of these opportunities. It?s really about learning when to step back so others can step forward.?
The Maryland team was able to not only develop a master plan within two weeks and create ideas that could potentially transform a neighborhood in need; they were able to play as a team.
?A lot of what stood out about them was the chemistry,? said Daniel Lobo, director of awards at ULI. ?You could really see them working as a team. The dynamic from all of the members when they presented and how they went back and forth was quite remarkable.?
Aside from $10,000 each, the winning team members can look forward to the doors that will be open to them after winning such an important competition.
?It?s a jumping-off point, you know?? Reed said, ?It?s fantastic that we won, it?s exciting, but it?s really a launch point for the future. I expect to see really bright things from my four colleagues.?
By Will Gramling