BTN.com staff, BTN.com staff,

May 8, 2015

Students at Big Ten universities aren?t waiting until they get out into the ?real world? to make a difference. Find out how they?re working together to create positive, meaningful change in this BTN LiveBIG series: the Student Section.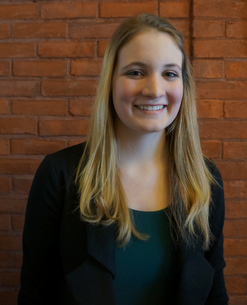 Keeping worms in a bin under your bed certainly doesn?t sound glamorous, but it?s what got Elizabeth Brajevich, a junior at Michigan State, named as one of Glamour magazine?s Top 10 College Women of 2015.
Worm composting, a.k.a. vermicomposting, may have started in her dorm room, but it became a campus-wide initiative called Worms Eat My Garbage.
?Vermicomposting is something that?s simple - it?s cool and anyone can do it,? Brajevich said. ?You literally have newspaper, worms and food waste, and what you get is an amazingly nutrient-rich fertilizer. There?s really no place you can?t compost with worms.
?Taking care of our soil is paramount to being able to take care of our people and our planet,? she added. ?The worms do so much more than just get rid of food waste, they also create a resource.?
During her freshman year, Brajevich and three other students wrote a grant to get a large, communal worm bin placed outside of their dorm. This allowed them to compost waste from Brody Cafeteria, one of the largest in the nation. The soil was then used to grow produce for the cafeteria, and more than 2,000 pounds of waste have been composted since.
?We think it?s our job to educate people about what happens to food waste if it?s not taken care of,? Brajevich said. ?What they can do to participate in sustainable, disposable food waste is not throw it away, but turn it back into what it came from - which is soil and nutrients we can add back to the earth.?
Part of getting students on board with the initiative has been about changing their perception of worms. To do that, they?ve created pins and bumper stickers with catchy slogans such as ?Break it down now, y?all? and ?Peace, love and worms.?
The program also addresses misperceptions, such as the expectation that worm bins will emit pungent odors.
?In vermicomposting, it?s not actually the food rotting,? Brajevich said. ?It?s the worms breaking the food down, which is why it doesn?t smell [bad] at all. The worm bins smell like if you were to open a bag of potting soil - really fresh and earthy.?
Students can also opt to have a worm bin in their dorm room, like Brajevich did, for their own personal food waste. This year, 20 students participated in a pilot program, and Brajevich hopes that incoming freshmen will soon have the option in the future.
?Worm bins are powerhouses at processing leftover food waste - coffee grounds, tea bags, banana peels and apple cores,? she explained. ?Anything I snack on in my room, I can bury under shredded newspaper in my worm bin, and the worms actually break it down and turn it into soil.?
That?s why she pushed for others to have their own worm bins even though it was an uphill battle. MSU, the third-largest residential housing operation in the U.S, has measures in place so that every student feels comfortable in their residence.
?Explaining to the administration that worms can be part of that comfortable environment was definitely a difficult challenge,? Brajevich said. ?I was not sure we would ever get permission to have worms in dorm rooms. For me, it was informal. I just put one in there.?
[btn-post-package]By education the administration about the worm composting process, her group was able to win them over. They thought of everything: phone trees for any worm mishaps, contracts for students to go over with their roommates and even informational sessions. And there?s also a give-back element, where you can return your bin judgment-free at any time.
There have been a few mishaps along the way, but Brajevich said they?ve learned from them. One happened during her freshman year, when she received a text message from her professor saying that the worms that were left in the office had escaped.
?The building temperature wasn?t regulated over spring break,? she said. ?The worms kind of freaked out about that drastic change in temperature, so they left the bin. We now keep lids on the worm bins. Always.?
Ranger Rick, a children?s wildlife magazine that Brajevich has ?been a subscriber of for an embarrassingly long time,? was where she got the initial idea for vermicomposting. She read an article in high school about worm bins, and her grandmother and mother helped her get set up.
Since then, Brajevich has started a worm-composting program everywhere she?s been. It first caught on at her high school thanks to a project she did for a science fair, then spread to several other schools in the Los Angeles area. Now, in addition to her work at MSU, she?s helping students in the Lansing, Mich., public school district do it.
?This initiative gets students excited to learn about how they can give back and how they can have a more sustainable impact,? she said. ?The worm project is really a fun way to bring visibility to the environmental movement and to show people this hands-on way we?re decreasing our impact.?
And all of these efforts recently culminated in being recognized by one of the most well-known publications in the world.
?It definitely showed me that I was doing something right in getting worms to be cool if I was going to be featured in Glamour magazine,? she said.
Brajevich and the nine other college women were honored at an awards ceremony this past April in New York. They also received scholarships and were paired with mentors in their fields.
?I never could have dreamed I would be featured, and I probably never could have imagined having a worm bin under my bed in college, either,? Brajevich said. ?But it has brought a lot of really surprising opportunities for me that I am so lucky to have had.?
By Lindsay Wickman