BTN.com staff,

May 4, 2015

Students at Big Ten universities aren?t waiting until they get out into the ?real world? to make a difference. Find out how they?re working together to create positive, meaningful change in this BTN LiveBIG series: the Student Section.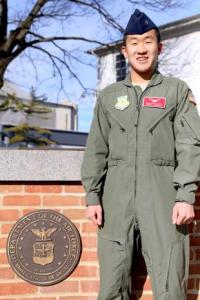 Duck Yim, senior architecture student at The Ohio State University, is an outstanding example of what people can accomplish if they?re willing to push past self-imposed limits. With his incredible work ethic, varied interests and passion for service, Yim is charting a path all his own.
?When I started at Ohio State, I worked really hard,? Yim said. ?At 20 years old, I placed 39th in a field of more than 4,700 at the Flying Pig Marathon, qualified for the Boston Marathon, became the only person under 38 years old to complete 100 miles at the 2012 North Coast 24 Hour Endurance Run, finished in the top 10 percent at the Air Force ROTC?s Field Training and attended emergency medical technician (EMT) school - all while a full-time student.?
If that was the sum of Yim?s accomplishments, it would be impressive enough. But it?s just scratching the surface.
One of his biggest achievements is 1 Day for the K.I.A. (Killed in Action), a military-affiliated student organization that he co-founded with his friend Adam Ingram. The group?s mission is to honor fallen U.S. Armed Forces members and support their families by providing scholarships to their spouses and children.
?1 Day for the K.I.A. and the resulting Living Legacy Scholarship is our gift to those who have sacrificed for the freedom of the United States,? Yim said. ?We hope this philanthropy reiterates the military?s deeply forged principle of looking after one another.?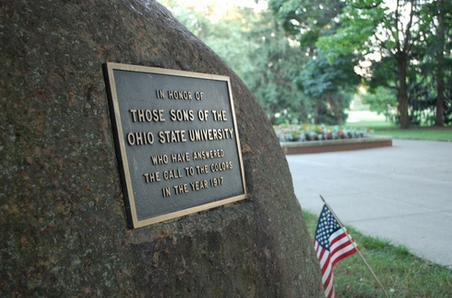 To receive sponsorships and donations for the scholarships, the organization hosts a 1 Day for the K.I.A. 24 Hour Endurance Run every April at the Oval in the center of OSU?s campus. Open to the general public, participants get the chance to run as many miles as they can within a single day. The event also offers a unique Virtual Running feature that allows runners worldwide to participate by completing a run in any location and sharing their results with the 1 Day for the K.I.A. team.
The run is intended to symbolize the strength that soldiers possess and the pain and hardship they endure as they serve.
?We want to remind current service members that in the event something unfortunate did happen, there are programs and, most importantly, people who will be there to take care of their families,? Yim explained.
(To donate to 1 Day for the K.I.A.?s Living Legacy Scholarship, visit www.1dayforthekia.org.)
In the years to come, Yim hopes to continue expanding that outreach while also driving involvement and public policy.
[btn-post-package]?There are several ideas we are seriously considering in our strategic vision,? he said. ?One of them is adding a 5K that meanders through Ohio State?s campus and engages veteran memorials (such as dormitories named after PFC Omar Torres and Major Ray Mendoza). Another potential idea would be to create a lobbying arm of ?1DK? to reform notoriously poor Ohio laws and provide more support for our nation?s most deserving families.?
As for his own future, Yim will be heading to Texas after graduation to begin his Euro-NATO Joint Jet Pilot Training (ENJJPT), the world?s premier combat pilot training program.
?As one of just 40 out of 600 applicants selected, getting into ENJJPT was a dream come true,? he said. ?The first time I told my parents I wanted to be a fighter pilot, I was about 4 or 5 years old.?
Yim never lost sight of his goal, even against seemingly overwhelming odds.
?I had always wanted to become an Air Force fighter pilot,? he said. ?It was a one-in-a-million shot. If something is one-in-a-million, it still means that it?s possible. Hard work, effort and experience are never wasted.?
By Ashley Lemaine