Brent Yarina, BTN.com Senior Editor,

May 2, 2015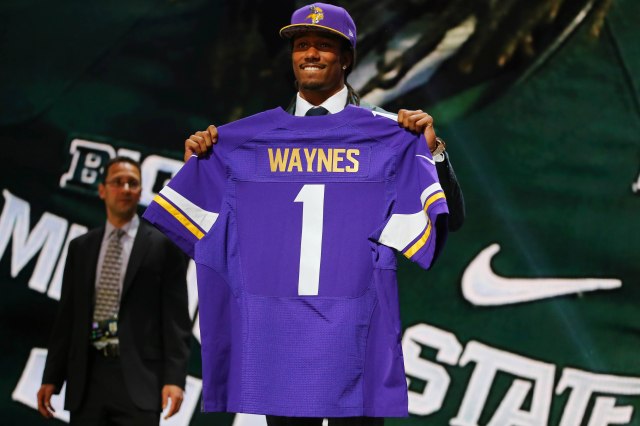 This was cool: Former Michigan State cornerback Trae Waynes held a Twitter Q&A with Minnesota Vikings fans Friday afternoon.
[ MORE: Minnesota Vikings introduce first-round Trae Waynes ]
Hours after being selected with the No. 11 pick in the 2015 NFL Draft, Waynes was officially introduced in Minneapolis.
It was a whirlwind day, no doubt, as the 2014 All-Big Ten honoree and the first cornerback off the board signed autographs, met with his new bosses, addressed the media and visited Minnesota's facilities, among other things.
Luckily, Waynes had a little extra time to take over @Vikings and answer some fun fan questions.
See Waynes' full Twitter Q&A
https://twitter.com/DaRealEllen/status/594219159975698432
Flash! https://t.co/uWq8mpmbnF

— Minnesota Vikings (@Vikings) May 1, 2015
***
https://twitter.com/The_LebanonDon/status/594215472544894976
I love to play with @Adreian_Payne and the @MNTimberwolves in NBA 2K on my PS4 #SpartanDawgs https://t.co/FMJ04im2VC

— Minnesota Vikings (@Vikings) May 1, 2015
***
@Vikings @TWaynes_15 what's your favorite sandwich #TraeTweets

— alan wallett (@alanwallett) May 1, 2015
A double cheeseburger from McDonalds https://t.co/ay6V9uyuGC

— Minnesota Vikings (@Vikings) May 1, 2015
***
https://twitter.com/FzProbst/status/594215009766350848
Exactly how I handled it in Wisconsin and Michigan #Midwest https://t.co/3UqPbJp1Nu

— Minnesota Vikings (@Vikings) May 1, 2015
***
What is your favorite movie? #TraeTweets

— Katie Davidson (@ktdavidson34) May 1, 2015
Pirates of the Caribbean https://t.co/9Svu76b5Aj

— Minnesota Vikings (@Vikings) May 1, 2015
***
@Vikings @TWaynes_15 What is your favorite food? #TraeTweets

— Matty B (@_RandyRanderson) May 1, 2015
Cookie Dough Ice Cream! https://t.co/ZLipPBa8ph

— Minnesota Vikings (@Vikings) May 1, 2015
***
26 so I look forward to seeing you rock it this season https://t.co/7s1BK7URag

— Minnesota Vikings (@Vikings) May 1, 2015
***
@TWaynes_15 Who do you look forward to lining up against in the league? #TraeTweets

— Skip Freely (@skipfreely) May 1, 2015
My dawg Kevin White https://t.co/pLdPxXz3I5

— Minnesota Vikings (@Vikings) May 1, 2015
***
https://twitter.com/_VF51/status/594213933906550784
It was a very surreal feeling and a dream come true. https://t.co/iGiwNA9TaI

— Minnesota Vikings (@Vikings) May 1, 2015
***
@Vikings @TWaynes_15 #TraeTweets First impression on Minnesota?

— ?$wenn? (@Obi_Wan_Okogie) May 1, 2015
It seems like a great football town. All of the fans have been very welcoming. #Skol https://t.co/7EEo4Vsyq8

— Minnesota Vikings (@Vikings) May 1, 2015