BTN.com staff,

April 30, 2015

For a child with cancer, it?s a dream come true: stepping out on to a gridiron, catching a pass on a slant route and running it into the end zone for six.

That?s the kind of thing participants experience at the University of Minnesota football team?s annual Youth Camp. Hosted in partnership with nonprofit organization HopeKids, more than 100 children who have cancer and other serious illnesses participate in a light football practice and interact with Golden Gopher players.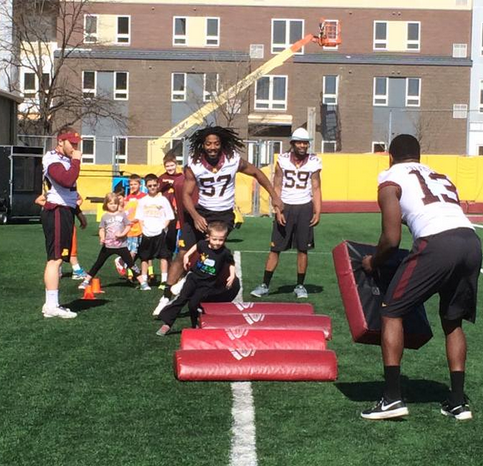 ?The players pass to the kids, and they dive and jump on a cushion like they?re making a winning touchdown - and all the while, the players are cheering them on,? explained Brian Anderson, executive director of HopeKids Minnesota. ?It?s touching to see the Gopher athletes spend such quality time with these kids. They?re all in; they?re so committed to it. It?s really a wonderful experience. To these kids, [the players] are bigger than life, so it?s a big deal. It means the world to them.?
Founded in Phoenix in 2001, HopeKids now has chapters in the Twin Cities area, Salt Lake City and Dallas. The organization aims to improve the lives of children with life-threatening medical conditions and their families by providing events, activities, a community of support - and, most of all, hope.
Now in its seventh year, the HopeKids/UMN Youth Camp continues to grow. On April 18, more than 90 Golden Gopher team members suited up in practice pads and led the kids through multiple training stations. They talked with the children about what it?s like to play football.
Sometimes, those interactions surprise the players. Senior Gopher cornerback and team captain Briean Boddy-Calhoun laughed when describing a precocious six-year-old Youth Camp participant who asked him which receiver he had the most difficulty covering.
?I was impressed!? he said. ?That was a question I?d [expect to] get from the media, not a young kid. He caught me off-guard; I told him I?d have to think back and review tape.?
Anderson said that he continues to be impressed how the school?s student-athletes step up and volunteer frequently, and credits much of that to Anissa Lightner, the university?s assistant director for student-athlete development, and head football coach Jerry Kill.
?It?s made a huge difference in getting buy-in from the student-athletes to participate and communicating the value of giving back to organizations like ours,? he said.
Boddy-Calhoun agreed.
?Coach Kill is such a strong ambassador for these volunteer opportunities,? he said. ?It all starts with the big man. If he wasn?t so enthusiastic, we might not be.?
Minnesota student-athletes participate in various HopeKids events throughout the year, like trampoline jumping and decorating Christmas cookies during the holidays, and especially during the organization?s annual HopeDays Festival, which is hosted by the university and draws more than 1,000 HopeKids and their families. (This year?s festival will take place on Sept. 13 at TCF Bank Stadium.)
Events like the HopeKids Youth Camp help plant the seed to give back during the players? post-collegiate lives as well.
[btn-post-package]?This month, I?ve had multiple former student-athletes contact me,? Anderson said. ?They talk about the experience they had with HopeKids as a student and ask how they can continue that as they enter the real world. Guys like Adam Weber and Dominique Barber, both former UMN and NFL players who are now back with the university, [have] expressed what their experience with HopeKids has meant to them and asked how they can continue with the organization.?
Boddy-Calhoun said the time he?s spent with HopeKids participants and the strength and resolve they show have given him valuable perspective.
?You know, you have tough workouts and feel bad about yourself and think, ?Man, this is hard,?? he said. ?Then comes along a kid, five, six, seven years old. They just had brain surgery and maybe have trouble walking, and it makes you reflect on yourself. It could be so much worse.?
By Betsy Piland