BTN.com staff,

April 25, 2015
A series that covers the true revolutionaries, Game Changers explores how innovators from Big Ten universities - students, faculty and alums - are inventing or reinventing their chosen fields.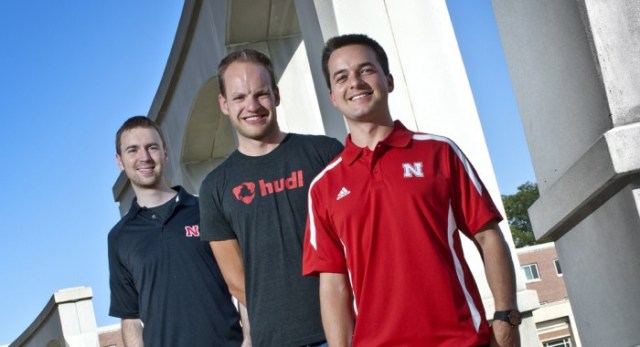 What started out as a way to help the Nebraska football team better film their practices has turned into a worldwide business venture for a trio of UNL grads.
For David Graff and his Cornhusker cohorts, the goal was to find a way to mix their love of sports and technology. What resulted was a business venture called Hudl - today, the fastest-growing company in the state of Nebraska, with more than 200 employees.
?It?s absolutely a dream come true,? Graff said. ?We?re incredibly lucky to be able to do our part to help others.?
Their business model is centered on a platform that allows coaches and players to not only share footage from games, practices and opponent-scouting video, but also use multimedia features to analyze and explain plays, formations and anything else they want to teach.
It started in 2006. As a student assistant and graduate assistant in the media relations office, Graff had unique access to the athletics department. He used that to do more work with training and statistics.
Graff and fellow co-founder John Wirtz had recently earned bachelors degrees from Nebraska, and they?d decided to stick around and get their MBAs at the Jeffrey S. Raikes School of Computer Science and Management. Future grad Brian Kaiser was also a part of the original group.
?We just started kicking around ideas,? Graff recalled. ?We thought a combination of sports and tech really would be a dream job.?
The Hudl team found a supporter in Bill Callahan, Nebraska?s football coach at the time, who was intrigued by their concept of breaking down film to make it easier to teach.
?We put together a real smoke-and-mirrors prototype,? Graff recalls. ?Coach Callahan said, ?This is great, I want it for spring football this year.? We said, ?Whoa, whoa, that?s a month away.??
Callahan then gave them full access to the entire team as a partner, something they found invaluable.
?We were able to really embed ourselves and then launch something for the following spring,? Graff said.
Callahan left after the 2007 season, but his departure ended up having a tremendous impact for the Hudl team. The former NFL coach quickly got an interview as an assistant with the New York Jets.
?In his first interview (with the Jets), he showed them what we had been doing,? Graff said. ?Obviously, it was extremely beneficial.?
[btn-post-package]Now three NFL teams - the Jets, along with the St. Louis Rams and Carolina Panthers - use Hudl for their film sessions, as well as more than 100 NCAA Division I college programs and 15,000 high schools throughout the country.
And it?s not just football: They?ve set up programs for just about every sport you can imagine. They just launched a basketball operation that has 2,500 programs. And they?re about to roll out another one for soccer with about 4,000 college and high school teams on board.
?We?re constantly learning,? Graff said. ?We?ve learned a lot, but we still have an incredible amount to learn. One of our core values is to listen: just sitting down and asking questions about how we can build a better product.?
They also work with individual sports, ranging from tennis and golf to wakeboarding and bobsledding. Hudl has even gone international, with a London office that works with a number of Premier League soccer clubs.
?We?re targeting all levels,? Graff said. ?We?re looking 10 years from now. We want to capture value from every moment in sports, in every sport all over the world.?
Graff and his associates take a great deal of pride in hiring Huskers as they grow. A large share of their 235 employees graduated from the university.
?Nebraska played a huge role in us having the success we had,? Graff said. ?We got a huge base of talent from that program. The Raikes School does a lot of project work. You?ll do a whole-year project [as a student]. We learned a lot about the lifecycle of a product. The people who can do that are who we want working with us.?
The Hudl team feels the sky is the limit for their products. And they believe they can reach their ambitious goals through athletes? exposure to their products from whenever they start playing their chosen sport.
?It really lets us stay with the athlete throughout their entire life - middle school through high school,? Graff said. ?Maybe they go on to play in college. If they do, we want to be there to help them.?
By Matthew Wood