BTN.com staff,

April 23, 2015

Students at Big Ten universities aren?t waiting until they get out into the ?real world? to make a difference. Find out how they?re working together to create positive, meaningful change in this BTN LiveBIG series: the Student Section.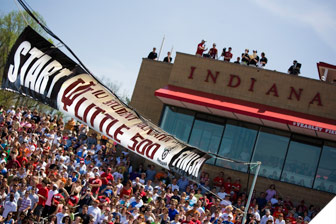 Anything that?s described as being the ?world?s greatest? can be viewed with skepticism. Still, it?s hard to argue with Indiana University?s claim that the Little 500, taking place this weekend in Bloomington, is ?The World?s Greatest College Weekend.?
So what makes this 200-lap, 50-mile relay bike race so special? Well, it brings out tens of thousands of spectators and hundreds of participants, has a history that spans several decades, and may be the best single example of Hoosier spirit year-in, year-out. But the biggest differentiator might be that it?s wholly by students, for students.
The Little 500 is organized by students, the racers are students, and it benefits student scholarships. Few - if any - other collegiate athletic events of that size and scale can say that.
Run by the Indiana University Student Foundation (IUSF) and now in its 65th year, the Little 500 (known around Bloomington as ?Little 5?) was founded by Howdy Wilcox Jr. in 1951. He started the event as a way to raise money for working students - the primary goal of the IUSF.
Wilcox Jr., who was executive director of IUSF at the time and whose father won the Indianapolis 500 in 1919, aimed to recreate the grandeur and tradition of that ?big? race - only in a collegiate setting, and with bicycles. Both races share similar qualifying and practice procedures, and they?re spread out over the course of a month.
The first Little 500 was a big hit - perhaps not all that surprising in a state that?s as crazy about competitive racing as Indiana. More than six decades later, the event draws 25,000-plus spectators each year, and a women?s competition has been added. Next to basketball, it?s IU?s most high-profile sports tradition. And it?s raised over $1 million for student scholarships to date.
Over the years, Little 5 has also seen its share of attention beyond the state borders. For instance, the 1979 Oscar-winning film ?Breaking Away? was inspired by the race. Also, then-presidential candidate Barack Obama made a surprise visit to the event in 2008.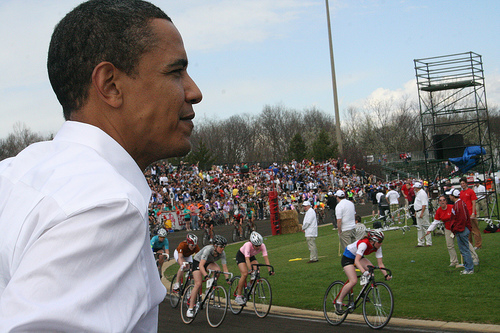 Changing times bring new leaders, such as Jordan Bailey, current race director and a former rider. An IU graduate, he was indoctrinated into the Little 5 tradition before attending the university.
?I grew up in Indiana, and my family was always big Indy 500 fans,? Bailey said. ?I went to the [Indianapolis Motor] Speedway every May to watch the race. Later in high school, I got into cycling and I remember specifically coming to Bloomington, sitting in Bill Armstrong Stadium and seeing the Little 500 unfold before my eyes for the first time. It combined all the pageantry of the Indy 500, but as a bike race. I thought it was the coolest thing I?d ever seen. I knew from that point on I wanted to be a part of it.?
Bailey?s job as race director is year-round, with smaller events taking place every month during the year in addition to April?s main race. He?s in charge of guiding the 300-400 IUSF members in putting on the best show possible and working with corporate sponsors to secure further funding.
As a former competitor in Little 5, the gig is a perfect fit for him.
?I ended up riding for four years as an undergrad, and as luck would have it, a position opened up as I was graduating,? Bailey said. ?I?ve been here ever since.?
He especially enjoys watching the IUSF volunteers go from overwhelmed freshmen to confident upperclassmen. As seniors, they?re part of the steering committee and take on a larger leadership role.
[btn-post-package]?It?s inspiring to see where [the students] start, and watch them develop over four years to eventually lead the whole organization as a senior and take on a leadership role on the steering committee,? he said. ?And it?s not easy being a senior in college, managing academic rigors and a social life, in addition to what?s really a full-time job as leader of the steering committee.?
Bailey is just as impressed with the riders, all of whom must be amateurs and current students with a minimum GPA requirement. They do as much training as any other Division 1 athlete, he said, and are motivated by the glory of winning the race.
Though the race?s riders in the past came almost exclusively from the Greek system, Little 5 participants now represent a cross section of the student body. Residence halls and various student organizations are heavily involved in fielding competitive teams.
And the unmatched levels of participation and enthusiasm make Little 5 an attractive sponsorship opportunity for companies.
?I always tell sponsors, ?It only takes one race,?? Bailey said. ?When you see Bill Armstrong Stadium packed for the first time, the pageantry, the hard work all around from the riders and teams ? when [sponsors] see all of that on race day, and realize all of this is for scholarship money for working students, [it?s] a very powerful message. It speaks for itself.?
For Bailey, the meticulous planning, financial goals and PR pushes that fill the rest of his year all fall away come race day.
?Once that green flag drops, I?m a spectator like everyone else,? he said. ?I wouldn?t miss it.?
By Ben Warden