Tom Dienhart, BTN.com Senior Writer,

April 22, 2015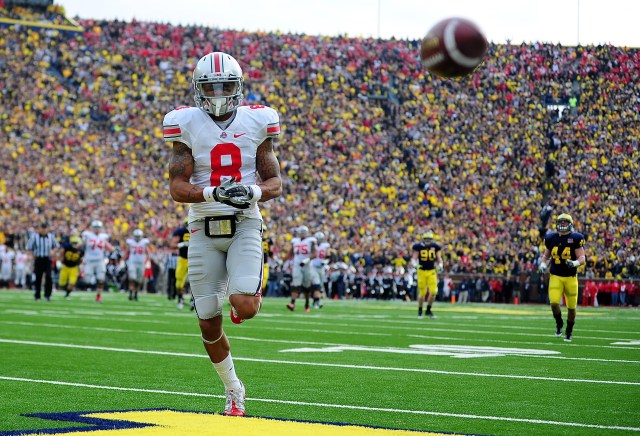 If you want to be an NFL receiver, the places to go in the Big Ten are Michigan and Ohio State. Over the last 10 drafts, each school has had seven wideouts picked. No other Big Ten schools can match that production.
[ MORE: How about the Big Ten's Offensive Line U? ]
The Buckeyes have seen Santonio Holmes, Ted Ginn, Anthony Gonzalez, Roy Hall, Brian Robiskie, Brian Hartline and DeVier Posey get picked.
Michigan has had Braylon Edwards, Jason Avant, Steve Breaston, Mario Manningham, Adrian Arrington, Junior Hemingway and Jeremy Gallon get selected.
Overall, the Big Ten has had 42 wideouts, including Maryland, Nebraska and Rutgers, selected in the last 10 drafts. Seven of those selections were first-rounders.
Here is a look at Big Ten wide receiver NFL draft leader board from 2005-14.
Michigan: 7
Ohio State: 7
Wisconsin: 5
Indiana: 4
Maryland: 3
Michigan State: 3
Penn State: 3
Rutgers: 3
Illinois: 2
Nebraska: 2
Iowa: 1
Minnesota: 1
Northwestern: 1
Purdue: 0
***
First-rounders: 7
Braylon Edwards, Michigan 3rd 2005/Browns
Darrius Heyward-Bey*, Maryland 7th 2009/Raiders
Ted Ginn, Ohio State 9th 2007/Dolphins
Santonio Holmes, Ohio State 25th 2006/Steelers
Kenny Britt*, Rutgers 30th 2009/Titans
A.J. Jenkins, Illinois 30th 2012/49ers
Anthony Gonzalez, Ohio State 32nd 2007/Colts
* Indicates player played before school joined the Big Ten
| | |
| --- | --- |
| About Tom Dienhart | BTN.com senior writer Tom Dienhart is a veteran sports journalist who covers Big Ten football and men's basketball for BTN.com and BTN TV. Find him on Twitter and Facebook, read all of his work at btn.com/tomdienhart, and subscribe to his posts via RSS. Also, send questions to his weekly mailbag using the form below and read all of his previous answers in his reader mailbag section. |
And if you want to leave a comment on this post, use the box below. All comments need to be approved by a moderator.