BTN.com staff,

April 19, 2015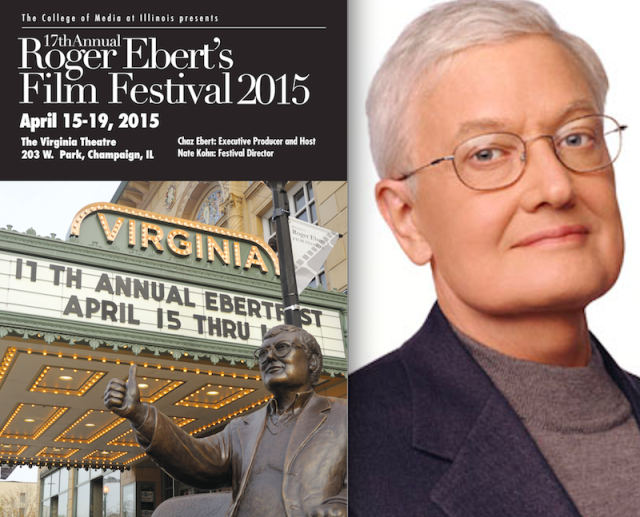 Since 1999, film buffs of all kinds have gathered annually in spring at the historic Virginia Theatre in Champaign, Ill., for Roger Ebert?s Film Festival - otherwise known as Ebertfest. This year's event, which concludes today, has involved hundreds of University of Illinois students and faculty.
Each year, the Department of Media and Cinema Studies recruits more than 300 students to volunteer for a variety of roles, and a substantial percentage of them participate through an internship program created specifically for the event. In return for their efforts, they get valuable exposure to the artistic and business sides of film and help steer the industry toward more inclusive, humanistic viewpoints.
?In 2010, Ebertfest and the Department of Media and Cinema Studies established a festival internship program,? said Mary Susan Britt, associate festival director and director of advancement for the University of Illinois College of Media. ?Over 100 student interns have assisted with outreach and communication, social media, hosting and daily office tasks.?
Along with their efforts, student organizations on campus have also aided with the festival?s kickoff and its scope.
?The University of Illinois? Public Relations Student Society of America (PRSSA) Chapter created and implemented a public relations campaign for Ebertfest 2013, 2014 and 2015,? Britt said. ?PRSSA will continue its efforts for 2016.?
And in recent years, master of fine arts graduate students have been lucky enough to have actors such as Matt Dillon speak with them about the business during the festival week.
From audience research projects for university faculty to gaining a behind-the-scenes perspective of producing a movie for media students, everyone who participates in the festival comes away with a better understanding of the world of film.
[btn-post-package]?Introductions and discussions of each film with filmmakers and audience members are first and foremost educational experiences,? Britt explained. ?The festival teaches us how to better read and interpret the moviegoing event in all its manifestations and how to apply that new knowledge to a more robust appreciation of the arts in our everyday lives.?
Another important objective of the festival - and one championed by Ebert - is to promote tolerance. As such, he made a point of including international films from directors with diverse backgrounds from the start, and that continues today.
?The festival?s goals are many, but they begin with educating audiences to better understand and appreciate serious motion pictures make by filmmakers from around the world,? Britt said. ?A wider understanding and more sophisticated tolerance of other cultures, as discovered in film and taught by the late Roger Ebert, make better citizens of us all.?
Despite their diverse circumstances, everyone is there for the same reason: their passion for watching and talking about movies.
?The playing field is evened and every person in the theater is an equal, discussing their love for film and learning from one another,? Britt said.
Though there are many films outside of the mainstream shown at Ebertfest, the common denominator for all the movies is that they deliver gripping tales and ?illuminate the human condition? in the words of Chaz Ebert, Roger?s beloved wife and festival host.
?Simply put, Ebertfest is a family," Britt said. "We attribute that to the loving and open environment that is created by Chaz, the festival staff, the filmmakers and each and every attendee.?
Go here to learn more about Ebertfest.
By Ashley Lemaine