Tom Dienhart, BTN.com Senior Writer,

April 15, 2015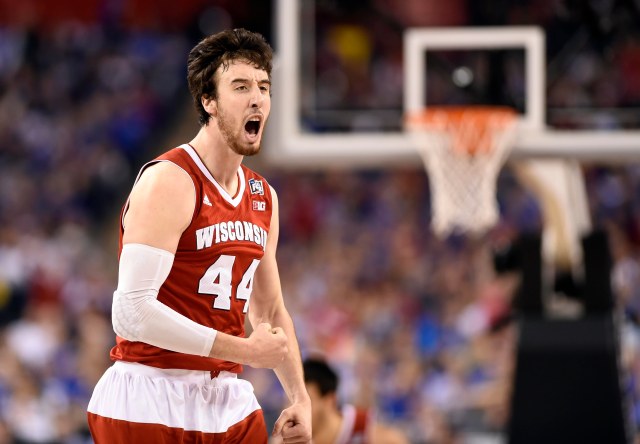 Should Wisconsin retire Frank Kaminsky?s No. 44? Andy Baggot of the Wisconsin State Journal thinks so. And, I agree.
Kaminsky was a transcendental player who took this program to heights it hadn?t seen in generations, including back-to-back trips to the Final Four and the championship game earlier this month for the first time since the school won its only title in 1941.
And ?Frank the Tank? is the first player in program history to win national player of the year honors (Wooden, Naismith, Robertson).
If any player is to be the first in Wisconsin hoops history to have his number retired, it's Kaminsky. For what it's worth, the football program has six numbers retired.
The journey of the 7-footer is the stuff movies are made of, a rare four-year player who was a legit superstar. Kaminsky arrived in Madison in the fall of 2011 as a largely unheralded recruit from Lisle, Ill. Check out his recruiting profile on Rivals.com.
His list of offers was modest: Bradley, Northern Illinois, Northwestern, DePaul, Southern Illinois. You wonder if he would have developed like he did at Wisconsin had he gone to another school.
Kaminsky didn?t start a game as a freshman for Bo Ryan, playing just 7.7 minutes per contest and averaging 1.8 points. Who would have thought this guy would end up as the consensus national player of the year three seasons later? Incredible.
As a sophomore, Kaminsky didn?t make many more waves, averaging 10.3 minutes and 4.2 points. But things changed as a junior in 2013-14, when his scoring average jumped to 13.9 and he averaged 6.3 rebounds en route to earning consensus first-team All-Big Ten accolades.
This past season, Kaminsky took things to another level and was dominant in averaging 17.0 points and 8.0 rebounds and helping the Badgers go 36-4 and earn the program's first No. 1 seed in the NCAA tourney. In fact, he was the only major conference player to pace his team in scoring, rebounding, assists, blocks and steals, showing the versatility that made him so special and an all-time great.
And, all-time greats deserve to have their number retired. No one else ever should wear No. 44 at Wisconsin.
| | |
| --- | --- |
| About Tom Dienhart | BTN.com senior writer Tom Dienhart is a veteran sports journalist who covers Big Ten football and men's basketball for BTN.com and BTN TV. Find him on Twitter and Facebook, read all of his work at btn.com/tomdienhart, and subscribe to his posts via RSS. Also, send questions to his weekly mailbag using the form below and read all of his previous answers in his reader mailbag section. |
And if you want to leave a comment on this post, use the box below. All comments need to be approved by a moderator.