Brent Yarina, BTN.com Senior Editor,

April 15, 2015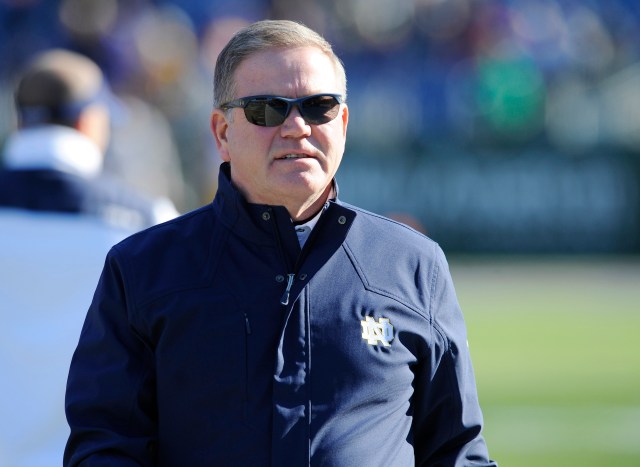 In J.T. Barrett, Cardale Jones and Braxton Miller, Ohio State has a trio of quarterbacks that is second to none.
[ MORE: Watch Ohio State spring game at 1:30 ET Saturday on BTN2Go ]
Let's see, for starters, all three won a national championship ring last year. That's impressive.
There's so much more. The trio has combined to go 36-3 (.923) the last three seasons, not including Kenny Guiton's two starts in 2013, all while tossing 80 touchdowns, compared to 25 interceptions, and running for 38 scores.
Want more? They've combined for three top 10 Heisman Trophy finishes (Miller No. 5 in 2012, No. 9 in 2013; Barrett No. 5 in 2014), two Graham-George Offensive Player of the Year honors (Miller in 2012 & 2013) and three Griese-Brees Quarterback of the Year honors (Miller in 2012 & 2013; Barrett in 2014).
No team can compete with that collection of talent, or even come close to it, right? Right.
However, Notre Dame coach Brian Kelly reportedly said this about his quarterbacks Everett Golson and Malik Zaire.
?There are certain areas that I think at the quarterback position, maybe other than Ohio State, I would take our two quarterbacks,? Kelly said, according to BlueandGold.com. ?I would take our two over Ohio State?s, but in terms of depth, I don?t know that anybody has a better situation than we do with the two quarterbacks that we have.?
Bold words, no doubt. But, let's face it, Kelly has a job to do, and part of it is to sell his program, make players believe they are as good as anyone — yes, even if he doesn't believe it himself — and motivate players, especially ones involved in a competition.
This quote is going to get a ton of attention, and the fact it comes from the coach at Notre Dame, and he happens to call out reigning national champ Ohio State, will make it an even bigger deal.