BTN.com staff,

April 13, 2015

For Steve Katsaros, it all started with a nagging idea. Walking by a construction site one evening, he noticed a rope of construction lights all drawing power from a chugging, polluting generator. Immediately, a question came to his mind: Was it necessary?

The next day, he went home and sketched a simple but elegant solution to the problem: a solar-powered light bulb. Four days later, the Purdue alum had a patent in hand.

?Selling solar lights is how we?re going to change the world,? said Katsaros, who founded a company to market his invention. ?It quickly became apparent that the need for accessible solar lighting was not at construction sites in the developed world, but rather in the homes of the 1.4 billion people that live in energy poverty, thus without access to electric lighting.?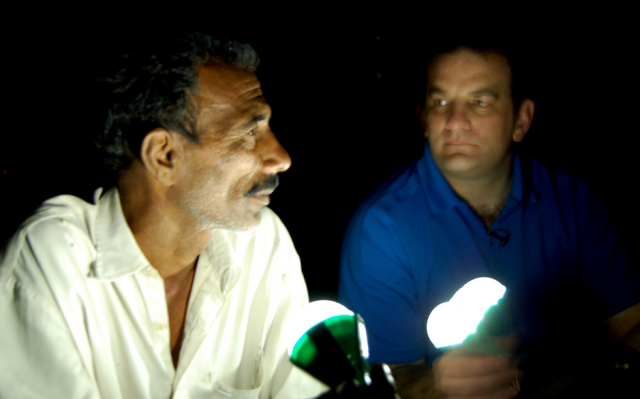 That company, Nokero (a combination of NO KEROsene), sells several models of solar bulbs in countries such as India, Ethiopia, Haiti and Pakistan, where the most accessible form of lighting is often sooty kerosene lamps that pollute the body with known carcinogens.
The innovation and entrepreneurship skills that helped Katsaros grow his fledgling company were instilled in him during his time at the Purdue School of Mechanical Engineering.
?I honestly didn?t think I was going to make the cut [in the highly competitive program], but I wound up with straight A?s my freshman year,? he said. ?At Purdue, I found professors that embraced what I was doing.?
One such professor, Dr. Alan McDonald, was crucial to guiding Katsaros? studies. Under McDonald?s tutelage, Katsaros entered one of his inventions into the then-relatively new Collegiate Inventors Competition (CIC).
?My roommate and I were just crammed into an 8?x15? dorm room, and I wasn?t going to leave my bike outside in the Indiana winter,? he explained. ?So, I designed a bicycle overhead storage rack. I entered it into the CIC, and it won [in 1995].?
Although that invention didn?t generate much money for Katsaros, his experience with and exposure to Invent Now, the organization that runs the Collegiate Inventors Competition as well as the National Inventors Hall of Fame, left an impression.
?It was through them that I learned the fundamentals of marketing, finance, design, execution,? he said. ?I had offers from companies like Boeing right out of school, but with that knowledge, I knew I was going to strike out and do my own thing.?
Katsaros is still involved with the organization. He volunteers at their annual Camp Invention, a program run with the support of the U.S. Patent and Trademark Office (USPTO), and will be featured in a design module at this year?s camp.
?I wish it had been around when I was a kid,? he said. ?My boys are definitely going when they?re old enough.?
[btn-post-package]In addition to his Collegiate Inventors Award, Katsaros has garnered honors such as the USPTO?s ?Patents for Humanity? Award in 2013 and the Purdue Outstanding Mechanical Engineering Award in 2012.
?It is my hope that the word gets out about programs like Camp Invention, the Collegiate Inventors Competition and the Burton D. Morgan [Business Plan] Competition [at Purdue],? Katsaros said. ?There are students with great ideas that lack the platform to grow them. It?s environments like these that foster that innovative spirit [and] give it structure.?
By John Tolley