BTN.com staff,

April 11, 2015

Students at Big Ten universities aren?t waiting until they get out into the ?real world? to make a difference. Find out how they?re working together to create positive, meaningful change in this BTN LiveBIG series: the Student Section.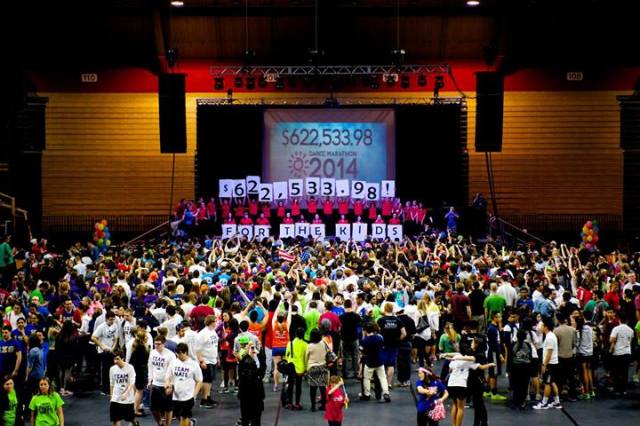 Editor?s Note: Throughout the universities in the Big Ten Conference, it?s a tradition for large groups of students to get together annually to dance the night (and day) away to raise money for pediatric cancer causes. While their dance marathons vary in size and atmosphere, the people who make them happen can probably relate to the experience of Kinan Tadmori, Rutgers student and director of communications for her school?s event.
Below, she shares her experience with the Rutgers Dance Marathon, which is taking place today.
Ask anyone on the Central Planning Team for Rutgers University Dance Marathon, and they?ll tell you that we?re a family.
It?s hard to describe the feelings that come along with being involved with Rutgers Dance Marathon, but I think that sums it up best. To some, Dance Marathon is just one weekend, but those who are involved know it is so much more.
Rutgers Dance Marathon got its start in 1999. It began with 10 dedicated students and raised $43,500.00 its first year. Since then, it has grown incredibly each year. To date, we have raised $4.2 million for Embrace Kids Foundation, with $622,533.98 raised in 2014.
For 2015, we have broken last year?s record of student involvement. More than 800 student dancers, 570 student volunteers, 150 student staff members and countless numbers of visitors will be coming in throughout the weekend, all contributing to the largest student-run philanthropic event in the state of New Jersey.
Rutgers University Dance Marathon (affectionately termed ?RUDM?) is 30 hours of no sitting, no sleeping, and lots of dancing. The first reaction people usually have is ?Why?? And our answer is simple: ?For The Kids,? or FTK, the motto of dance marathons across the country.
The charity we support, Embrace Kids Foundation, is one of a kind. Embrace Kids helps support the non-medical needs of children with cancer and other serious disorders, as well as their families. They provide those kids with tutors so that they don?t fall behind in school. They provide financial assistance to families struggling with rent, groceries and other basic needs that become more difficult to afford as medical bills rack up. And they provide a shoulder to cry on and a friendly smile when things get particularly tough. It?s all about helping maintain normalcy in the lives of families with children going through treatment - giving kids a chance to be kids.
Embrace Kids Foundation and the hospital where the children receive treatment are located in the heart of New Brunswick, just a short walk from campus. As Rutgers students, we are so fortunate to be able to visit the children at the hospital and see them frequently. And once you meet these kids, you?re hooked. They?re loving, they?re silly, they?re funny, they?re mature beyond their years, and they?re brave. They are why we stand and dance on our feet for 30 hours. We stand because we are fortunate enough to be able to, and to show the kids and their families that we support them.
[btn-post-package]When I look back on the past year of planning (yes, a full year of planning has gone into this one weekend!), I cannot help but get emotional. As the weekend rapidly approaches, we?re seeing everything fall into place. Many ask how much money we?ll raise this year - I can honestly say I don?t know. None of us know the total until 6 p.m. Sunday, when we all get on stage and lift the curtain off of the numbers for everyone to see. We don?t set a goal, we don?t make projections. We simply try to make RUDM the best it can possibly be for everyone involved, whether it?s student dancers or patient families who come throughout the weekend.
Participating in RUDM has done more for me than I ever thought possible. I?ve grown professionally and learned, truly, what it means to work in a team. But more importantly, it?s taught me that life is a gift, and that giving to others is the most valuable way to spend it.
By Kinan Tadmori