Sean Merriman, BTN.com web editor,

April 4, 2015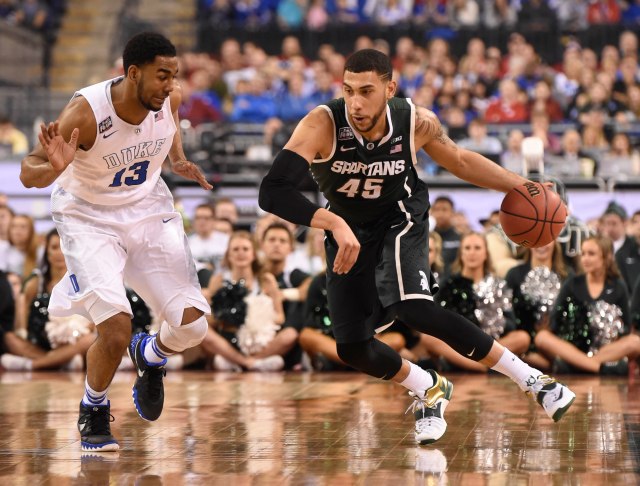 INDIANAPOLIS — Early on, it seemed, Michigan State couldn't miss. And, as he's done so many times this season, junior captain Denzel Valentine was leading the way.
[ MORE: Get Tom Dienhart's Michigan State-Duke reaction ]
The Spartans started 5-of-7 from the field, including three Valentine triples, to jump out to a 14-6 lead in the opening 3:41 of Saturday night's Final Four matchup vs. the No. 1-seeded Duke Blue Devils.
But then, in an instant, everything changed.
Duke came roaring back behind a suffocating defense and Jahlil Okafor, arguably the most offensively-skilled freshman big man college basketball has seen in more than a decade.
The Blue Devils went on a 14-2 run, taking their first lead of the game at the 9:37 mark in the first half, and they never looked back.
Time ticked and destiny began to fade for an MSU team that many believed would never reach this point.
Rely on what got you to this point. That was MSU's plan heading into their seventh Final Four under Izzo. But by this end of this much-anticipated national semifinal, it was Duke which executed the plan. When the final buzzer sounded, the scoreboard read Duke 81, Michigan State 61.
Game over. Season over.
"The bottom line is that we just didn't play very well," Tom Izzo said. "I think Duke had something to do with that, and Michigan State had something to do with that."
[ MORE: Gallery: See our favorite photos from Michigan State-Duke ]
And Izzo's right. The Spartans shot 40 percent from the field, while on the other hand, it felt like there were times when Duke could get just about whatever they wanted on the offensive end. The freshman duo of Okafor and Justise Winslow combined for 37 points, and the Blue Devils shot a remarkable 52 percent, in addition to connecting on 27 free throws, compared to the Spartans' nine makes from the charity stripe.
"That's what beat us. That and the turnovers," said Izzo, whose team committed 14 turnovers in the loss. "They capitalized on our mistakes. Anytime we made one, they made us pay for it."
It was a challenging close to a season that was filled with so many positives, especially over the past month.
At one point late in the season, many were left unsure if this team was even going to make the NCAA tournament, let alone advance to the Final Four.
"A lot of people didn't believe in us this year, but I think we proved a lot of those people wrong," Branden Dawson said. "The season didn't end the way we wanted it to, but at the same time, we had an unbelievable run here."
An unbelievable run, it was. As is the case with any outstanding college basketball program like Michigan State, the ultimate goal is to win a national championship. But before you can do that, you need to build a foundation. And while many people viewed this as a potential rebuilding year for Michigan State, it was far from that.
[ MORE: Photos: Spartans' Final Four patch falls off ]
"It's tough because every time I'll be thinking about how good of a year we had, I'll think back to this and how close we were," Denzel Valentine said. "But we're going to walk into the gym next season and see that banner and know, 'that was us.' That's going to motivate us. Next year, we're going to be on a mission."
Valentine will be the senior leader on next year's team, and he said he will make sure to remind his teammates everything they did to get this far, and then take it one step further.
Asked where next year's Final Four will take place, Valentine was quick to respond.
"Houston," he said, "and we'll be there."
With a senior leader like that and a coach who has a track record for getting the best out of his players at this time of year, it would be a mistake to bet against the Spartans.
Two words: Thank you. pic.twitter.com/DT602KNuhj

— Michigan St. on BTN (@MichiganStOnBTN) April 5, 2015