Sean Merriman, BTN.com web editor,

April 3, 2015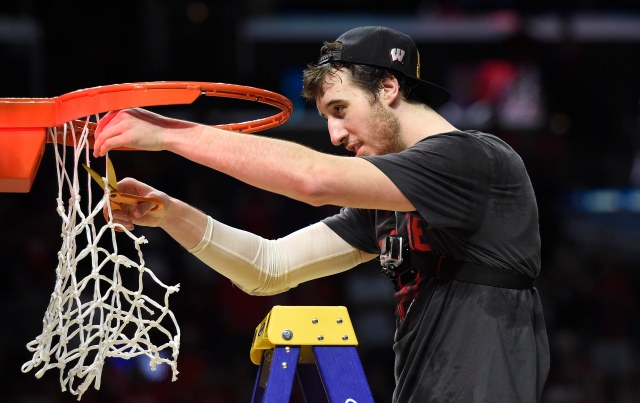 "Hey, Patrick!" hollered Wisconsin senior All-American Frank Kaminsky, trying to get the attention of Patrick Herb, Wisconsin's Director of Basketball Communications. "Hurry up, go grab it!"
The game clock was winding down, and the Badgers were seconds away from reaching their second consecutive Final Four. Three, two, one. Buzzer. Game over.
Herb ran to grab his backpack and take out the item Kaminsky was so insistent on having in his possession: His GoPro Camera. To understand the importance of the camera, rewind several months back to Christmas Day, when Kaminsky received the camera as a gift.
[btn-post-package]
"I wanted it so I would be able to document some of the cool events in my senior season," Kaminsky said. "It's my last year, so I figured to be able to record some of the footage and pictures would be awesome."
Since that day, Kaminsky has made sure to always have his GoPro Camera by his side, recording and taking in all the memories he has made in a season that has been filled with plenty of them.
One of his first times breaking out the gadget was on Senior Day, when he strapped the camera onto his chest and came out to a roaring ovation from the Kohl Center crowd. A fitting sendoff for a guy who many consider to be the greatest player in Wisconsin's rich basketball history.
"He put it on, came out to a huge ovation, and then went to half court to give (Wisconsin coach) Bo Ryan a big hug," Herb recalls. "As he's walking out, you can see Bo getting kind of misty-eyed as he watches him one final time at the Kohl Center. That's one-in-a-kind footage."
The camera made it's way to the Big Ten Championship, where Kaminsky recorded the celebration after the Badgers defeated Michigan State. It was there for the celebration when Wisconsin was announced as the No. 1 seed in the West Region of the NCAA Tournament. And of course, it was there when the Badgers defeated Arizona on the way to securing another Final Four berth.
Kaminsky has allowed his teammates to see some of the footage, but he's not sharing all of it quite yet.
"There's a lot of really neat stuff on there, I'll tell you that," said Wisconsin senior Josh Gasser. "When you're on the stage and getting a trophy, you don't really get to see the whole picture and take in everything that's going on around you. This is great because you can look back and realize 'wow, that's pretty cool.' It's stuff that you'll have for the rest of your life."
So, who knows everything that is on the infamous GoPro camera? Only Kaminsky, and that's the way he wants to keep it for now.
According to Herb, both CBS and ESPN have inquired about getting the footage from the camera, but Kaminsky has respectfully declined and has chosen to hold onto the footage.
"He's got some big plans for it," Herb said. "I know at some point he wants to put together a highlight video of some of the things he's experienced."
Kaminsky has already begin cutting footage for the camera and working on some simple edits in the process.
"He's a novice with it right now," Herb said, "but he will tell you that he's having fun with it."
So, what's the end game with the footage? Will it eventually make it's way to social media?
"It's possible," Kaminsky joked. "Right now, I'm not releasing any information."
One thing is for certain: If the Badgers are fortunate enough to cut down the nets on Monday night, Kaminsky will be center stage, in the middle of it all, with his GoPro by his side.
***
Read more NCAA Tournament posts below:
[display-posts tag="ncaa-tournament" posts_per_page="10"]