BTN.com staff,

April 2, 2015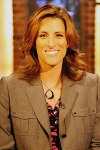 Congrats to all the Big Ten teams that competed in the postseason this year. It has been awesome to see the Big Ten take another step in the NCAA Women's Basketball Tournament, getting two teams to the Sweet 16 and one to the Final Four, its first since 2005 (Michigan State). Iowa had an exceptional season that culminated with a Sweet 16 appearance, the first for Lisa Bluder.
Ohio State was the surprise team in the conference and the NCAA with what they were able to accomplish this season. Maryland just had a terrific year. It really is remarkable that the Terps were able to come into a new league and run the table. Not only that, but then win three games in three days to take the conference tournament. Now they have continued that run into the Final Four!
Congrats to the Terps on making back-to-back Final Four appearances for the first time in school history! This is also just the third time in NCAA tournament history that all four No. 1 seeds advanced to the Final Four.
It certainly helps that this core group has been through this before. There are so many distractions that come along with the Final Four. Open practices, autograph sessions, endless press conferences and media sessions, closed practices at off-site institutions, family and friends calling, texting, requesting tickets and many other things. All of these things can be overwhelming, so when you know what to expect and you understand how to manage the situation, it allows your focus on the game at hand to be that much greater. The overall experience of having been there before will keep them from being caught up ?in the moment.?
Welcome back to the Final Four, now fly all the way across the country and when you get home, UConn awaits! The Huskies have been a dynasty because of the way they approach every day, every practice, every possession in every game.
This particular UConn team has improved tremendously since that Nov. 17 loss at Stanford. Offensively, the Huskies are the most efficient team in the country. They have six players that shoot over 50 percent from the floor, and four of their five starters have over 100 assists on the season.
They lead the country in scoring offense, scoring margin, field goal percentage, 3-point field goal percentage, assists, scoring defense, defensive field goal percentage and blocks. They have been dominant in every sense of the word. Maryland certainly has a tough challenge ahead, but the Terps have a few cards in their hand to play. You have to be able to score from all five positions on the floor; the Terps can do that. You certainly have to have production from the bench, and Maryland?s depth has been its strength all season. You also have to be able to defend and rebound as individuals and collectively.
Against UConn, a team cannot afford missed opportunities. If you have empty possessions on offense, the Huskies make you pay. If you miss a defensive assignment, the Huskies make you pay. They are like sharks that smell blood in the water. Maryland certainly has a tremendous opportunity in front of them; they also have the time come up with a comprehensive game plan on both ends.
It?s not enough to just play status quo. You have to make UConn uncomfortable, and then you have to keep them uncomfortable. You have to force them to make tough shots and you also have to make a high number of shots. If Maryland plays a flawless game on both ends of the floor, I believe they have the pieces to pull off the upset.
***
| | |
| --- | --- |
| About Stephanie White | White, a member of Purdue's 1999 national championship team, is a BTN women's basketball analyst and head coach of the WNBA's Indiana Fever. Follow her on Twitter @swhitej2 |