BTN.com staff, BTN.com staff,

April 2, 2015

San Diego is thousands of miles from State College in a geographic - and possibly cultural - sense. Still, the California city will be the site of Penn State University?s (PSU) newest classroom next fall.

What?s the connection between the campus in the shadow of Mount Nittany and ?America?s Finest City?? Craig Weidemann, Penn State?s vice president for outreach and vice provost for online education, explains.

?We have a long history of educating members of the armed forces, and they were really interested in working with us to provide another learning institution,? he said. ?San Diego was the natural choice; it has 55,000 military personnel and also is home to one the largest Penn State alumni chapters in the country.?

Construction is currently underway on the new classroom, which will be located at the U.S. Marine Corps Recruit Depot (MCRD) - Penn State?s first permanent academic facility on a military base.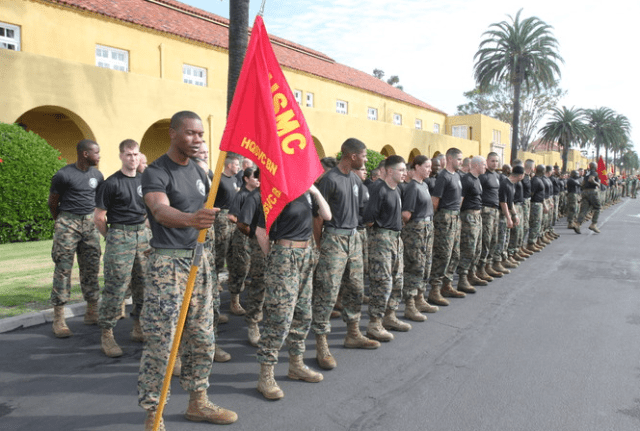 The classroom will be ready for students when the Fall 2015 semester starts. According to Weidemann, some faculty will head to San Diego right at the beginning to teach classes, and more instructors will be added over time as the program grows. There will also be room for an admissions counselor and an outreach director.
Students will be able to take various courses in person through this classroom. Even though it?s at a ???Recruiting Depot,? most prospective students won?t be military recruits.
?The people that will be taking classes [at MCRD] are the people that work on-base supporting that mission of training Marines, as well as from other installations in the area,? said Ginny Newman, Penn State?s assistant director of defense sector education. ?It?s the proximity and the confluence of all these places, not so much the Depot itself, which makes it such an attractive site.?
Those surrounding places include Marine Corps Station Miramar, Naval Base San Diego and Naval Amphibious Base Coronado - all located within 15 miles of the MCRD. Civilians in the area may also take the courses, although military personnel have priority enrollment.
Interestingly, the classes at this location will be delivered through the university?s online World Campus program. That?s to provide better service to members of the U.S. Armed Forces, who typically don?t stay in a single place for more than a couple of years.
?Military personnel are always on the move,? Newman said. ?They have a new duty station every two years, so instead of taking a class with one school at one duty station and then in two years having to find another school, with the World Campus, you pick the school and the school will follow you no matter where you go.?
[btn-post-package]Launched in 1998, Penn State?s World Campus is the virtual-learning component of the university. As one of the first major accredited institutions to provide online education, the PSU program grew slowly at first - especially in the era of dial-up modems. But now it boasts nearly 15,000 students and 125 full-degree programs.
?In the early days of online learning, it was ?Read this and then take a test on a computer,?? Weidemann said. ?But today we have nearly 250 experts in instructional design working on our learning content. They design our courses to have interactive problem-solving, motion video, you name it.?
As of now, nearly 17 percent of all World Campus students are active military or veterans. Common areas of study for that group include homeland security, supply-chain management, human resources and employment relations.
When asked if school spirit is diminished by an online learning environment, he responded with a resounding ?No.?
?We?ve found that World Campus graduates are twice as likely to join the alumni association after graduation as students who learn face-to-face,? he said. ?These students truly embrace Penn State. Many of them who come to graduation have never set foot on the campus or climbed Mount Nittany, but are very proud of their degree.?
By Ben Warden