Sean Merriman, BTN.com web editor,

April 1, 2015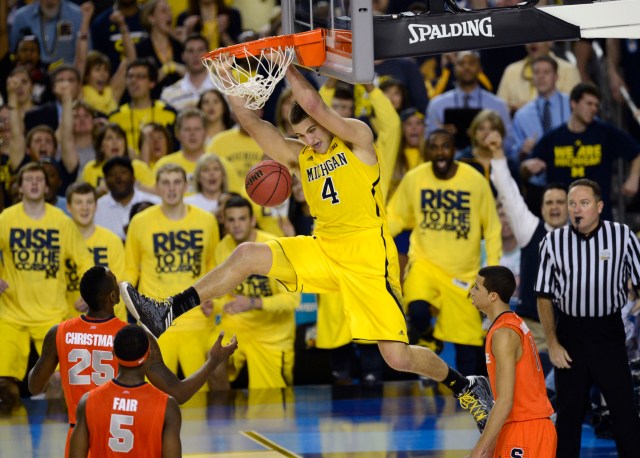 The Final Four is just three days away, and two teams from the Big Ten will be represented for the first time since 2005, when Illinois and Michigan State advanced to the national semis.
[ MORE: Get all of our NCAA tournament coverage ]
Fourteen Big Ten teams have reached the final weekend of the season over the last 20 years, not counting this year's Michigan State and Wisconsin. Minnesota would be No. 15, but its postseason run was wiped out after an academic fraud scandal.
Six of the 14 advanced to the national final, however only one has cut down the nets (Michigan State, 2000).
I took a trip back in history and highlighted my favorite individual performances, in chronological order, from Big Ten players in national semifinal games over the past 20 years.
Here's the list.
Morris Peterson, Michigan State – 2000. The Spartans' sharp-shooting forward was phenomenal in MSU's 53-41 win over Wisconsin in the 2000 Final Four. Peterson poured in a game-high 20 points on 7-of-15 shooting and grabbed seven rebounds in the win. Perhaps even more impressive is that Peterson and the Spartans held Wisconsin to 35 percent from the field. The Spartans would go on to defeat Florida on their way to winning the national championship, the Big Ten's last title.
Andre Hutson, Michigan State – 2000. Considered by many to be the most underrated player in recent Michigan State history, Hutson went for a workmanlike 10 points and 10 rebounds in the Spartans' 2000 victory over Big Ten rival Wisconsin. A year later, in a 2001 national semifinal loss vs. Arizona, Hutson scored 20 points and grabbed five rebounds.
Jeffrey Newton, Indiana – 2002. The 6-9 power forward picked a good time to have one of the best games of his career, up to that point. Newton scored 19 points, grabbed six rebounds and blocked four shots in Indiana's 73-64 win over Oklahoma, leading the Hoosiers to a national title matchup against Maryland.
Luther Head, Illinois – 2005. Head was the third member of the Fighting Illini's three-headed monster at guard, joining Dee Brown and Deron Williams. But it was Head who had the biggest game on the biggest stage in the 2005 Final Four. The talented guard scored a game-high 20 points, including six 3-pointers, and added six rebounds and five assists as Illinois defeated Louisville 72-57, earning a berth in the national championship game, where it lost to North Carolina.
Roger Powell Jr., Illinois – 2005. As great as Luther Head was in this game, Powell was right next to him when it comes to top performers in Illinois' win over Louisville. Powell stuffed the stat sheet with 20 points and five rebounds, four of which came on the offensive end.
Mike Conley Jr., Ohio State – 2007. Many figured to see a battle between Greg Oden and Roy Hibbert in this 2007 Final Four matchup vs. Georgetown. But it was Conley Jr. who stole the show in the 67-60 win, with 15 points, six assists and five rebounds, to help send the Buckeyes to the national final vs. Florida.
Greg Oden, Ohio State – 2007. Oden flirted with a double (13 points, 9 rebounds) in Ohio State's 67-60 national semifinal win over Roy Hibbert and Georgetown. The one-and-done star shot 55 percent (6-of-11) and added a steal and a block, as well.
Kalin Lucas, Michigan State – 2009. The 2009 Big Ten Player of the Year was sensational in the Spartans' memorable 82-73 victory over No. 1-seeded Connecticut in the 2009 Final Four in Detroit. Lucas scored a game-high 21 points, on 7-of-15 shots, and added five assists as MSU stamped its ticket to a national championship matchup against No. 1 North Carolina.
Raymar Morgan, Michigan State – 2009. Morgan was dominant in the Spartans' win over Connecticut in a Final Four matchup in Detroit. The swing forward scored 18 points, on 7-of-13 shooting, while adding nine rebounds and five steals in 33 minutes. His outstanding play helped lead MSU to a 82-73 victory over the Huskies and a spot in the 2009 national championship game.
Mitch McGary, Michigan – 2013. McGary was introduced to the college basketball world in the 2013 NCAA Tournament, and his 10-point, 12-rebound, six-assist performance in the Wolverines' Final Four win over Syracuse was his brightest moment.