BTN.com staff,

March 30, 2015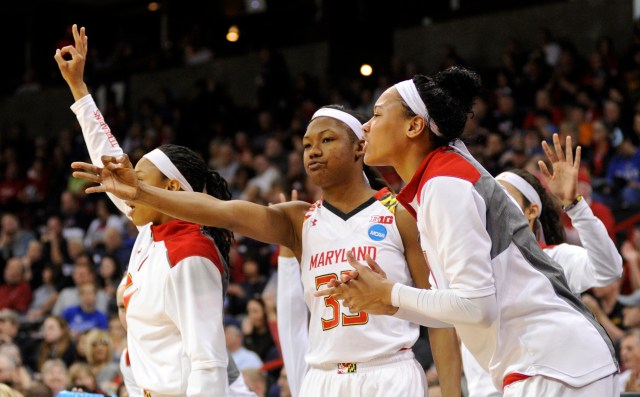 (AP) The expectation was placed on Holly Warlick the moment she was named as Pat Summitt's successor at Tennessee.
Competing for a national title was the baseline Summitt created and even with the transition to Warlick in charge, the standard for defining success didn't change.
"It's always been in the back of our minds. … This is what we have been working for all season since we met up together in August and those who were at summer school even before that," Tennessee senior Cierra Burdick said. "We have been working for this day tomorrow. It's exciting. It's a great opportunity."
For second-seeded Tennessee (30-5) to reach Tampa, it must get past the Terrapins' attempt at a second straight Final Four. Maryland (33-2) has won 27 straight and last year knocked off then-No. 1 seed Tennessee in the round of 16 before upsetting Louisville on the Cardinals' home court in the regional final.
"Last year it was a great confidence booster in terms of where our team was at," Maryland coach Brenda Frese said. "Tor us this year it's just been continuing on one day at a time. So, different elements. … This team has played well beyond their years this season."
Tennessee needed one of the biggest comebacks in its lengthy tournament history to even get to the Elite Eight. The Lady Vols relied on a full-court press – called "Vegas" because of its all-in nature – to rally from 17 down with less than 7 minutes remaining to stun No. 11 seed Gonzaga.
The aggressiveness and attitude needed to rally against Gonzaga is similar to what Tennessee's season goal has been from the start, of being all-in to get back to Tampa. It's especially meaningful for Burdick and fellow senior Ariel Massengale, the only two healthy Tennessee players to play for Summitt when they were freshmen.
Now Tennessee faces the obstacle of the Elite Eight. Warlick was here two years ago – her first season after taking over for Summitt – and lost to Louisville.
"It's just a tough game, because you know what's at stake," Warlick said. "And what you've worked for all year is to get to the Final Four. Now it's down to one game."
While Tennessee was struggling to get past Gonzaga in its regional semifinal, the Terrapins were having an easy time by comparison getting past former ACC rival Duke 65-55 to reach the regional finals for the sixth time under Frese.
Getting to this juncture of the postseason has become the standard for Maryland as well.
"We set goals at the beginning of the year and we have met every single one of them thus far," Maryland guard Lexie Brown said. "So for us to put in all the work that we did in the summer and preseason and everything that we have been able to accomplish this year, this is more icing on the cake of our accomplishments."
Here's what else to watch for in the third NCAA meeting all-time between Tennessee and Maryland:
CARRY THE MOMENTUM: Tennessee outscored Gonzaga 33-12 over the final 11:34 to pull off its emotional comeback. Burdick was still so excited she woke up at 4 a.m. and couldn't fall back asleep.
The Lady Vols don't believe there will be a lull because of all the energy expended in the comeback.
"We play better when we're using our emotion and our energy to fuel us," Burdick said.
UNFAMILIAR FACES: Knocking off Tennessee a year ago in the regional semis required a huge game from Maryland's Alyssa Thomas, who had 33 points and 13 rebounds. Just as good was Tennessee's Meighan Simmons, who had 31 in the losing effort. Both are gone, and each team has relied more on balance this season. Both Tennessee and Maryland have four players averaging in double figures scoring.
FRESE FRAME: This will be Maryland's second Elite Eight game in Spokane. The Terps suffered a wild 98-87 loss to Stanford in the 2008 regional final. For Frese, it was a whirlwind just after the birth of her twin boys.
"All I remember was the hotel room and that was about it," Frese said.