Tom Dienhart, BTN.com Senior Writer,

March 30, 2015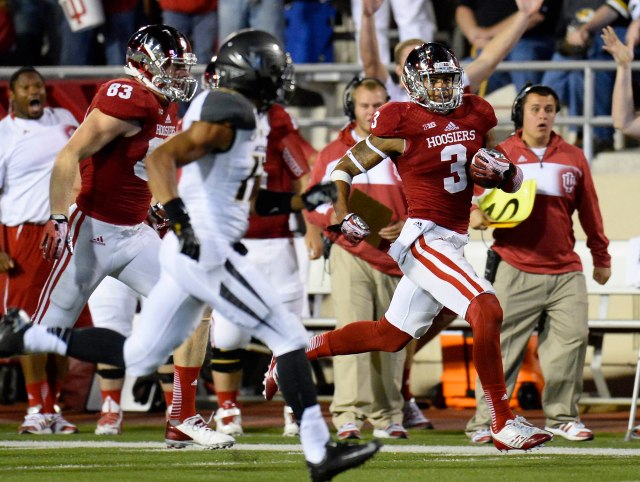 The draft pickings have been slim for Indiana over the last 10 years with just 12 selections.
[ MORE: Get Tom Dienhart's team-by-team NFL draft snapshots ]
The Hoosiers didn?t have any selections in 2012 or 2013. And they also went pick-less in 2007 and 2009. The last time Indiana had a first-round pick? You have to go back to 1994, when wideout Thomas Lewis went No. 24 overall to the Giants.
Perhaps Indiana can break that drought this year with running back Tevin Coleman possibly sneaking into the top round.
The NFL Draft is just over a month away, running from April 30-May 2 in Chicago.
Here is a look at Indiana over the last 10 drafts.
INDIANA DRAFT (2005-14)
Highest pick: OT Rodger Saffold, second-round/33rd overall, 2010 Rams
Most fertile draft: 2010, three picks
Total first-round selections: None
Total picks: 12
Position breakdown:
Receiver: 4
Offensive line: 3
Defensive line: 2
Defensive back: 2
Tight end: 1
***
2005
Third round: WR Courtney Roby, Titans
2006
Fourth round: G Isaac Sowells, Browns
Fourth round: DE Victor Adeyanju, Rams
2007
None
2008
Second round: CB Tracy Porter, Saints
Second round: WR James Hardy, Bills
2009
None
2010
Second round: OT Rodger Saffold, Rams
Seventh round: DE Jammie Kirlew, Broncos
Seventh round: DB Ray Fisher, Colts
2011
Fourth round: OT James Brewer, Giants
Fourth round: WR Tandon Doss, Ravens
2012
None
2013
None
2014
Second round: WR Cody Latimer, Broncos
Seventh round: TE Ted Bolser, Redskins
| | |
| --- | --- |
| About Tom Dienhart | BTN.com senior writer Tom Dienhart is a veteran sports journalist who covers Big Ten football and men's basketball for BTN.com and BTN TV. Find him on Twitter and Facebook, read all of his work at btn.com/tomdienhart, and subscribe to his posts via RSS. Also, send questions to his weekly mailbag using the form below and read all of his previous answers in his reader mailbag section. |
And if you want to leave a comment on this post, use the box below. All comments need to be approved by a moderator.