BTN.com staff,

March 28, 2015

At the University of Maryland, sustainability and smart growth are more than just academic. The institution is applying those principles to provide a brighter future for communities throughout the state - including the one that?s home to its main campus.

Maryland?s National Center for Smart Growth (NCSG) launched a program last year called the Partnership for Action Learning in Sustainability (PALS). This initiative matches coursework from different academic disciplines to economic, environmental and social challenges in cities throughout the state by combining the expertise of faculty and talents of UMD students.

?The PALS program provides practical help for communities interested in sustainability and helps our students learn real-world skills and get hands-on knowledge,? said Uri Avin, the program?s director.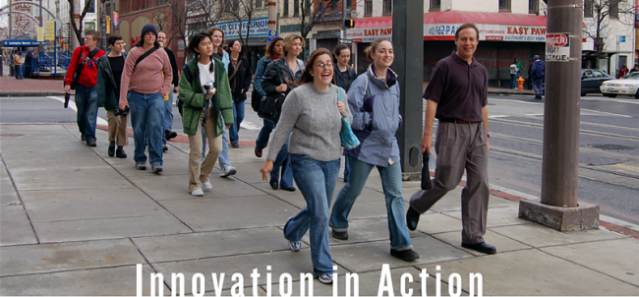 Frederick, Md., is the pilot venue for the PALS program. Located about an hour away from both Washington, D.C. and Baltimore, the city has seen rapid growth in recent years because of its proximity to those metro areas. That?s been an economic boon for the city, but the community?s leaders and residents don?t want continuous development to cause the place to lose its local character - which includes historic sites, wineries and orchards, and the natural beauty of the nearby Appalachian Mountains.
To help Frederick, PALS developed a list of 45 candidate projects that cover a range of issues within urban planning and development, the environment and social issues. After further vetting those proposals, the program assigned 24 of those projects with faculty from nine different disciplines on campus.
Avin said he?s proud of the ingenuity of UMD students who are involved with the PALS program and the solutions they?ve implemented so far.
?One student created an architectural building tour guidebook of the historical district,? Avin said. ?The city never had a guide for it. So, this student identified the top 20 buildings in the city, did research, wrote descriptions about the buildings and their history, took pictures and created a brochure. Now, tourists can take a walking tour of the area and this helps promote tourism for the area.?
A landscape architecture course was also developed to address the issue of algae blooms, which can cause disastrous imbalances in the local ecosystems if left unchecked, in Carroll Creek Canal. This course focuses on green infrastructure solutions, the ecology in the creek and how to best mitigate the problem.
?Our students researched the problems in the watershed, came up with recommendations to solve these issues over time, and involved residential and commercial businesses along the canal,? Avin said.
?State agencies are aware of PALS and have been eager to provide their expertise,? he added. ?For our watershed projects, the state forestry [department] got involved with the city of Frederick and without their work, it would?ve been less enriching for our students.?
[btn-post-package]Future plans for PALS include scaling up and expanding to other counties and municipalities throughout Maryland, including its home city of College Park. Future programs will likely involve transforming existing commercial spaces, analyzing greenhouse gases and current waste-management practices, and changing the streetscape of the city to make it more pedestrian-friendly.
Due to the size of the state and an extensive public transportation system that covers much of it, students involved with PALS can do much of their work on-location and still stay true to the program?s mission of sustainability and service.
?Maryland is a small, densely populated state, and our students need to get to locations within an hour,? Avin said. ?Other states that have similar programs often service locations that are far from the university, and that can limit interaction.?
Avin believes the ideas generated from PALS provide an economic benefit for cities that participate, which will make the program politically and financially appealing.
?We estimate that the hours generated from students in PALS is the equivalent of hiring $3 million worth of consultants,? Avin said. ?The city of Frederick paid about $100,000 [for PALS projects]. Two of the projects we developed would?ve cost about $100,000 each with consultants. PALS is cost-effective and attractive to municipalities who have to deal with budgets.?
By Leon Bracey