BTN.com staff, BTN.com staff,

March 26, 2015

Students at Big Ten universities aren?t waiting until they get out into the ?real world? to make a difference. Find out how they?re working together to create positive, meaningful change in this BTN LiveBIG series: the Student Section.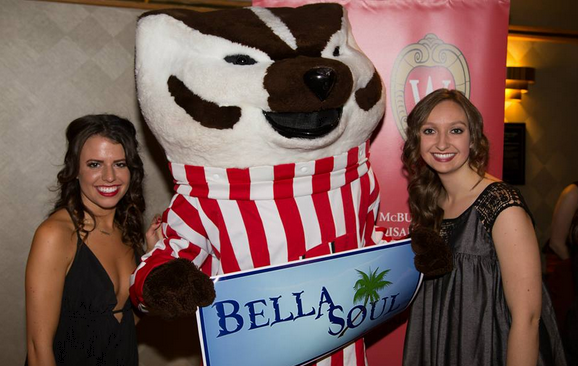 Shannon Strader?s path to health was not a smooth one.
Throughout her teenage years, several doctors had attempted to discover the cause of the Wisconsin graduate?s health problems, the symptoms of which were constant pain, nausea and vomiting. Strader had been through several diagnoses since her early teens - none of which produced any significant results or relief from her ailments.
It wasn?t until she was 18 that a radiologist made an important discovery: Her renal vein passed behind her aorta, causing it to be compressed. This physical anomaly has a name: Posterior Nutcracker Syndrome. It?s a rare condition that?s caused when the renal vein is trapped and severely restricts blood flow away from the kidneys.
Once she was properly diagnosed, Strader had the first of three surgeries to correct the problem right after her high school graduation. She had the other two while a student at the University of Wisconsin, and while she was happy that someone had finally figured out what the issue was, she still spent most of her collegiate career in a great deal of pain.
?I cannot remember a day my freshman and sophomore year without pain or being nauseated in class, at work or just simply walking,? she explained. ?Weekends were the worst for me, because I could not go out or socialize. When I did, I was always in pain. I felt like I was missing out on ?living,? which definitely made the pain worse.?
While in college, Strader was fortunate to have access to the university?s McBurney Disability Center, which she said ?was such an amazing support system.?
?However, they could only help with classes and getting accommodations,? she added. ?There was no national organization at the time to connect individuals of the same age [who had] physical disease or chronic illness.?
It was during these difficult days that the idea for Bella Soul was born. Starting as a blog and evolving into its current incarnation as a 501(c)(3) not-for-profit organization, Bella Soul serves as a support system and educational resource for college students that have chronic health problems, physical disabilities or any other debilitating medical condition.
Part of the mission description on Bella Soul?s website says, ?It is our duty to provide a home for individuals who attend college to connect to those who have similar diseases and are in similar situations to share advice and techniques on how they take on the stressors of college.?
Recently, Bella Soul passed another milestone by awarding its inaugural scholarship, which can be used for both medical and school expenses, as having chronic health problems can put an unexpected financial strain on students and their families. The requirements are fairly simple: You must be enrolled in a four-year academic institution; you must have a physical ailment, disease or disability; and you have to submit an essay.
The first scholarship winner was Katie Proietti, a Wisconsin student who moved the Bella Soul team with her essay on living with lupus.
?Katie?s story was very powerful, well-written and influential,? Strader said. ?All of the stories we received were absolutely beautiful. All of the individuals are inspirations and heroes. It was and is really difficult to choose.?
Bella Soul plans to award scholarships bi-annually during the spring and fall semesters.
[btn-post-package]Both Strader?s and Bella Soul?s futures are looking very bright. Strader is entering her second full year of eating and exercising without pain, and she?s currently preparing to take her MCAT?s with the hopes of getting into medical school. While the operation is currently headquartered in Illinois, Bella Soul is currently exploring starting a chapter in Wisconsin - and perhaps other locations down the road.
With a dedicated group of volunteers and a continuing sense of purpose, Bella Soul will continue to expand the support options for collegians living with chronic health conditions. And that?s beneficial for their mental and emotional fortitude, as Proietti said in her essay.
?[I]t is important to meet and talk to others who are facing similar challenges,? she wrote. ?It is easy to feel alone when fighting this disease, so it is comforting to find support from people who know exactly what you are going through.?
By Lyletta Robinson