Brent Yarina, BTN.com Senior Editor,

March 22, 2015

Regular Sweet 16 participants Michigan State and Wisconsin are off to NCAA regional semifinals yet again.

The Spartans downed Virginia, 60-54, Sunday to move on to their fourth consecutive Sweet 16, while the Badgers held off Oregon, 72-65, to advance to their fourth Sweet 16 in the past five seasons.

[ MORE: Get all of our NCAA tournament coverage ]

No. 7 Michigan State will face No. 3 Oklahoma at 10:07 p.m. ET Friday, and No. 1 Wisconsin will take on No. 4 North Carolina at 7:47 p.m. ET Thursday.

Iowa (Gonzaga), Maryland (West Virginia) and Ohio State (Arizona) all lost in the regional quarterfinals.

Get my best of the Big Ten from the Round of 32 below.

Top player: Travis Trice, Michigan State. The senior exploded for 13 points in the opening minutes to lead Michigan State to an early 15-4 lead. He finished with a game-high 23 points, to go along with two rebounds, three assists, one steal and just one turnover.

Top surprise: Arizona shutting down D'Angelo Russell. Ohio State's prized freshman has had his so-so shooting games, but he's never encountered the struggles he did vs. the Wildcats, going for 3-of-19 from the field (16 percent). Here's Russell's take on his rough night: "I would say they played great D on a few of them, but a lot of them were great shots. I just missed."

Top dunk: Jarrod Uthoff vs. Gonzaga. Uthoff, from just beyond the 3-point line, gave an eyebrow fake, drove the lane and elevated for a one-handed poster dunk. Watch it below.
HIGHLIGHT: Huge throwdown for the Hawkeyes! http://t.co/3b3DIpvFnH

— NCAA March Madness (@marchmadness) March 22, 2015
Top stat: 13 of first 15 points. Travis Trice, typically known as the Spartans' closer, scored 13 early points to help Michigan State jump out to a 15-4 lead over Virginia in the opening five-plus minutes. Trice finished with 23 points.
Top stat, Part II: Tom Izzo's March mastery, it's just getting out of hand.
Let's hear your adjective to describe @MSU_Basketball coach Tom Izzo's NCAA tourney mastery. #MarchOnBTN pic.twitter.com/laARwyh5cK

— Brent Yarina (@BTNBrentYarina) March 23, 2015
Top quote: Nothing wrong with being honest. Right, Sam Dekker?
"I was trash in the first half, I've got to be honest." - #Badgers Sam Dekker, in postgame interview. #MarchOnBTN pic.twitter.com/7bwWtrXPBG

— Brent Yarina (@BTNBrentYarina) March 23, 2015
Top sign: Got to love rivalries!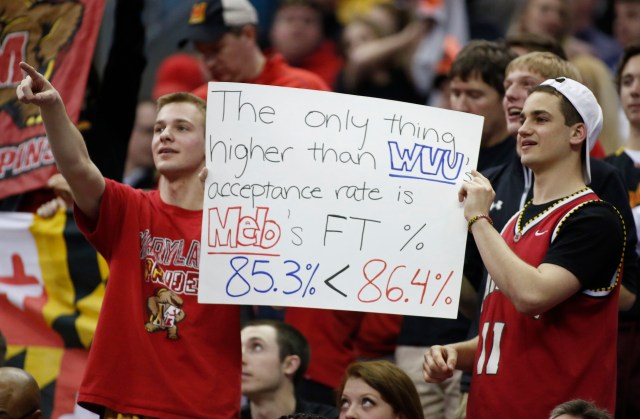 Top tweet: Always classy.
So proud + it's been such a blessing to wear the Iowa uniform! Thank you to ALL who have made these 4 years the most amazing of my life!

— Aaron White (@Aaron_White30) March 23, 2015
Top quip: Frank Kaminsky flexed his muscles after a big play in the second half vs. Oregon, and fellow veteran Josh Gasser had this great zing about it.
Josh Gasser cracking jokes in locker room. I asked if he saw Frank flex to the crowd after that putback. His response: "With what?" #Badgers

— Jesse Temple (@jessetemple) March 23, 2015
Here's Kaminsky showing his muscles: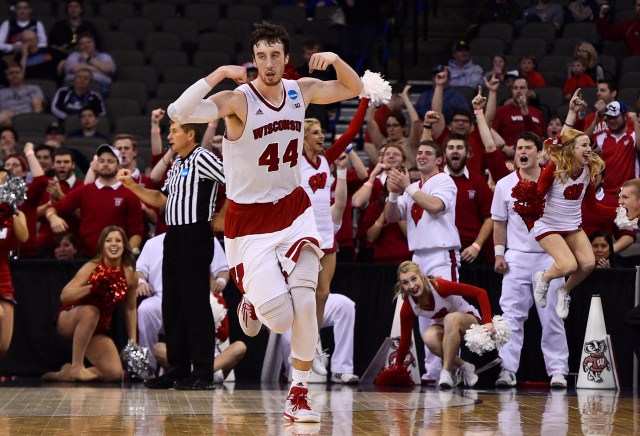 You see this? It didn't count, but watch the ball, somehow, go through the basket twice on this Sam Dekker play. Not sure we'll see this happen again!
@samdek1 did you see your alley oop that didn't count went through the hoop twice?!? https://t.co/AAZG94soLY

— Jacob Witt (@jacobwitt305) March 23, 2015
You see this, Part II? Former Michigan State standout and current NBA star Draymond Green sent a tweet to Travis Trice before Sunday's game, and it must have sparked the Spartans' guard, who scored a game-high 23 points. Keep the texts coming, Draymond!
Draymond Green texted Trice this AM: "Don't let this be your last game" "I won't" Trice said he texted back

— Chip Patterson (@Chip_Patterson) March 22, 2015
You hear this? Travis Trice's mom likes to do her part to get in the opponent's head during free throws. So much so, she lets out a high-pitched noise. Tip: Turn down the volume on your computer here.
The Michigan State free-throw screamer ... https://t.co/wkuxZqG6ky

— Ryan Fagan (@ryanfagan) March 22, 2015
Celebrity sighting: When Magic talks basketball, you listen. Look at all of the Spartans all ears in the locker room!
.@MagicJohnson addressed the team in the locker room following MSU's 60-54 win over Virginia Sunday. #MSUNCAA pic.twitter.com/6KS4mniVDQ

— Michigan State Basketball (@MSU_Basketball) March 23, 2015