BTN.com staff,

March 22, 2015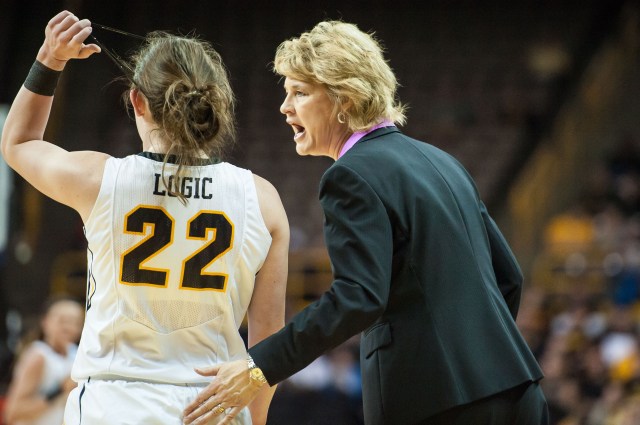 (AP) Iowa coach Lisa Bluder won't have to listen to any more talk about her inability to reach the Sweet 16.
Fifteen years after starting at Iowa, Bluder is finally headed to a regional semifinal.
[ MORE: View the official NCAA tourney bracket ]
Bethany Doolittle scored 22 points, Ally Disterhoft had 15 and Iowa beat 11th-seeded Miami 88-70 in the second round of the NCAA Tournament on Sunday, earning its first trip to the Sweet 16 since 1996.
Doolittle also had 11 rebounds and three blocks for the third-seeded Hawkeyes (26-7), who'll meet either Arkansas or Baylor in Oklahoma City on Friday.
With their season on the line, Iowa seemingly couldn't miss.
The Hawkeyes hit 18 of 24 second-half shots and used a late 15-3 run to complete an 18-0 season at home.
"I'm almost in disbelief right now. Not that we did it. We knew we were going to do it. We felt great about it. Just the way it happened," Bluder said. "We shot the ball well again. That's kind of our (thing)."
Jessica Thomas had 20 points for Miami (20-13). The Hurricanes lost six of their last eight games to close the season.
"We're quite young, and they got some great experience," Miami coach Katie Meier said. "The mental toughness; they were just sharper than us in key moments. Key plays where we did something that wasn't really smart…and (Iowa) never did something that wasn't really smart in the last 10 minutes."
The Hawkeyes had endured seven consecutive second-round exits since last reaching a regional semifinal 19 years ago. That included losses in each of the last two years in Iowa City.
This was by far their best shot at the Sweet 16 under Bluder, who has won 660 Division I games.
Iowa made the most of it.
The Hurricanes flummoxed the Hawkeyes at times with their athleticism and limited Iowa's outside looks. But Samantha Logic shook off a cold start with a layup just before the half, and Whitney Jennings hit an awkward jumper that put Iowa ahead 38-31.
The Hurricanes tried to get back into it behind star Adrienne Motley, who scored their first 12 points in the second half. But Dixon finally got going with a 3 and a layup to give Iowa a 60-50 lead.
Miami's comeback attempt was hampered when Motley picked up her fourth foul midway through the second half.
As Motley knelt on the sideline waiting to check back in, Alexa Kastanek hit a layup that made it a 77-63 game with five minutes to go.
Motley finished with 18 points after scoring 30 in Miami's upset win over Washington on Friday.
"Going to the Sweet 16 is something we've wanted to do since we've gotten here. Obviously it took four years, but we're happier than ever to do it right now," said Logic, a senior.