BTN.com staff,

March 22, 2015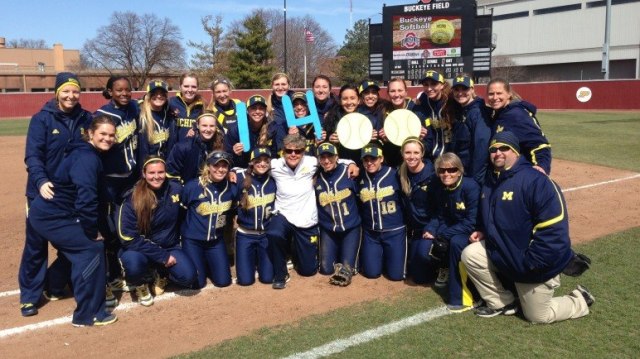 There was a full slate of Big Ten softball games Sunday, and there was some history made.
Michigan coach Carol Hutchins became the third coach to reach the 1,400-win mark in No. 4 Michigan's 20-0 run-rule victory at rival Ohio State.
Catch up on all of Sunday's Big Ten softball action below.
Minnesota 3, Illinois 2
The No. 15 Minnesota softball team extended its school-record win streak to 13 games with a 3-2 win over Illinois at Eichelberger Field in Urbana, Ill. Sunday afternoon. Read full recap.
Rutgers 10, Indiana 6
The Rutgers softball team recorded a 10-6 victory over Indiana on Sunday afternoon at the Andy Mohr Field to claim the series in its inaugural Big Ten matchup. Read full recap.
Maryland 19, Iowa 0
Maryland plated a season-high 19 runs off 14 hits en route to a 19-0 five-inning run-rule victory over Iowa on Sunday. Read full recap.
Michigan 20, Ohio State 0
Carol Hutchins earned her 1,400th career victory in memorable fashion as No. 4 Michigan cruised to a 20-0, five-inning rout over rival Ohio State on Sunday afternoon at Buckeye Field. Read full recap.
Northwestern 5, Penn State 4 (8)
With Penn State riding momentum after forcing extra innings, Northwestern senior Olivia Duehr smashed her fourth home run of the series to help the Wildcats sweep the series Sunday. Read full recap.
Nebraska 7, Michigan State 5
Alicia Armstrong broke a sixth-inning tie with a three-run home run, helping Nebraska complete a three-game sweep of Michigan State with a 7-5 victory Sunday. Read full recap.
Purdue 6,Wisconsin 0
The Boilermakers finished off a series sweep of Wisconsin with a 6-0 win on Sunday afternoon, to wrap up a perfect 3-0 home and stadium opening weekend. Read full recap.
Did you miss today's 6-0 win over Wisconsin to clinch the series sweep? Highlights from BTN-Plus here. #boilerup http://t.co/xY6TraAbf6

— Purdue Softball (@PurdueSoftball) March 22, 2015