BTN.com staff, BTN.com staff,

March 19, 2015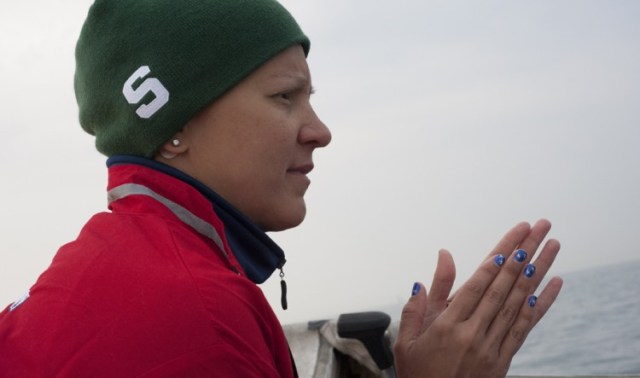 When someone tells Amanda Mercer she can?t do something, that?s exactly when she decides she?ll do it, no matter what. Mercer graduated from Michigan State in 1990, but her Spartan spirit is still strong, and it helps her face challenges every day.
The most notable example of that spirit was Mercer?s record-breaking swim across the English Channel with five friends on July 27, 2012. They swam the 42 miles across the channel and back in a relay that lasted 18 hours and 55 minutes.
That sounds like a long time - and it is, when you?re swimming in cold, choppy water. However, it was four minutes faster than the world record on the books.
Mercer and the other team members swam not only to break the previous record, but also to raise money and awareness for ALS, also known as Lou Gehrig?s Disease.
?It?s that ultimate event for swimmers to do,? Mercer said. ?And I was also, at the time, on the board of Ann Arbor Active Against ALS. We started talking more seriously about swimming the channel and Ann Arbor Active Against ALS was looking for an event. Then it just kind of gelled in my mind that it would be great if we did swim the channel [and] if we did it to raise money for ALS research.?
If that?s all there was to Mercer?s story, it would be impressive enough. But there was another element to her achievement that made it especially astounding: She participated in that record-setting swim right after she?d completed chemotherapy.
?Four months before [the swim], I was diagnosed with breast cancer,? she said. ?And my doctors said that I wasn?t going to be able to do it. At that point it had become super important to me. I was swimming really fast ? just because you have a lump in your body doesn?t mean you feel sick. So I felt extremely healthy. I had no idea what chemo was going to be like.?
She thought she could undergo surgery to remove her Stage 2 cancer, and the 16 weeks of chemotherapy following it would end just in the nick of time for her to travel to England and complete the swim. Mercer?s doctors didn?t think that was a good idea.
?My surgeon said, ?None of us think you?ll be able to do it; the fatigue will be too great.? But that was sort of like throwing down the gauntlet for me. I don?t like to be told I can?t do something. So that made it more certain for me that I was going to do everything I could to be able to do it. I mean, I knew I had to listen to my body and certainly it was all very, very difficult, but swimming is what really got me through it.?
The training was indeed grueling, but Mercer noted that swimming was a welcome distraction from what was going on out of water.
?When I was back in the water, I would forget all about the chemotherapy,? she said. ?I?d forget about the cancer; I?d forget that I was bald - and so I felt like me again.?
Setting that record was also a fittingly uncommon achievement for what?s been an unconventional athletic career.
?I started lessons when I was four at our local YMCA,? she said. ?I started competing when I was eight. And I have sort of a strange swimming background. I swam until I was about 14, loved every minute of it, very competitive. And then when I was just shy of 14, one of my best friends ? was paralyzed in one of our practices. At that point, I sort of lost my love for swimming; but on top of that, our team disbanded.?
Her high school didn?t have a pool, so she hung up her swimsuit and took a few years off from the sport. But in college, destiny caught up with her.
?When I went to Michigan State (because I fell in love with Magic Johnson - my husband hates when I say that ?) my freshman year, you had to take a physical education requirement, so I took swimming,? she said. ?A girl in my class and the instructor said to me, ?Are you on the swim team here???
After a little prodding from both the classmate and instructor, Mercer approached well-known Michigan State swim coach Jennifer Parks and joined the varsity swimming team. In 1989, she became team captain.
[btn-post-package]?I owe so much to [Parks] because she gave me the opportunity to walk on to the team,? Mercer said. ?It was a big challenge because I hadn?t been swimming for so long, and I think that was part of the reason I needed to swim the channel, because in college I never reached the goals I had for myself.?
These days, Mercer, who went on to attend Wayne State University Law School and served as a prosecutor for several years, is cancer-free and recently launched her own law firm specializing in the areas of estate planning, adoptions and mediation. She still swims a lot, too, often with her fellow channel-crossers.
?Last summer, four of the six of us did the swim across Lake Tahoe, and we?re always talking about doing other swims,? Mercer said. ?I?ve considered swimming the channel solo, but that?s a big undertaking. I don?t know if I?ll do that or not. I always like to have an event in mind so I can train harder for it.?
Mercer doesn?t plan to leave the water anytime soon. Once a swimmer, always a swimmer.
?I think I identify myself as a swimmer before I identify myself as anything else - even wife or mother or lawyer.?
Not that she doesn?t love spending time with her family. Mercer and her husband, Todd, have a daughter and son, and they live in - of all places - Ann Arbor. She met Todd at Michigan State, but the two didn?t date until years later.
?He thinks he?s very hilarious when he says that I loved him back then, but I did not,? she said, laughing.
In all seriousness, though, she credited her husband as the main reason she accomplished what she did back in 2012.
?It?s so important to have people around you who love you and believe in you, and this may sound sappy but I think the most important decision you make in your life is your partner,? she said. ?You?ve got to choose someone who believes in you more than you believe in yourself ? I?m getting choked up thinking about my husband, because I wouldn?t have been able to make it through without him.?
By Elisabeth Lisican