Sean Merriman, BTN.com web editor,

March 18, 2015

Can you feel it? March Madness is here, and the field of 64 is set to begin on Thursday.

A total of seven Big Ten teams are set to partake in this year's NCAA Tournament, which marks the seventh straight year the Big Ten has had five or more teams in the tournament.

Wisconsin received the conference's automatic bid after winning the Big Ten Tournament, while Indiana, Iowa, Maryland, Michigan State, Ohio State and Purdue received at-large berths in the "Big Dance."

But here's an interesting question: Is your favorite Big Ten hoops team the same as others in your state? In other words… Which college basketball team does your state care about the most?

Ticketcity.com recently released a graphic, which shows the most popular college basketball team in every state.

According to the site, they used metrics such as Google search, social media following and game attendance to determine the most popular teams.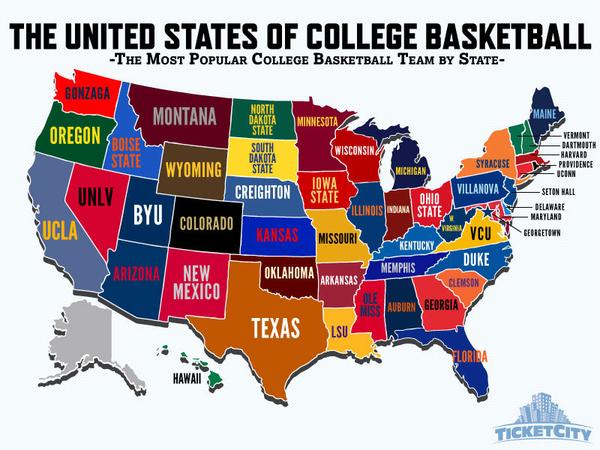 If you look at the map, exactly half of the Big Ten's teams are represented in this graphic.
Illinois, Indiana, Maryland, Michigan, Minnesota, Ohio State and Wisconsin are all listed as the most popular teams in their respective states.
The biggest surprise? Michigan over Michigan State. The Wolverines, traditionally known as a football school, get the nod over Tom Izzo's Spartans, who will be making their 18th straight trip to the NCAA Tournament, which is the longest current streak of any Big Ten school.
This is a lot of fun, so check it out and enjoy, Big Ten basketball fans!